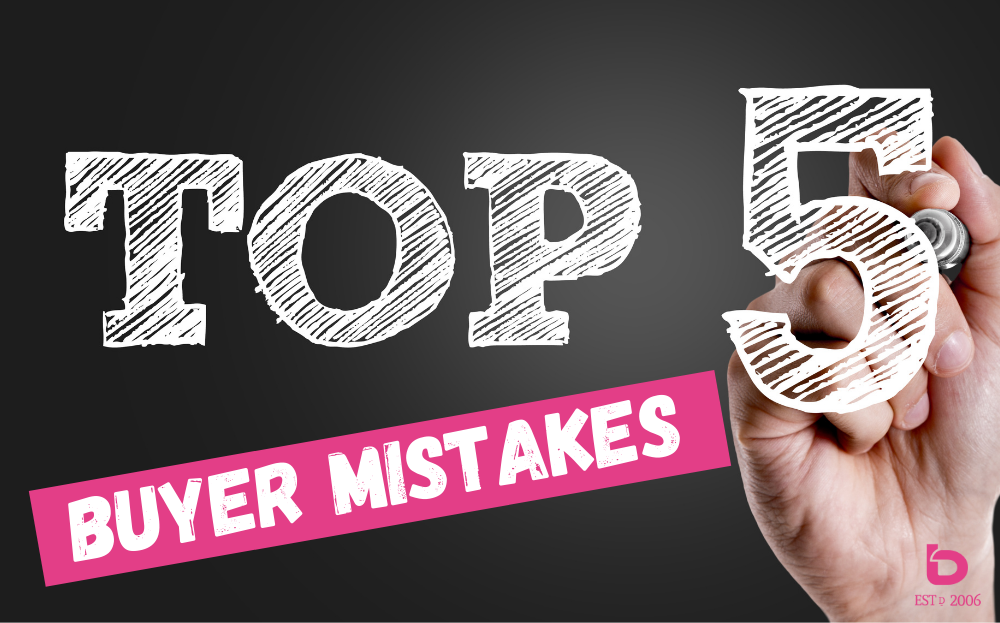 Date Posted: 01/07/2021
5 MISTAKES BUYERS MAKE
1. Not having a full mortgage qualification completed.
Hopping onto a website and entering in some ballpark numbers that give you a price range that you qualify for will come with a lot of asterisks. Those asterisks are the things that cause problems down the road. And that website has not given you a mortgage approval. It's merely conceptual at that point.
If your mortgage approval process didn't involve income verification, employment letters and other such cumbersome paperwork, you don't have a locked & loaded qualification.
Before getting on the home buyer bus, you need to get your paperwork (mortgage qualification) in order. The upside? You'll feel much more in control knowing you're confirmed and ready to roll.
2. Work with listing Realtors only because they're going to get a better deal.
The fact is, in some markets, that concept is nearly impossible. For example, in multiple offers (multiple representation or dual agency) where the listing agent also represents a buyer, if there is some kind of commission discount in play, that discount must be disclosed to all parties including the Realtors of the other buyers. That process just muddies the waters.
In addition to that speedbump, a Realtor negotiating for both parties is required to essentially get out of the way of the dollars and cents part of the process. In fact, our documents lay out several obligations that must be followed by the Realtor, one of which is that the Realtor shall not be involved in "the price the Buyer should offer or the price the Seller should accept…".
So, if the objective is to "get a better deal", the basic concepts of applying leverage and skilled negotiation are taken off the table given the strict rules around 'multiple representation'.
3. Not know their numbers.
The cost(s) of doing business need to be on the table for all parties to be aware of. Some of these include:
what is the cost per $100,000 of mortgage. So, for example, what is the monthly or annual additional cost for taking on an additional $75,000 in mortgage?
what is land transfer tax going to total? Are you eligible for a rebate?
are you paying any fees to your lender?
what other costs may be involved? Inspection? Septic or cistern? Pool? Electrical?
the house has a pool, a hot tub and an older furnace. What are the monthly utility costs?
you have $120,000 for a down payment which is great! The funds are in a few spots that will require time to access. Make sure you know when you need them available, any costs to access them and if there are any red flags to be aware of from your lender.
houses in your price range typically require a $10-20,000 deposit. What does that mean and when is it due and payable? How does that deposit fit into the overall financial picture?
list prices are one thing. What are houses actually selling for?
Long story short, having an idea of these numbers up front will not only put you in a better spot to succeed, it will reduce stress and the "unknown" anxiety.
4. Wait for the 'perfect' house.
Spoiler alert. There is no perfect house. Even when people build a new custom house, there are always a few bits to it that bring it down to a 9 out of 10.
When buying a resale home, there are always going to be "sacrifices" or things you have to forgo. You may really want that perfect kitchen but if the yard out back is beautiful and the bedroom space is great, maybe the vintage Euro kitchen will have to do.
Maybe you want detached but for now a semi-detached or townhome is what it is going to take to get into the market. 5 years down the road, you'll love your decision today.
Make sure you can differentiate between your "would be nice to have" and your "non-negotiables". And if you're buying a home with someone else, try to get as close to consensus as possible.
5. Listen to advice, regardless of the source.
You've injured your knee. After a few Doctor's appointments, you're finally about to meet with the specialist. She comes in with your file and pulls out the x-rays to discuss the results.
"Ok, thanks Doc. That sounds great. My Uncle Ray wants to look at it too. His buddy Craig
in Sudbury had a similar injury and he said something different than what you're saying".
Sure, we're not Doctors, but a full-time, 'boots on the ground' professional Realtor knows their stuff. They know the market, they know homes.
The same trust you put into the knee specialist should probably be reserved for your Realtor too. And if that trust isn't there, you should probably search for another Realtor.
And. Make sure the Realtor you're working with knows your market. All too often we are seeing agents drive to Niagara from Toronto or Barrie or Midland or Kitchener. There are some fundamental issues with that. Namely, they're not in tune with all aspects of our market.
What are these aspects you speak of.
Age and characteristics of the homes.
Nuances of the market. What are the current supply & demand conditions?
Valuations and how they differ from area to area.
New listings or opportunities that arrive in the morning and are gone that evening.
Networked with local agents and are in the loop.
Current buyer & seller expectations and what it takes to get an offer done.
Access to our local MLS system where all the listings and data are found.
That list goes on and on but it's an important consideration. Make sure your Realtor is knee-deep in the market in which you're looking.
So, that's a wrap on that. There are other things to consider if you're a buyer but those are the major issues that we see pop up on a semi-routine basis.
Hopefully these helped shed some light. If you'd ever like to chat, please don't hesitate to reach out anytime!
Thank-you for visiting.