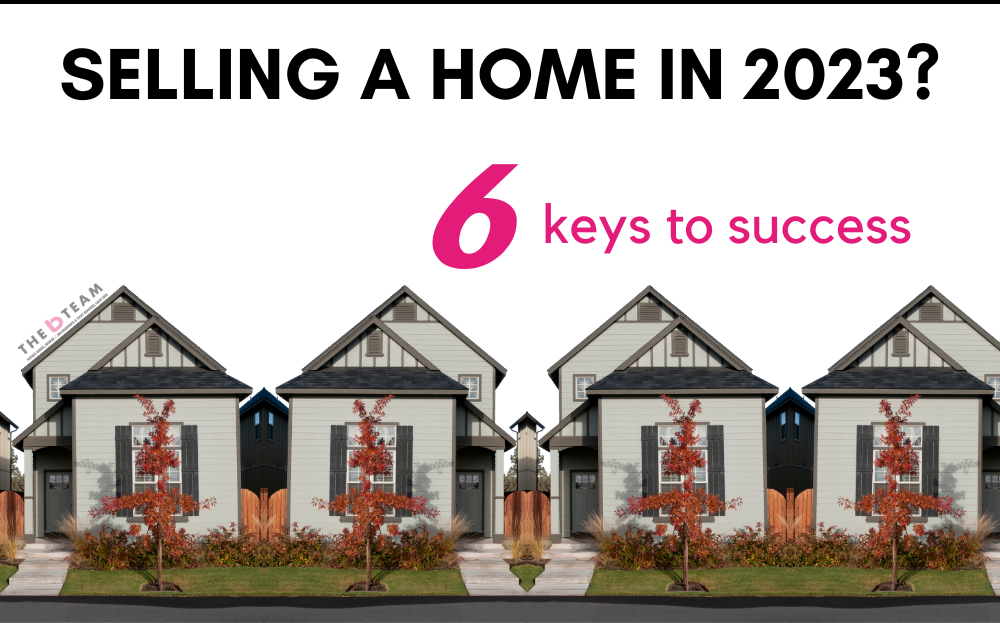 Date Posted: 16/01/2023
6 KEYS TO HOME SELLING SUCCESS
2022 was a year unlike any other. Kind of like 2021 was. And 2020 before that...
2023 brings with it a whole new barrel of things to know. Let's look at 6 things to consider when selling a home in Niagara in 2023.
1. THE BIG THREE
Whether you are selling a bottle of water, a used car or a home, there are 3 principles to consider:
Pricing - how is the product (home) priced comparative to current market conditions. All of the water for sale is priced around one dollar per bottle but yours is $3.

Presentation -

how is the product presented? Imagine the best water money could buy in a bottle of water with a dirty cap. Or a Bugatti with a damaged seat and scratch down the left side.
Marketing - how is the product advertised? Sharp, professional photography and clear written copy will make a much stronger impression than phone photos and a lazy write-up.​
​If all 3 of those are working in sync, then the product (water, car or home) will garner enough attention to create the best opportunity for success. However, if one piece is struggling, then the selling success will suffer as a result.
Even if you did nothing else, adhering to "The Big Three" will greatly increase your chances for success.

2. HOME SELLING STRATEGY
The time to decide on your needs and wants are not when an offer arrives. In past years, we've discovered that one seller wants "x" while the other wants "y" which only adds a layer of stress to an already stressful situation. Some critical strategy considerations include:
Price -

When an offer comes in what dollar amount are you happy with? And, what amount do you need to make things work? Are you priced for quick activity or is a longer time on the market expected?

Sell or Buy First - The order of operations are critical and should be aligned with current market conditions. We wrote a great blog about that which you can read here.
The Important Things -

You'll want to know what chattels you are willing to part with. Sure, there are appliances in the kitchen along with a washer and dryer. But what about the gazebo or garage shelving unit? How about the TV with wall-mount in the recroom? As well, what items you need or want to take with you.

3. DOES HOME STAGING MATTER?
This goes back to the first item on our list but it really is that important. In a competitive marketplace, what your selling needs to stand out. When a buyer approaches your home, they need to feel a sense of comfort. If they have the ability to visualize life in your home, then they are much more likely to buy it. This is all the more important if selling a home in Niagara in 2023.
If there are 4 homes for sale in a particular neighbourhood and they're priced fairly, the home that presents the best is going to sell first. The buyers who step inside are going to relax and breathe comfortably. They're going to focus on furniture placement and start sentences with "we could put [insert furniture piece] right here". It is significantly harder to mentally unpack if the home is dark, poorly presented and ill-prepared for a showing.

4. HOME SELLING WILL REQUIRE PATIENCE
Once your home is prepared for the marketplace and up for sale, you will need patience in 2023. With days on the market in Niagara trending 75 days and longer, the average home is on the market for two or three months (or longer). Going back to your strategy, ask your Realtor what a reasonable expectation is for time on the market.
And if you're looking to speed up the timeline, consider your pricing accuracy, how your home presents and how strong your Realtor's marketing skills are. Again, number one on this list is number one for a reason.

5. KNOW THE NIAGARA REAL ESTATE MARKET CONDITIONS
In a tense market like 2023 will be, you will want to know what is happening in your marketplace. Ask yourself "if I was a buyer, what other homes would I be looking at that compete with mine?" And then compare them in terms of (you guessed it), price, presentation and marketing.
If a buyer has 8 other options and in the past month there have been 2 sales in the same category, then you know you're in for a longer haul. Or, if there are 8 other options but there were 6 sales in the last month, then you have a more active marketplace.
You'll want to be aware of any new listings or sales that you're competing with so make sure your Realtor is keeping you in the Niagara real estate loop.

6. HIRE AN AGENT WITH VARIED MARKET EXPERIENCE
If you've ever flown through or around a thunderstorm, you know how much faith you put into the skill and experience of that pilot. They are the people who know what buttons to press and headings to follow. Reduce speed, change altitude and find a new course.
Was it fun? Not particularly.
Was it bumpy? Yes.
Did you get through it safely? Yes.
When you're sitting down with a Realtor to discuss selling your home, we would recommend you consider the above items. Here are some questions to ask:
What changes would you recommend we make to our home in order to increase the market value?

What pricing strategy and offer expectations should we have?

Can you describe your marketing plan?

What are the current market conditions as they relate to our home?

What are you doing differently in 2023 compared to the hyper-sellers markets of early 2022 and 2021?
​

TO SUM UP
The 2023 market will be an interesting market for completely different reasons than the previous few years were. This is a transitional market that will produce winners and losers depending on the overall plan and strategy put into place.
We have been through many market cycles going back to the early 2000s, the 2008 market, the slow'ish 2010 - 2014 markets, the explosive 2015 - 2017 markets and on and on to present day.
We're here to help anytime you're ready.
CLICK HERE TO EMAIL, TEXT OR BOOK A PHONE CALL WITH US.