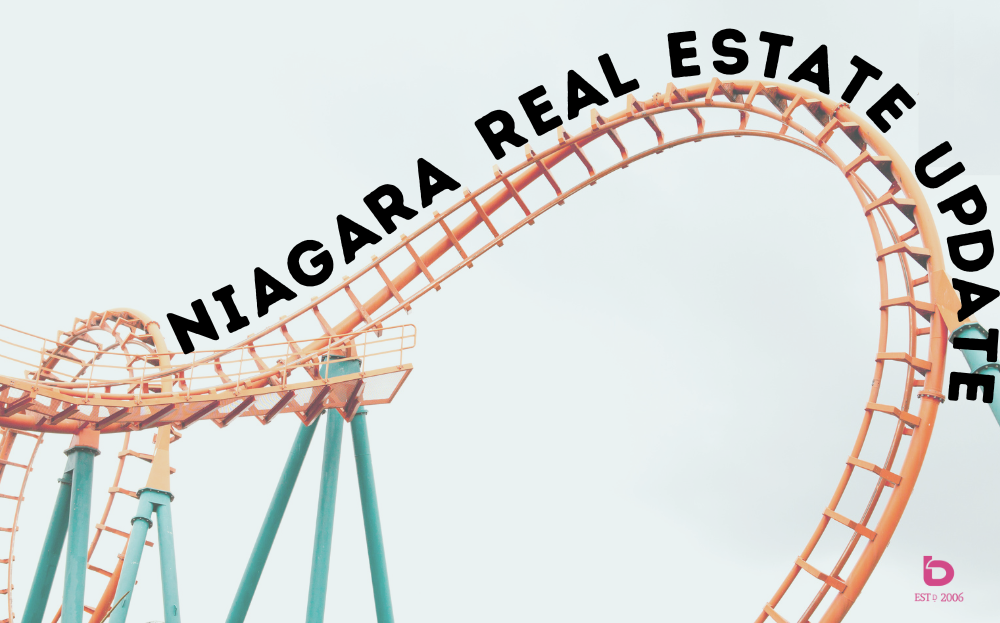 Date Posted: 03/10/2023
Making Sense of the Niagara Real Estate Market
Making sense of the Niagara real estate market over the past 7 years has been a fascinating task. From 22 competing offers and $150,000 over asking to 92 days on the market and not an offer in sight, we have more or less seen every version of a real estate market over the past 8 years.
The real estate market is constantly evolving, so to understand any current market, it helps to look at the recent past. In this case, the past 18 months.
Early 2022 was relative mayhem with line-ups of buyers and not a conditional offer in site. As interest rate changes hog-tied the marketplace, the balance of supply and demand instantly changed. New listings started to pile on as sales pulled back.
The seismic shift in the market dynamics almost instantly impacted buyer confidence which left houses on the market for longer while prices eased back. The bumpy road continued through 2022 and into 2023. We had a brief reprieve in April and May 2023 as rates seemed to be holding steady and people felt more confident on their feet.
The June and July interest rate hikes took care of that momentum as the market had a big, heavy blanket thrown on it.
Here we are in October 2023 after having finished up what was a slowly deflating tire of a market.
In the interest of zooming out for better perspective, let's look at 2023 and how the previous few months performed.
A look at supply & demand…
This graph shows the number of new listings (in pink) and the number of sales (in grey) in comparison to the 10-year average (green line). At a quick glance, anything above the green line is above average while anything below is below average.
For the Niagara Region, the supply of new listings has been 20 – 35% above the 10-year average since June while the number of homes sold had a slip & fall with September settling in at nearly 40% below the 10-year average.
At just over 400 sales for the month, September 2023 has the dubious distinction of having the lowest sales for any month of September since the Niagara Association of Realtors formed 20+ years ago.
St.Catharines took a slightly different route than the Region, but the number of homes sold in September 2023 still came in last place (compared to previous months of September). At the same time, the number of new listings secured the gold medal for having the highest number of new listings.
High(er) supply with low sales is not ideal market conditions.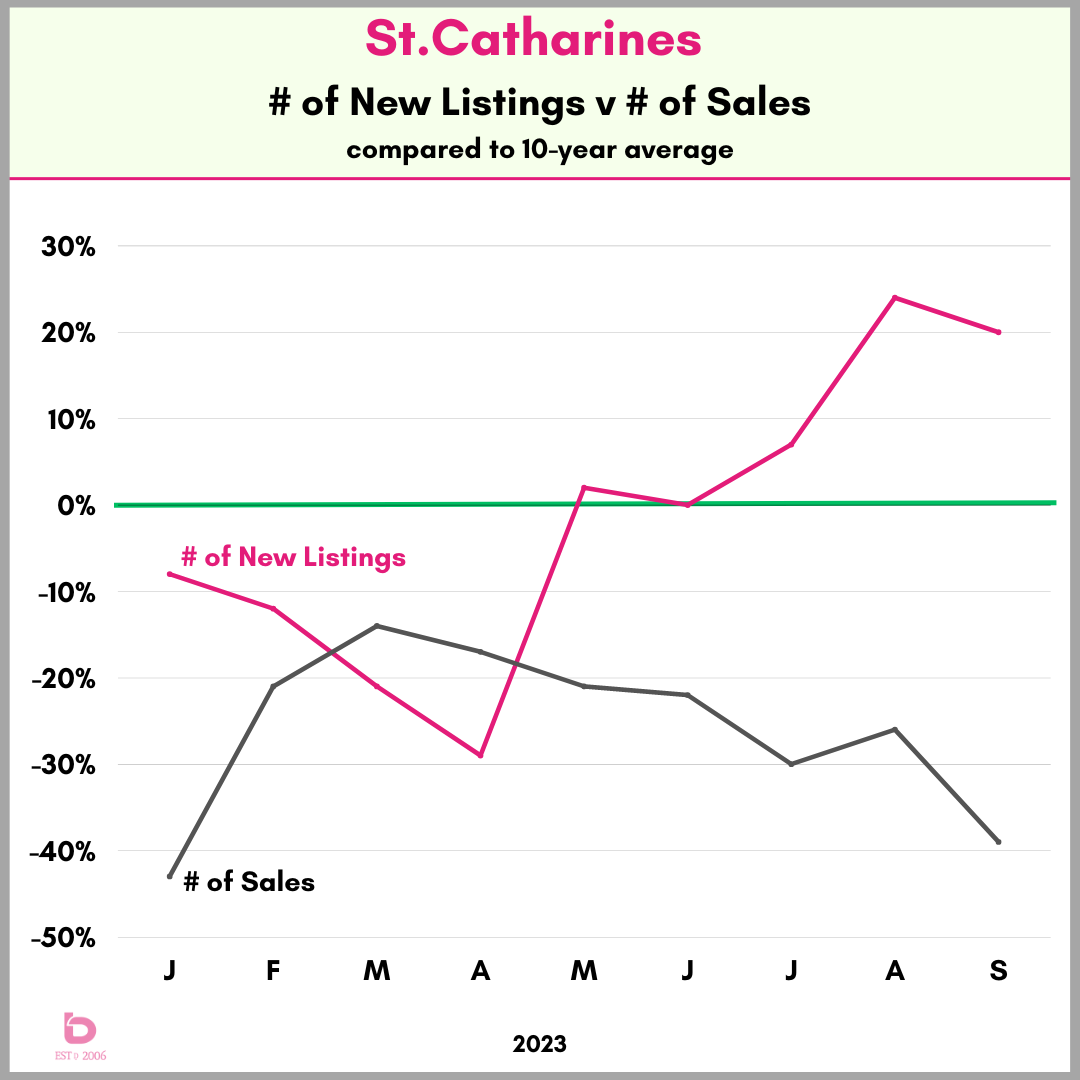 Niagara Falls is a bit more nuanced than the rest of the region, primarily due to the large number of investors in the market. 2016, early 2017, 2020 and 2021 were massive years for Niagara Falls, with a huge amount of rental and investment property activity. Fast forward to higher interest rates, lower demand and an oversupply, and you have this graph…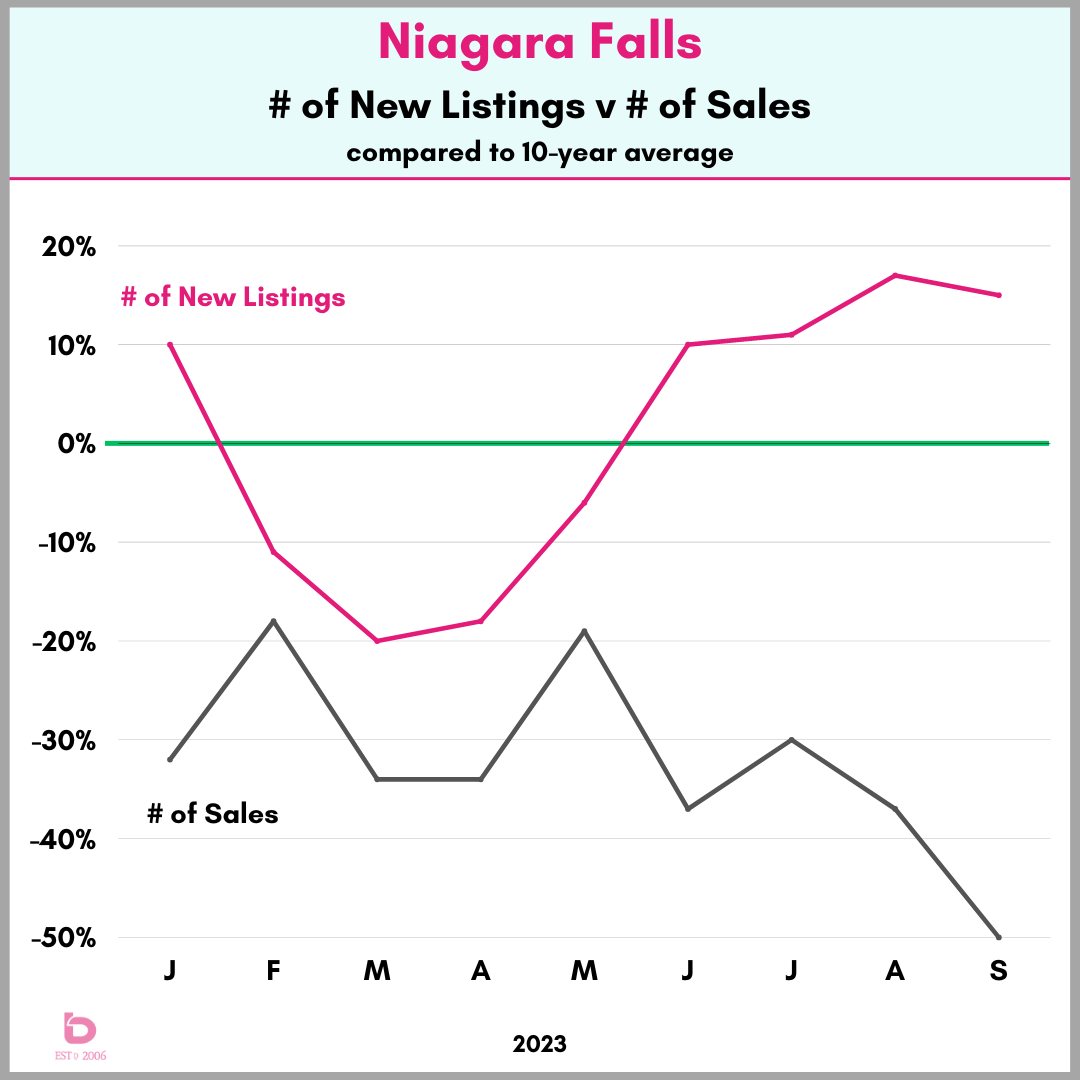 Oddly enough, the number of active and new listings were at or lower than historical norms earlier in 2023. That changed as new inventory has built up while sales retreated with September laying an absolute egg. Yes, you are seeing the graph correctly. The number of homes sold in September 2023 was half of the 10-year average, coming in at just 66 sales. Back in peak markets, Niagara Falls would have seen 3x that number of sales.
These 3 graphs cover the same as above but they're just displayed differently.
These show the actual number of new listings in pink with the number of homes sold in black. You can clearly see the impact of the interest rate hikes in June & July.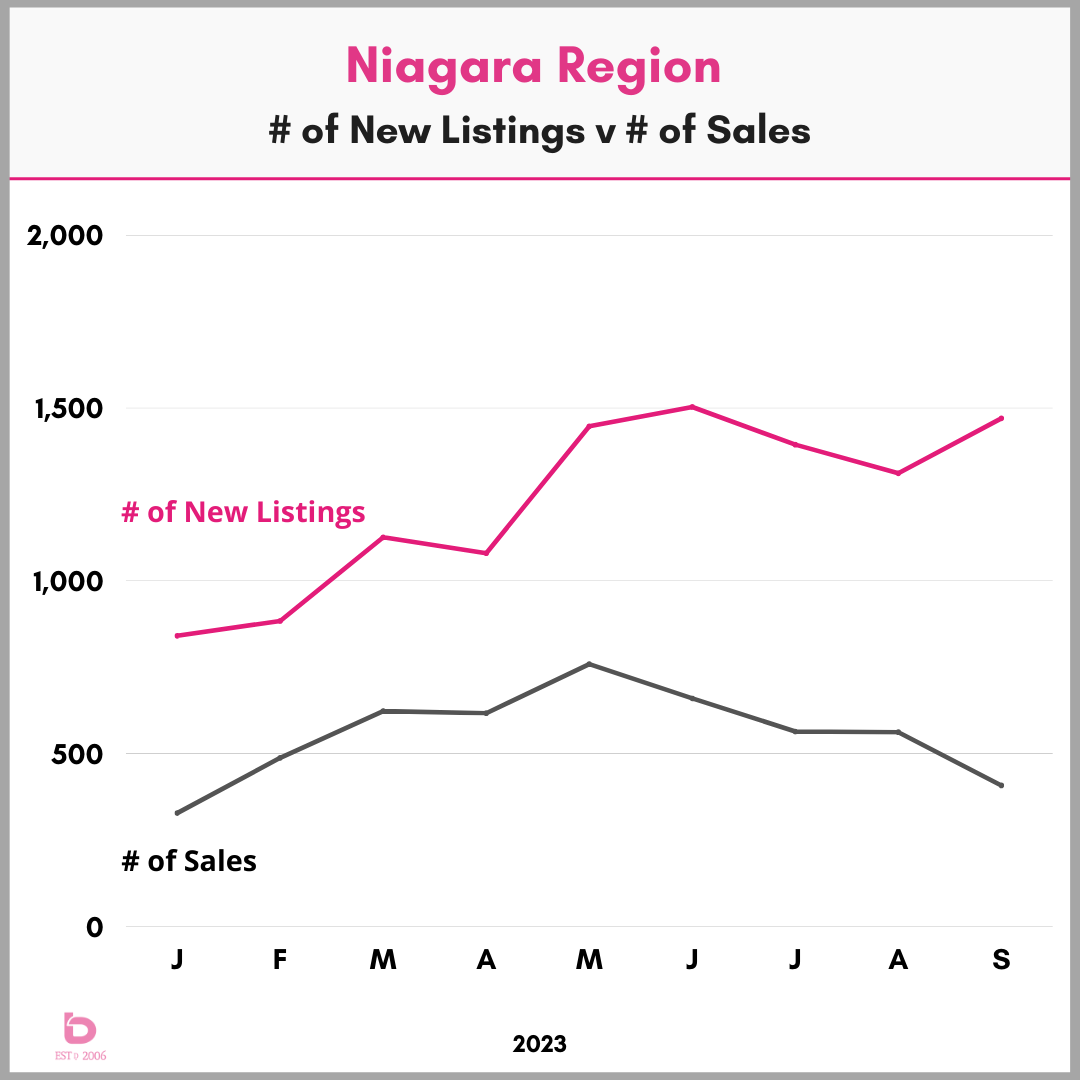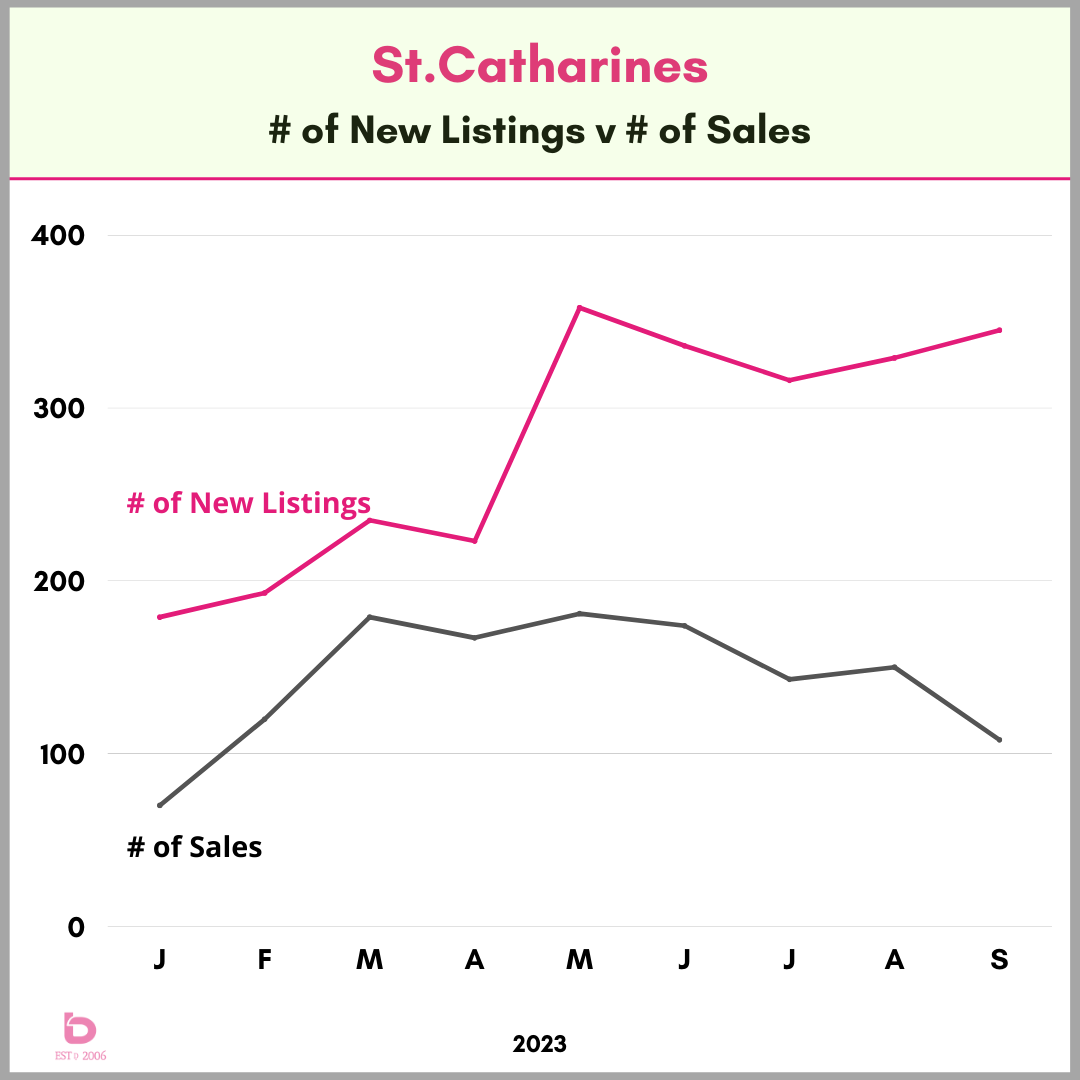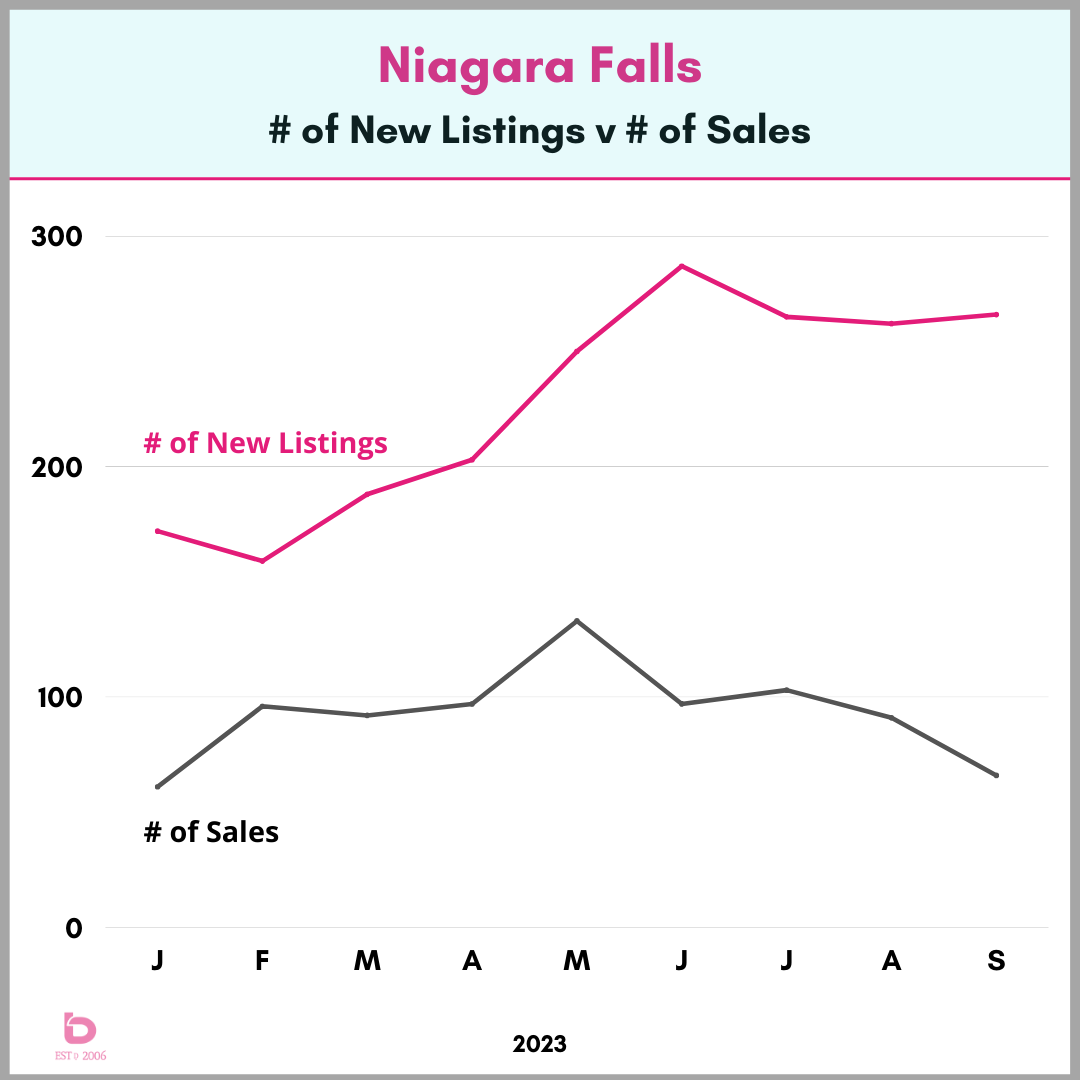 ---
What about the other cities? Smaller volume cities like Niagara-on-the-Lake, Lincoln, Fonthill and Fort Erie produce very erratic monthly data. As a result, the new listings and sales graphs more resemble an EKG monitor read-out than a real estate report.
That said, we know people want to know about different cities, so we have broken Niagara up into 3 categories.
Larger sales volume markets (St.Catharines, Niagara Falls and Welland
Higher priced markets (Niagara-on-the-Lake, Grimsby, Fonthill and Lincoln)
Lower sales volume markets (Port Colborne, Thorold, Fort Erie)
In general, you'll see a pullback across the board aside from St.Catharines and Grimsby, which both had a modest bump-up in September.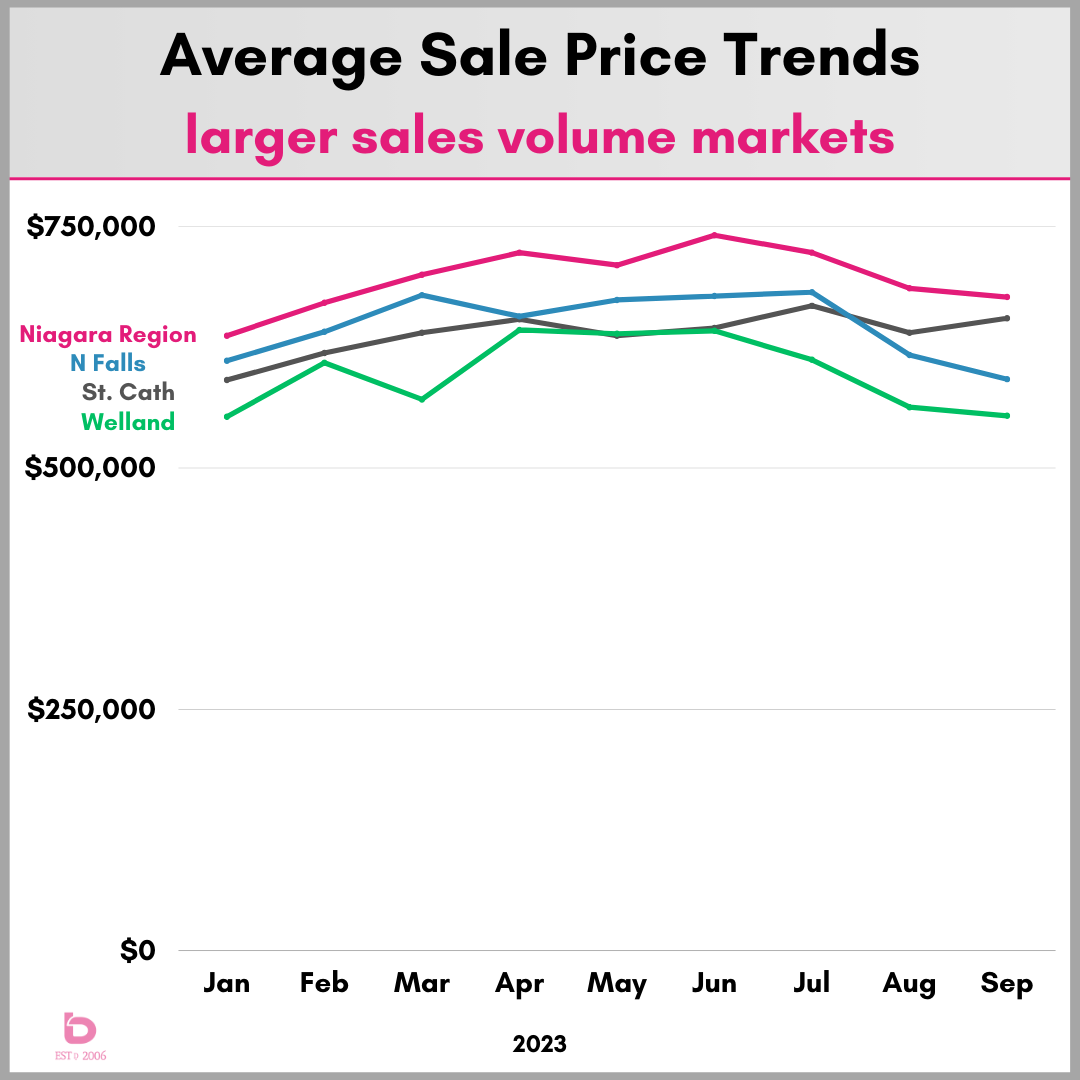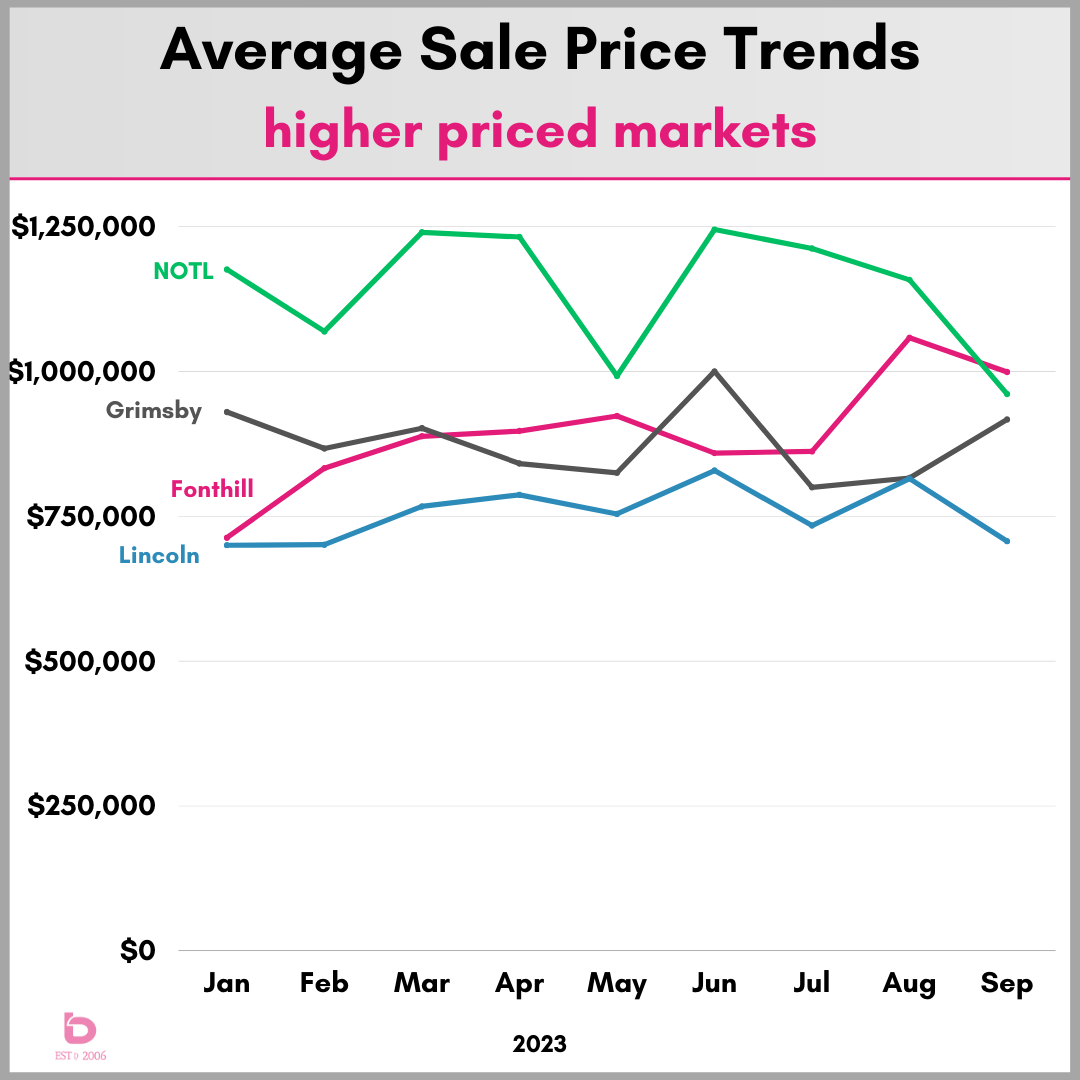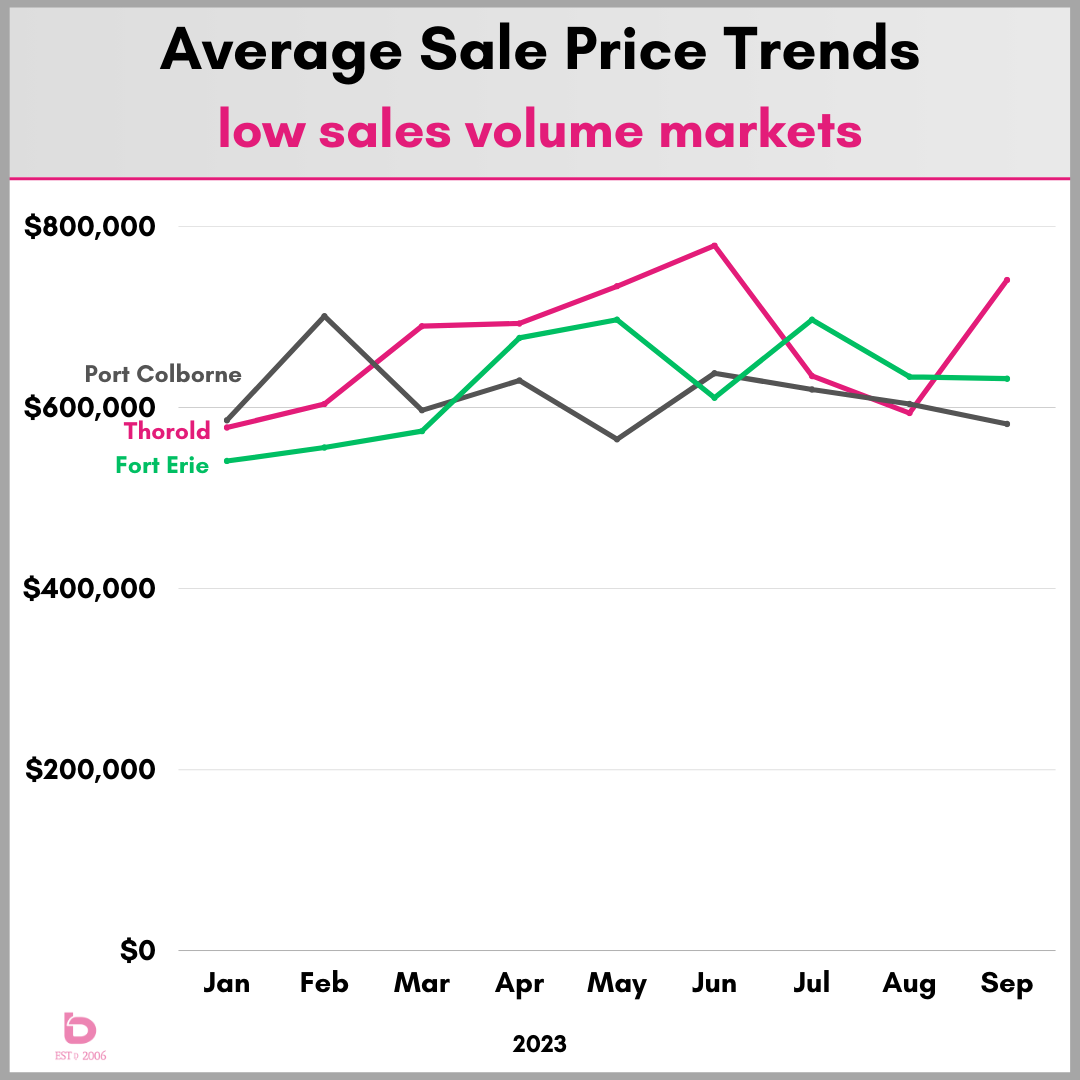 Why are prices up in St.Catharines? While there are less homes selling than normal, buyers are still seeing value when a home is priced accurately. If a home is over-priced, the buyer will keep looking. It's that simple and that complicated all at once.
---
The Million Dollar Market continues to evade most sellers. While homes over a million dollars represented 20 – 25% of all sales back in peak markets, they are now 8 – 9% of all sales here approaching the end of 2023.
In spite of that new reality, new listings over one million dollars continue to arrive at the marketplace unabated. Just because a home at $1.5M isn't selling doesn't necessarily mean it's not a beautiful home and isn't worth that money. It is more of a byproduct of the demand simply not being there.
Have a look at this graph. The pink line shows the number of active listings over one million dollars while the black line shows the actual monthly sales.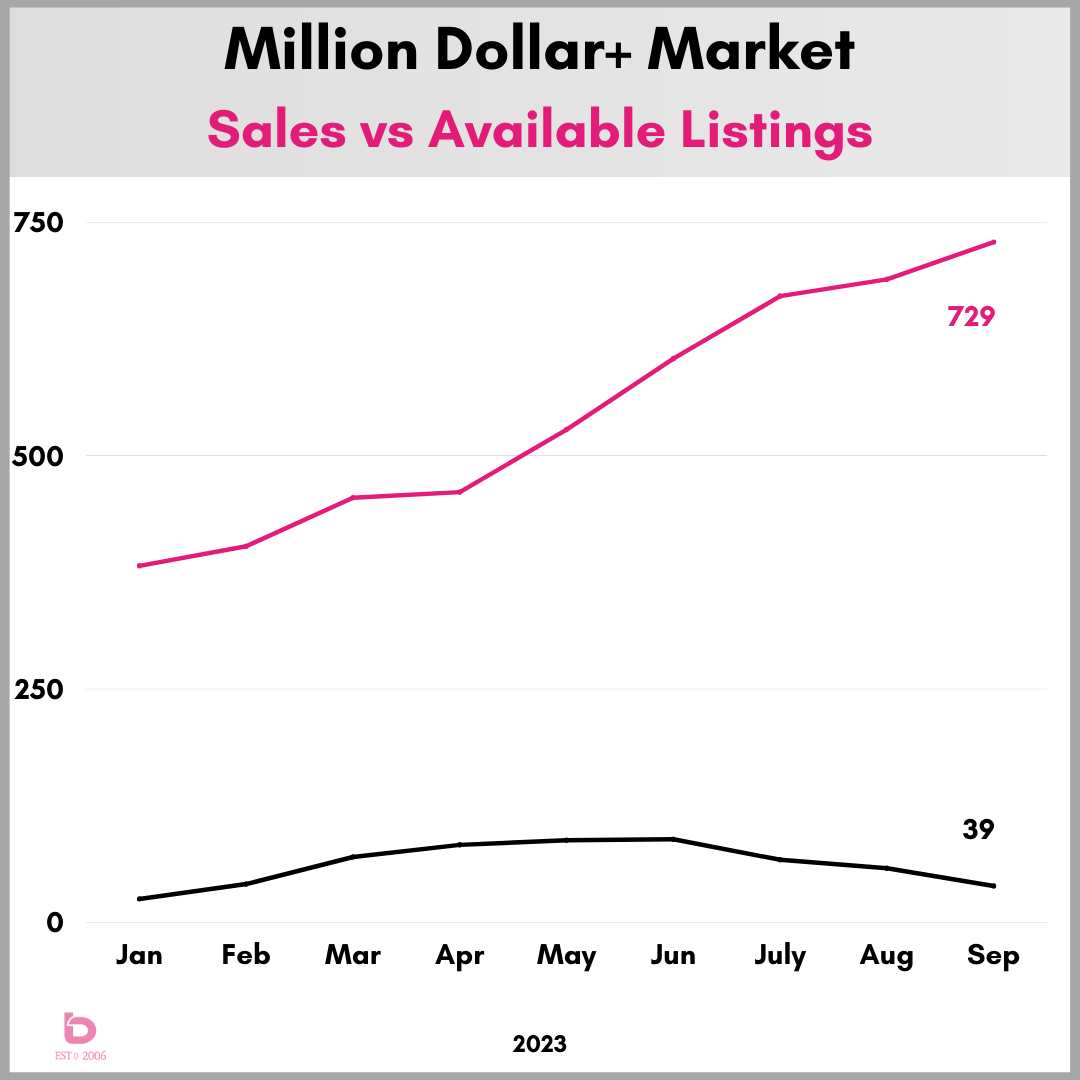 Yes, there are 729 active listings over $1,000,000 with only 39 sales in September.
If your home is for sale over $2,000,000, you might want to duck. Have a look at this: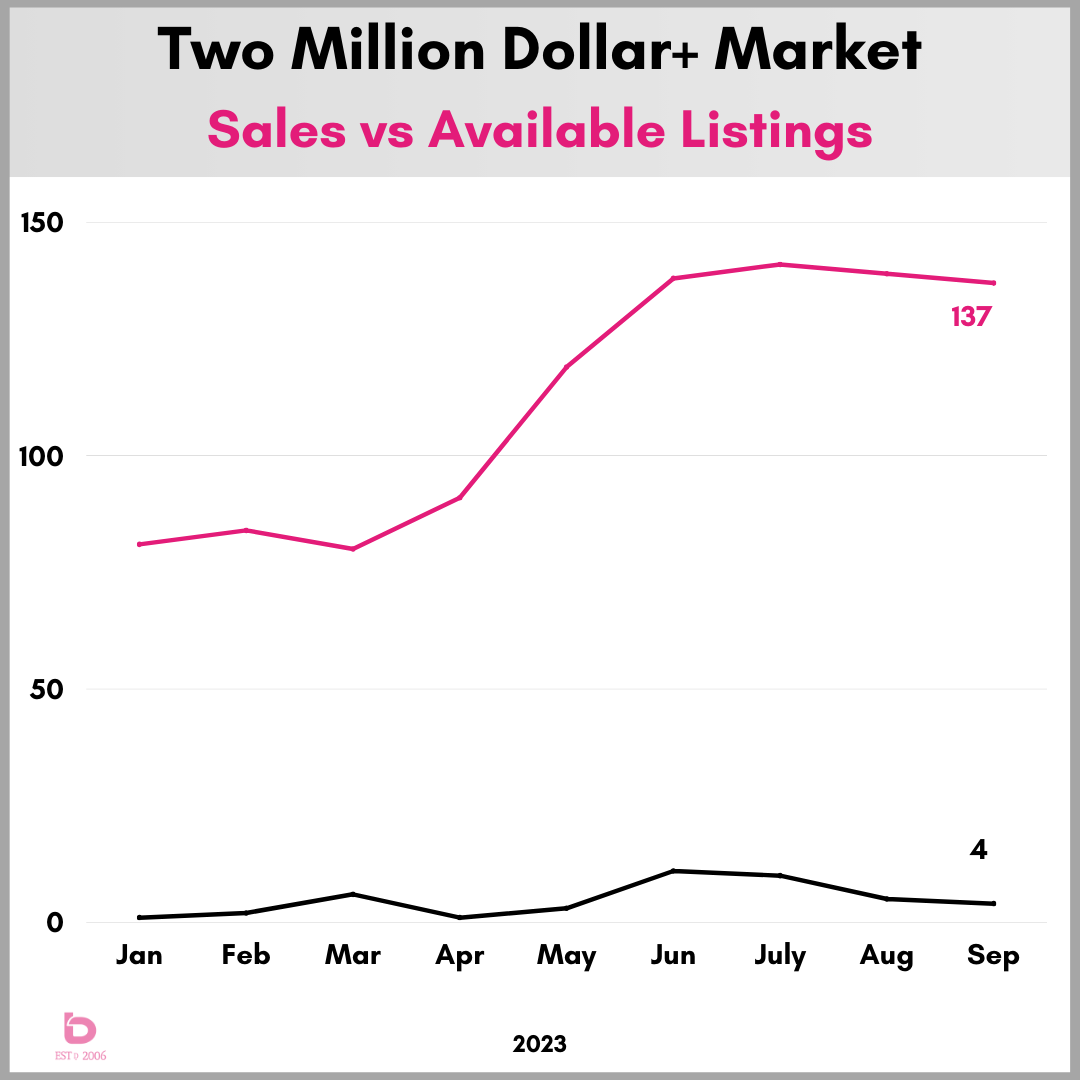 There are currently 137 active listings in Niagara over $2,000,000, with only 4 sales in September. If you subscribe to the Months of Inventory philosophy, that is approximately 36 months of inventory. Meaning, at current absorption rates and if nothing else was listed, it would take 3 years for all existing $2M+ inventory to sell.
Again, this is simply a market that has stalled out. We would expect to see many of those sells press the pause button as we get into the colder months.
---
In summary, yes, the market is in a tough spot. If the Bank of Canada's mission (or one of them) was to slow down the housing market, I would argue it's mission accomplished.
Consumer confidence has been bludgeoned. Sales are down to record lows while the days to sell a home continue to increase. In a nutshell, the (Niagara) housing market is slowly turning into a battlefield of frustration and challenges.
But, here is the flipside of that doom & gloom.
Homes are selling. People are moving. It is not all terrible. It is a market that requies far more effort, skill and patience than we've needed in the previous 8 or 10 years.
If you'd like to have a chat, please do not hesitate to reach out. We're here and happy to help with any questions that you may have.