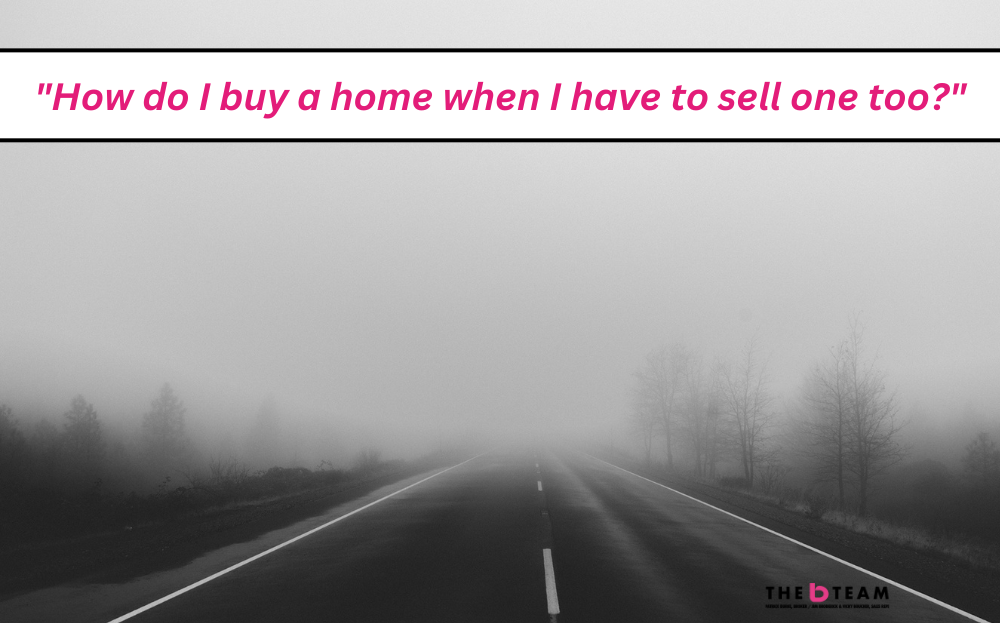 Date Posted: 08/03/2023
"How are we supposed to move when we have to sell a home?"
When a market is in transition, the landscape can get a little foggy. Ironically, when a market skews heavily in favour of a seller or a buyer, the path forward becomes easier to navigate. ie: if its really cold out, the question of what to wear outside is easy. But when it is 7 degrees and sunny, do you wear a coat? A heavy sweater? Is a hat even necessary?
Disclaimer: there are countless variables to each individual situation, so sitting down with a strategic-minded Realtor will help map out the best path forward for your individual situation.
---
Moving in a Heated Seller's Market (2021 & early 2022)
When homes are selling in heated competition with buyers lined up out the door, as a person looking to sell and buy, you would be smart to buyer first. Once you're secured your purchase, you can then sell your home in the hot seller's market.
Why buy first? In a heated seller's market, you may lose out on a few (dozen) homes before you lock down your purchase. By securing your purchase first, you will know where you're going and what closing date you need. Then when it comes time to sell your home, you can almost dictate the terms and take comfort that the intense buyer demand will work in your favour.
Why not buy first? You need to be careful with timing. We have all seen how quickly a market can change, so once you've secured your purchase, you'll want your home up on the market instantly to capitalize on the current market conditions. As an alternate, if the supply of what you're looking to buy is plentiful, you can still move ahead selling before purchasing, knowing that when the time comes, you'll be able to find your new home.
---
Moving in a Strong Buyer's Market (summer 2022 - early 2023)
On the flip side, in a heated buyer's market, the buyers are in control. As a result, the average time to sell a home might be 60 or 70 days (or more). In a nutshell, selling your home becomes less predictable. In this case, going out and buying a home with a 45 day closing (for example) is risky given that your home may not be sold and/or closed in time.
So, in this instance, the safer path may be to sell first in order to be sure you won't be owning 2 homes.
Why sell first? Reduce the risk of being stuck with two properties or worse, not be able to close on the home you've tried to purchase. As well, when selling in a buyer's market, the ultimate selling price becomes less predictable so when selling first, you'll know exactly how much money you have to work with.
Why not sell first? What you're looking for is extremely hard to find so the risk-reward is worth it. Alternatively, you may be able to arrange a flexible closing date scenario that allows you to proceed safely. Again, see the disclaimer at the beginning of this blog.
---
So, what to do in one of those in between, foggy, not-so-sure markets?
More often than not, the market is in a foggy state. Meaning, "what to do?" isn't so clear cut. As a result, there are pros and cons to consider with each option ahead of you. When a market starts to improve from a very weak seller's market (in other words, the buyers held all the cards), a few things will happen:
On the one hand, Buyers will feel some confidence (leverage) when offering but if they are also going to be selling something, they will likely be cautious and want to insert a condition allowing them to sell their home (the Sale of Buyer's Property condition).
Meanwhile, the Seller, in seeing the transitioning market, may feel renewed confidence and not accept the condition on sale of property despite the fact that they may not have anything better on the horizon at the moment.
"What if…" will stop both parties in their tracks.
This is particularly common when a listing is in the first week of being on the market. A buyer, feeling like they're still largely in control, may be surprised to find out that buying with the SOP condition is harder than expected.
Which brings us back to the original question:
How To Buy A Home When You Have To Sell One Too.
The key is to sit down with someone who can apply insight and market knowledge to map out what the next best steps are going to be.
In a foggy market, that guidance will be worth its weight in gold.
Click here to book a call or email us