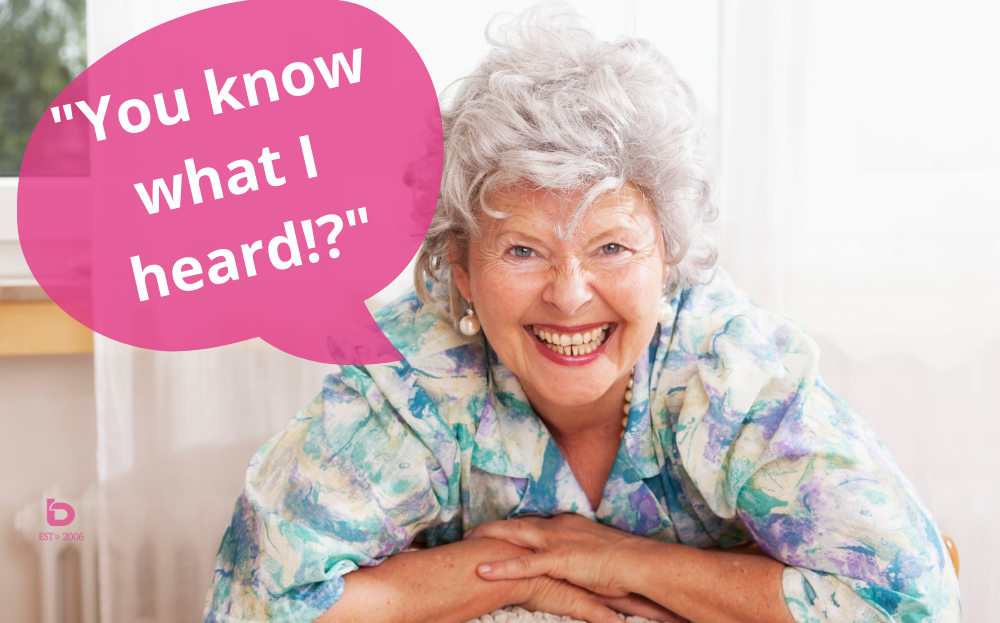 Date Posted: 10/03/2022
"You know what I heard!?"

The Niagara real estate market continues to make headlines. Prices up 17% in a month. Sales down by 21%. Your neighbours home sold for how much!?!
With such volatility and shocking numbers, one of the unfortunate side-effects has been the rise in the Real Estate Expert. We are hearing more and more from people that they heard from someone that < insert theory here > was going to happen.
A few of the most recent and memorable:
The market is going to crash in the next 10 days.
This is one we've heard for the last 20 years. In 2008 we heard it. In 2017 we heard it. And in general, it's been simmering in the background like a pot of overcooked stew. Our response would be "based on what?"
And please show me the previous successful predictions and crystal balling that you are responsible for.
The average price of a home in Niagara is going to be a million bucks this year.
Sure, if someone is using their neighbours home or their street as statistical evidence, but the entire Niagara market will not average over a million this year. So far in 2022, the average sale price has bounced around between $850,000 and $860,000.
Prices are going to go up by 10% this year?
Here's the thing with pricing predictions. It always depends on what you are comparing to. The average price for a home in Niagara jumped 12.6% from December 2021 to January 2022. Yes, it jumped $95,000 in 1 month. Compared to the 2021 avearge, January 2022 jumped up an astonishing 20%. So, if the pricing were to retreat back a bit (it probably won't), there is still a lot of room for growth.
For example, if the sale price retreats back to $810,000 for 2022, that will stiill be an increase of 14% for the year over 2021. To answer the question, 2022 will almost certainly increase by 10% over 2021. The optics though will be important since even if the prices retreat back from January, the year will still post one of the biggest annual increases on record.
This city has been taken over by investors!
There is no doubt that they've had a huge impact on the marketplace. But remember, there are many types of out-of-market buyers and not all of them are investors. There are those looking to buy and rent out a home or who will split a home in two and operate a duplex. There are speculators who will buy a home, sit on it and sell it 6 or 12 months later. And then there are a lot of out-of-market buyers who are simply buying a home to live in and enjoy. We have already seen a decline in the speculator and single rental investor so watch for those homes to potentially reappear on the market in the next 12 - 18 months.
The interest rates are going to go through the roof!
The overnight lending rate was increased by 0.25% to 0.50% last week. There are 3 more hikes expected this year but it's important to remember that just prior to COVIDs arrival, the overnight rate was at 1.75%. These low rates were introduced to help support a nervous populace as COVID wreaked havoc across all of our lives. The current and terrible situation in Ukraine is a wild card that will impact things so future rate hikes and overall economic health will be tough to predict. But there is no indication that rates are going to go through the roof.
If anything, the expectation is we'll be back to pre-COVID numbers by the end of 2023.
As well, it's important to remember the stress test which was introduced back in 2017. Anyone qualifying for a mortgage at 2.8% (for example) had to actually qualify at 4.8% (rough numbers). So to some extent, there is a cautionary amount built in to ensure that buyers who purchased a home at 2.8% can handle some upward pressure on a variable rate mortgage. If you're locked in to a 5-year term, then you will be considering current rates at the time of mortgage renewal 3 or 4 or 5 years down the road.
There is nowhere to move to. Where am I supposed to go?
Well, it depends where you live. Niagara Falls in March 2022 is now in its 9th consecutive month of weak listing inventory so the landscape is a bit tougher there. Meanwhile, St.Catharines has absolutely come to life with a very strong February and March (so far).
Markets change and they can change in the matter of days or a week. If you really want to get into a new home (downsize, upsize, simplify, get closer to kids or parents), you will likely find a more friendly market now than anytime in the previous 4 - 5 months.
---
The moral of this story is, as with anything in life, be careful where you are getting your info from. If your buddy Rick is giving you advice on that pain in your left side, maybe it's a good idea to ask what line of medicine he's in. The same goes for free legal advice, engine noise consultations and electrical tinkering. It's best to hire a lawyer, mechanic and licensed electrician (in that order) rather than consult your neighbour Joyce who's son knows a lot of people in Sudbury who can do all kinds of stuff.
They may all be lovely people who just want to help, but they're not the best source for accurate and timely information.
The same applies for real estate.
Make sure the person you are talking to checks off these boxes.
is a full-time, informed Realtor
knows how to chop up the data and provide insight
stays up-to-date on a daily basis. (see above re: full-time)
doesn't start sentences with "I heard that..."
Looking for help with your home or the market in general? Please feel free to contact us anytime. We're always happy to chat real estate.