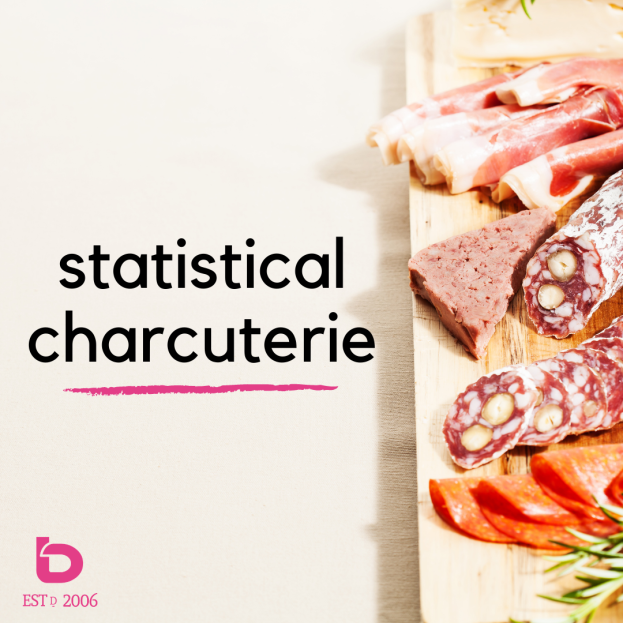 Date Posted: 26/12/2020
Welcome to Volume 1 of a new series that will be recurring as time marches on. Think of it as a charcuterie board of real estate market data. But not the same old same old. This will be a board you'll want to snack on.

Enjoy! ...and as always, if there is a piece of data you'd like to know, message us anytime and we'll serve it up right away!
---
People movin'
Did you know that about 24 homes are sold everyday in the Niagara Region? That's 48 people or families that are purchasing or selling a home each and every day.
Little known fact is that St.Catharines accounts for 25% of all Niagara region sales. Which means in St.Catharines that roughly 6 homes are sold every day. 12 people or families...every single day.
---
Sorry, how much!?
The dollar volume of sales is the total dollar amount of the sales that took place. Or in other words, adding up the sale price of ALL sales. In Niagara in 2020, that number is nearly $5,000,000,000. (That's 5 billion).
That is nearly $2,000,000,000 more than it was 2 years ago in 2018.
Or about a 38% increase over the previous year (2019).
This shows it in some more context: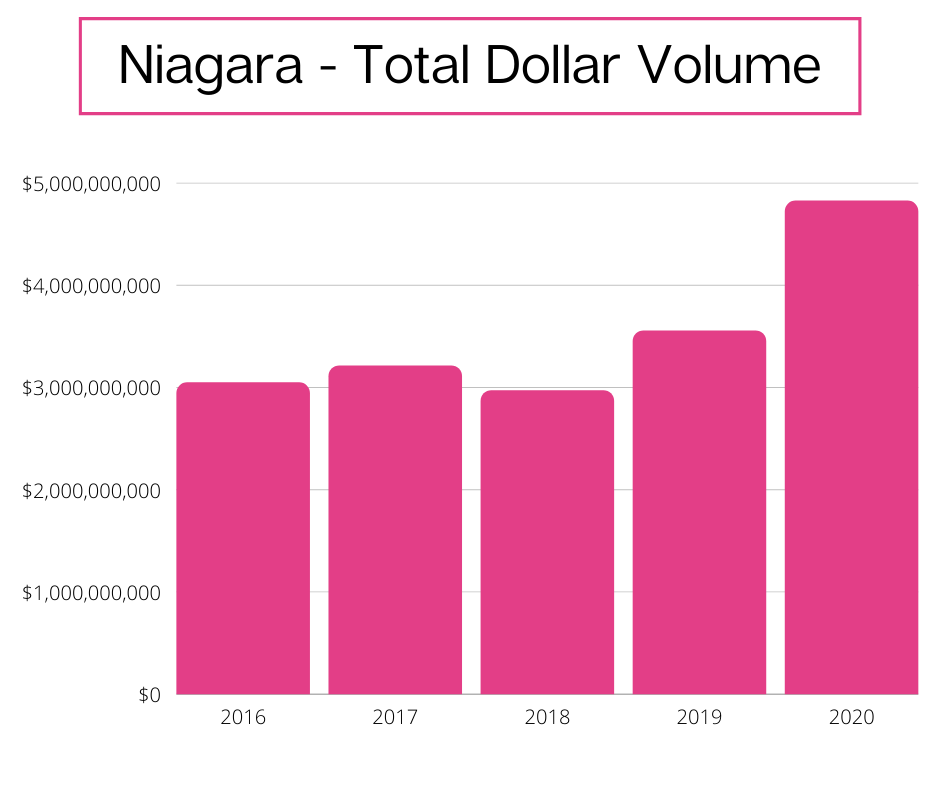 ---
Not all homes sell...true story
Not all homes sell. In spite of all of the sales, there were 11,635 expired listings in 2020 in Niagara (homes that didn't sell during that listing which either stayed off the market or came back on at a new price or with a brokerage and ultimately sold).
How did 2019 do? 2019 was the 2nd worst year for expired listings in the last decade with nearly 1000 more than 2020.
In a related story, 2019 also had the 2nd highest number of new listings in the last decade.
---
I can't believe what homes are selling for now....
Remember when you were saying that in 2016 or 2017? If only we all had time machines to go back and say "bro....you have nooooooo idea what's about to happen!"
Quite simply, the upper end of the market has exploded. Or re-invented itself. Or invented itself.
Fun Facts:
In 2017 + 2018 + 2019 there were 1,350 homes sold over $750,000 in Niagara. In 2020 there were 1,249. That is almost as much in 2020 than in the 3 previous years combined.
Over a million?
There have been more sales over $1 million in 2020 than in 2010 - 2017 combined in Niagara.
As well, there have been nearly as many sales over $1 million in 2020 as there were in 2017, 2018 and 2019 combined.
Sales over $1 million increased by 130% in 2020 v 2019. For those keeping score, that is doubling and then some.
Think about that. A market that barely existed in 2016 (87 sales or less than 1% of all sales) has reached nearly 450 sales or approximately 5% of the overall market only 5 years later.
---
The Comeback Kid
St.Catharines has been lagging behind during the great recovery of 2020. While other cities have had sales volume (total # of sales) for 2020 eclipse 2019 a few months ago, St.Catharines only passed 2019 here in December.
Well, the St.Catharines train has kept chugging and 2020 is now only 70 sales shy of moving into 3rd place in the last decade. That would be behind the juggernaut years of 2015 (2,326 sales) and 2016 (2,528 sales).
---
St.Catharines Flirts with $500k
The average sale price for St.Catharines has been flirting with $500,000 all year but will settle somewhere around $496,000 for 2020. Good for an increase of about 15.5%. That puts 2020 firmly in 2nd place in annual percentage price increase in sales price.
A Silver Medal in a COVID year that saw St.Catharines stumble back to its feet after the rest of the region was already up and strutting.
How have the last 5 years been?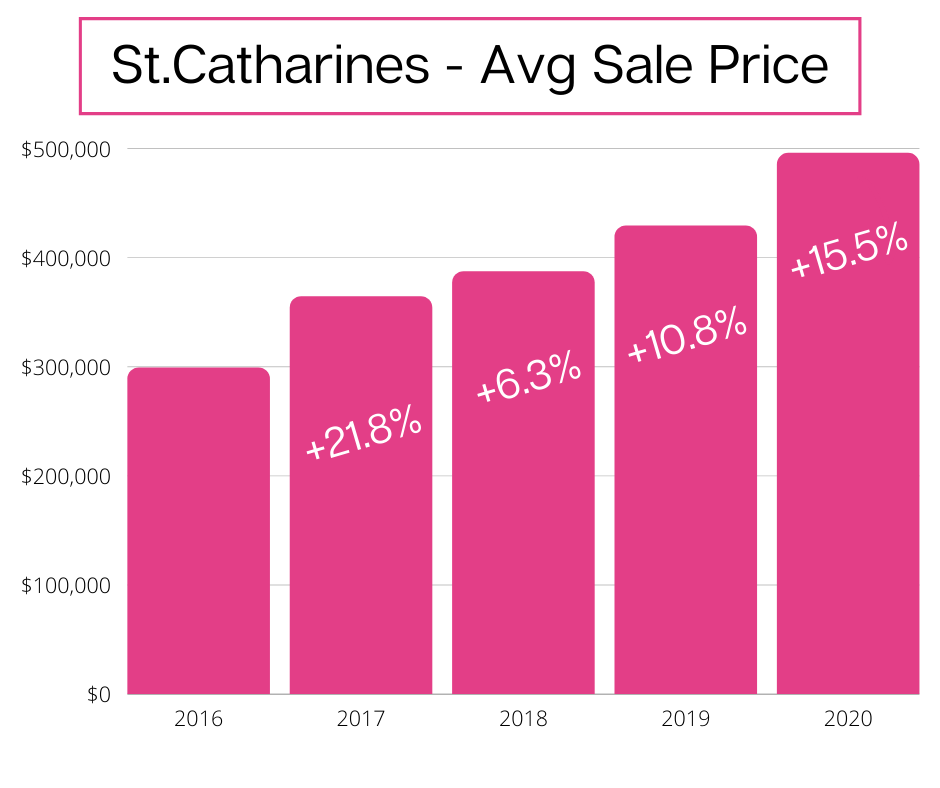 ---
We Need More Cowbell!
In this case, cowbell is new listings.
St.Catharines especially. With 1/4 of ALL sales in Niagara, 2020 will be the worst year in new listing inventory in the last decade in St.Catharines.
Worst.
Last.
Need proof?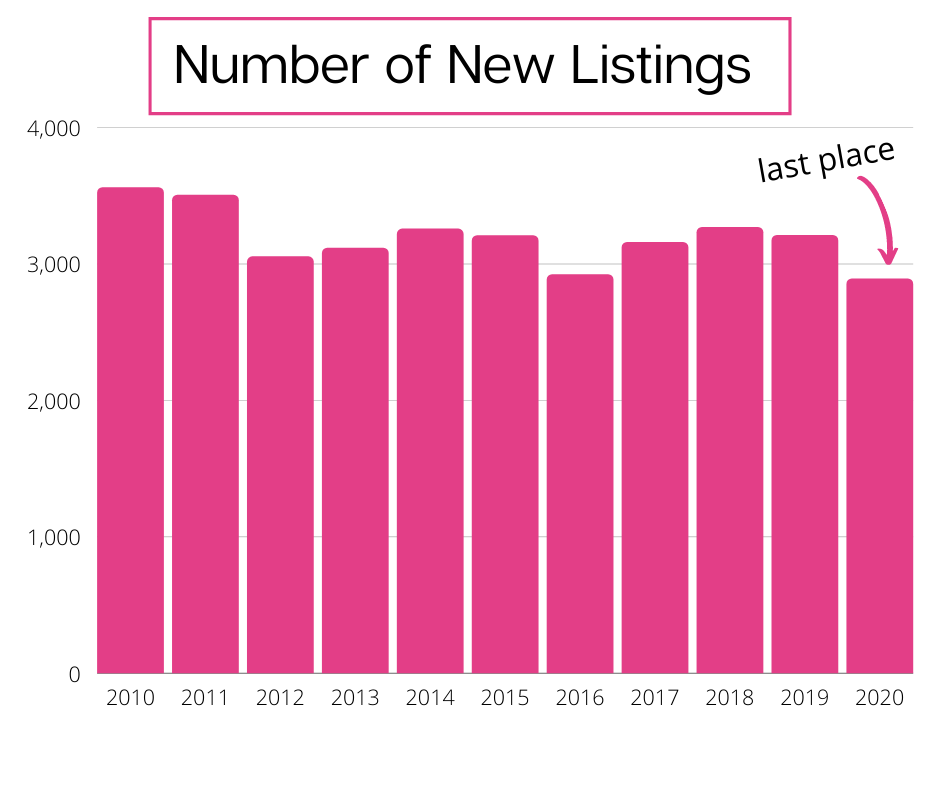 ---
Ok. That should do it for Volume 1 of this Statistical Charcuterie Board.
Is there a stat that you've always been curious to know? Message us and we'll deliver it to your digital door.
Thanks as always for visiting.