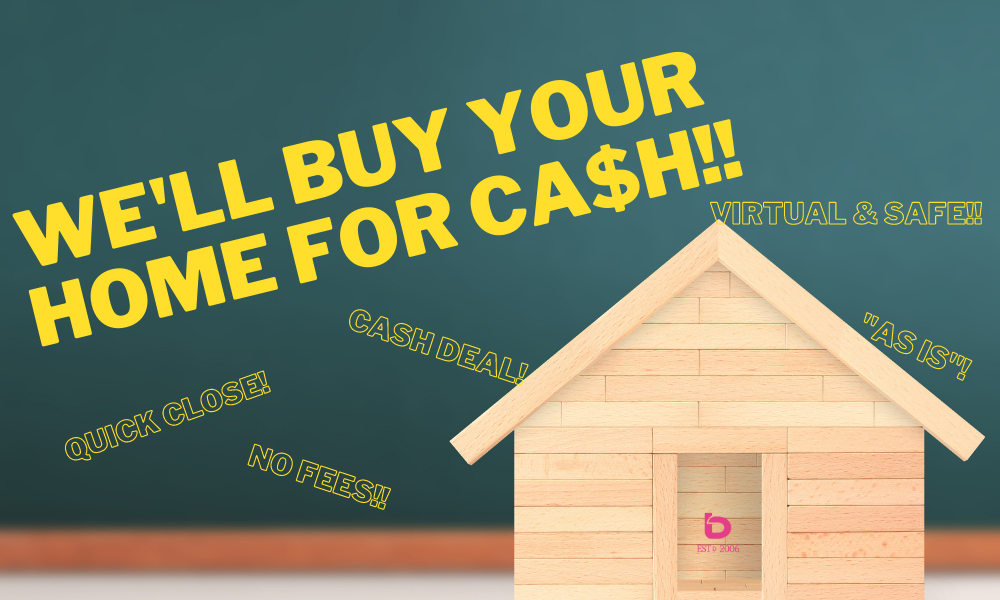 Date Posted: 15/01/2021
WE'LL BUY YOUR HOME FOR CA$H!!
First, let's get a few things out on the table.
Some of these operations are legitimate people or small groups looking to buy homes, renovate them and sell them. Like anything in life, there is a spectrum of motivation, transparency and intent.
So, just looking at 'the letter" objectively, there are often commonalities as far as the content and messaging goes.
Prefer the video version of this? Scroll down and click on the YouTube link!
Otherwise keep reading and have a look at it here.
---
Point #1: We'll buy your home for cash
Homes are only ever purchased with cash. An offer is made, price and terms are agreed upon and on the closing date, cash is transferred into the seller's account via their lawyers.
What is a "cash offer"? Does cash offer = non-conditional offer? Is a cash offer somehow superior? Depends who you ask.
example 1: an offer with no conditions whatsoever. Once the seller signs it, the home is sold firm.
example 2: an offer without a condition on the buyer selling their home.
For the sake of this article, we'll use example 1.
So, the implication here is their offer is somehow superior or more exciting because it's "cash". In a market like we are currently in, the sellers are firmly in control. It is a market hungry for inventory which any buyer will clearly tell you right now. Looking back over the last several months, a good number of the homes are being sold with non-conditional offers.
Even in a more balanced market, a home that is represented by a skilled and experienced Realtor can sell quite nicely with a finance and inspetion condition. The percentage of homes in a regular market that fall apart due to one of those conditions is very low.
In a Buyer's market where there is a glut of inventory and the days to sell is hovering around 90? Sure, the idea of selling quick for cash is definitely compelling but we aren't anywhere close to that and haven't been in a number of years.
Key Point: All homes sell with cash. An unconditional offer isn't always the best offer and it isn't always special. Particularly in the last 5 years and going forward indefinitely.
---
Point #2: We'll buy your home in "as is" condition
Homes are sold in "as is" condition all the time. The stove doesn't work? The central air is broken? There is a bunch of junk in the shed? Realtors are agents. Agency by definition is "a business or organization that involves organizing transactions between two other parties".
We organize transactions. Have a bunch of stuff in your basement that you don't know what to do with? Have a faucet that leaks? Have a broken central air? We work with those issues all the time. It's a big part of what Realtors do.
Key Point: If someone is going to buy your motorcycle off of you in "as is" condition, they are adjusting the price downward to compensate for the deficincies. But what if you had a few of them fixed and not only got that money back but that money and then some?
The concept of "as is" implies that the issues you may be worried about are somehow insurmountable so therefore we can let these people take it off of our hands.
---
Point #3: Avoid those pesky Realtor's fees.
This point is made by many entitities out there. But there is one common implication here that is rarely discussed.
The only way you would save those fees is if your Realtor sold your home for the exact same amount.
Home A: sold for "cash" in "as is" condition in "48 hours" for $525,000
Home B: listed with an excellent Realtor. The home is prepared for the market with the help of the Realtor. Photos and video are done so that a pre-marketing campaign can start. The home is launched on Realtor.ca on Wednesday. Calls are fielded. Emails or text inquiries come in. Social media connections are worked. Showings beging. 4 today but 11 booked tomorrow. Over the next 4 days, 27 showings happen and offers are going to be dealt with Monday evening. 6 offers are on the table and review. The home is sold for $590,000
Which scenario nets the seller more money?
The argument might be made that some sellers don't want to go through that hassle. And that is just fine. We work with sellers of all types and for those who want a more streamlined simple process, we can assist with that. We've had sellers move into a hotel for 3 nights while showings are contained to that time. We bring in people to handle any prep work and staging required.
Key Point: Sellers should be aware of what both sides of the page equal. Not just whether or not fees apply. What is the process and variances within? What dollars are we talking about? How long do we expect this to take? If we don't do anything, what would our home sell for on the open market?
But if a Realtor can only sell the home for the same amount as the cash buyer, then we would suggest that something is wrong.
---
Point #4: We'll buy your home within 48 hours.
In a market like we're in, in the areas where this latest letter went, virually any detached home in the $400 - 750,000 range could be sold in 48 hours. Or a week. Unless someone is distressed, the trade-off for this quick, 48 hour timeline is money left on the table.
If we listed a home for $600,000 in the north-end of St.Catharines today and said bring us an offer anytime, we'd likely have a handful of offers on the table by this time tomorrow.
But...what if there were 23 other people who wanted to see the home? Wouldn't you as the seller rather have your agent wait 4 or 5 days to allow them through, manage inquiries, answer questions, gather interested parties and formulate a plan to review and accept an offer on a particular day?
And that concept applies to virtually any home. The shiny magazine cover home and the 'needs work' home alike.
Key Point: Rarely is it imperative to sell you home within 2 days. The implication of this point is that they'll somehow make things nice and simple for you. But a savvy Realtor who knows how to operate in this market will do just that and bring you more money.
---
Point #5: Stay safe during COVID. We can buy your home virtually.
There were nearly 8,800 homes sold in 2020, the 2nd highest total on record. Those homes sold under the cloud that is COVID. It's important to know that the real estate industry has protocols and processes in place to keep things moving and safely.
The virtual sale is another issue. We rarely (verrrrry rarely) sell a home where the buyer doesn't physically walk through. To do there, there is a long list of checkboxes and due diligence to be done. Verification of identification, confirming the source of the money, Fintrac processes and various other steps must be taken.
To sell a home privately where the buyer doesn't physically enter the home would generate a long list of concerns.
Key Point: yes, COVID is having a massive impact on all corners of life these days. But homes are and can be sold safely everyday as people adapt and adhere to the rules and processes that keep us all safe.
---
Point #6: Refer us someone and we'll kick you back money!
Otherwise known as "bird dog fees", this is something that us Realtors are not allowed to do. We are not allowed to slide $1,000 under the table to someone for putting us in front of someone else. It just creates too many situations that may not be fair to the person that gets the "do you want to sell your home" knock on the door.
Key Point: The "bird dog" is the dog that is sent out to track down the bird. So, not a lot to say on this one but it's worth noting that scenario is very much not allowed in organized real estate.
---
As mentioned, the "cash buyer" group isn't necessarily an entity to run away from. But our concern is quite simply this. It's important that any seller who would consider such a path knows the totality of the situation. What are the current market conditions, what other options are out there and what money could potentially be left on the table by going the "cash, as is, quick close" route with a private buyer. Especially today when "cash, as is, quick close" offers are happening in all directions.
Prefer the video version? Watch here:
Thank-you for visiting. Any questions or thoughts? Let us know anytime.