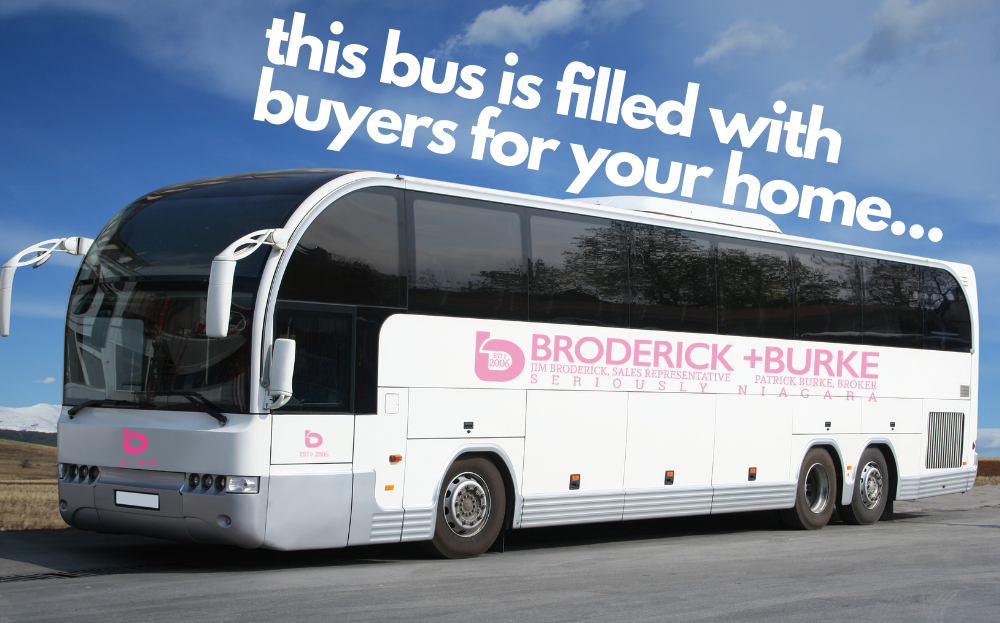 Date Posted: 15/05/2021
Exposure. Awareness. Buzz.
Every bLOG needs a dose of inspiration. This one is pretty simple.
We saw a listing go on the market yesterday with snow in the photos with the main photo taken from the driver's seat of the listing Realtor's car. And yes, that was in mid May 2021. (if you're reading this in the future, it was 23 celcius and sunny that day....)
When selling anything, you need a combination of several moving pieces to come into alignment.
Effective marketing.
Appealing presentation.
Accurate pricing & strategy.
All 3 of those variables should direct all steps made towards a successful sale. So, here comes the bus analogy.
---
HERE COMES THE BUS
Based on the scenario that there are 40 buyers for your home on the bus, the strategy & approach of those 3 variables should work towards getting as many (or all) of those 40 buyers off the bus and through your home.
Again. Every step with regards to selling your home should be done in an effort to get as many of those 40 buyers through your home.
Some advice for getting all (or most) of the 40 buyers through your home:
Properly prepare your home for market (staged or tweaked, simplified, cleaned)

Organized pre-listing promotion (social media, agent-to-agent, signage)

Professional and beautiful photography & video (professional photography is a bare minimum in 2021)

Appropriate and relevant pricing and listing strategy (what are the current market conditions?)

Creative exposure on digital media (website, social media)

Realtors utilitizing systems (checklists, follow-up processes, question handling)

Realtor-to-Realtor communication (must be responsive and facilitate activity)

Positive and diligent work ethic (your Realtor is the Front Desk Representative of your Hotel)
All of the above is working towards getting an offer or offers on your home which produces its own extended list of important to-do items.
---
DON'T DO THIS...
Some advice for getting few (or fewer) of the 40 buyers through your home:
Just throw the house up on the market (because you know, why do a bit of prep to make another $40 or $50,000)

Zero pre-listing exposure (social media is a fad afterall)

Crisp iPhone photography (offering fish-eye lense, portrait AND landscape!)

Priced using a dart board (let's just get the listing up and then adjust later)

Digital media? (all I need is a For Sale sign and my Motorola flip phone!

Systems (I have a daytimer in my car somewhere)

Realtor-to-Realtor (consider it done)

24/7 - 365! (what I lack in marketing, I make up in work ethic!)
...truth is, we don't intend to make fun of other Realtors. But the reality is that this is an industry of individuals, each with their own concept of the marketing and sale process of your largest financial stake in this world. And the effectiveness of the work that is being done will determine how many of those bus riders (a) know about your home and (b) are interested in getting off the bus to go have a look.
Do you like a good chart!? (...yes, yes you do)
This chart shows the corelation between marketing and how many of those people are going to get off the bus.
The left side is the Quality of the listing strategy, presentation, pricing and marketing.
The bottom is how many of your buyer candidates get off the bus to have a look.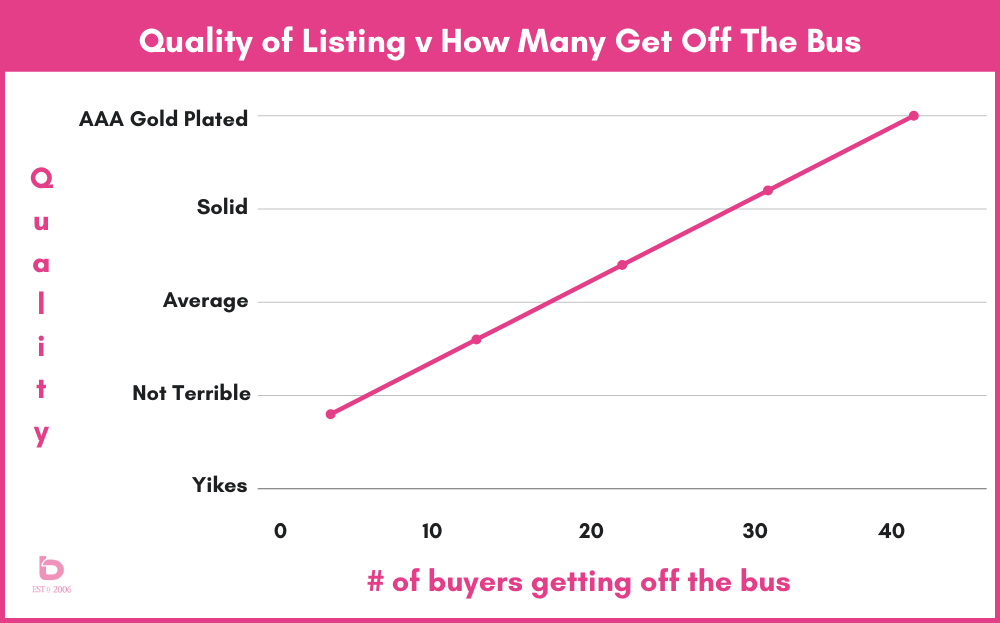 Something to consider next time you're selling a home, a bike or a 1986 Buick LeSabre.
We'll leave you with this...
Why or how do you get off the bus if you don't know about it or it's entirely unappealing.
As always, thanks for visiting. :)
CLICK HERE FOR A REAL ESTATE CHAT