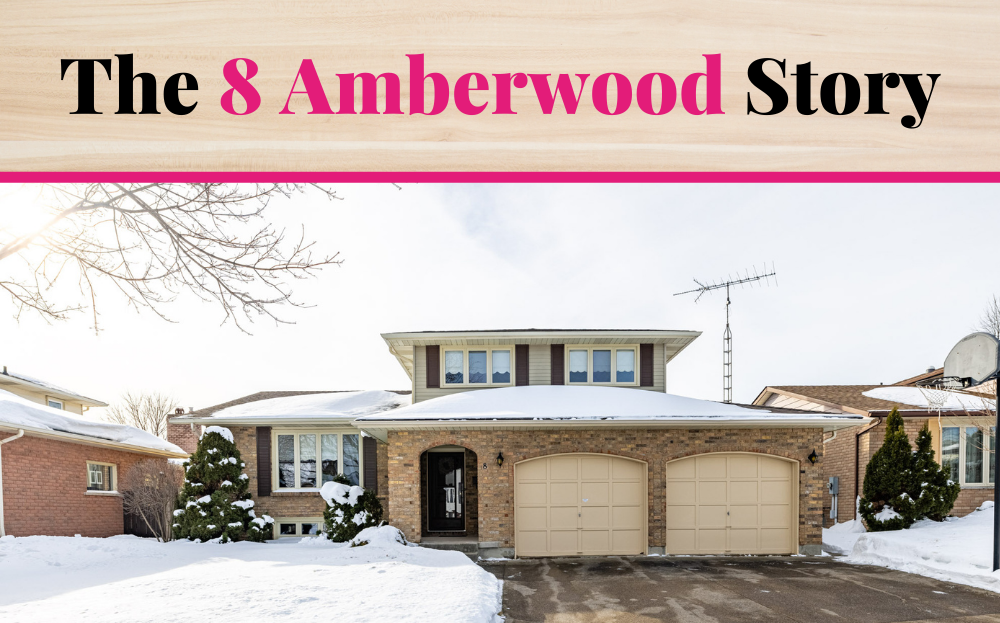 Date Posted: 17/02/2022
The 8 Amberwood Story
"It's a seller's market isn't it? Homes are selling themselves!!"
Well, true. To a point. There are a few other important pieces to this puzzle to think about.
Was the value maximized?
Was the process as close to stress-free as possible?
Is the agreement solid and properly vetted to ensure it actually closes?
In other words, how much money did you make us, did you make our life easier and do these buyers actually have the money (and ability) to close on this transaction?
So, yes, homes are selling differently these days, but there's more to the puzzle than the finished product.
We'd like to share the story of 8 Amberwood Court.
The Sellers
The sellers purchased the home brand new in 1982 and moved in in January 1983. To put it in context, this was a few months before Star Wars Return of the Jedi was released. :)
As the years went on and the children flew the nest, discussions began around the idea of simplifying and downsizing to something smaller with less overall maintenance and upkeep required. Less stairs. Less wasted space but still room for that dining room set and family visits.
Fast forward to January 2022 and the perfect townhome came on the market.
Bungalow
Condo with no exterior maintenance
Main floor laundry
Finished basement (great for family visits)
This is when the sellers picked up the phone and called us. It was time to move!
---
"How do we even get started?"
It all starts with an initial sit-down.
We popped over for a visit to chat about the market, their home and the next few steps that we needed to take. Not the entire journey. Just the next few steps.
---
"What about our stuff? We've been here for 40 years!"
Stuff. Everyone has it.
Kids toys. Cross country skis. Rubbermaid bins full of more stuff. Files. Tools. Books. So many books. Old clothes hanging on a rack.
After 40 years in a home, they had accumulated 'stuff'. Not truckloads of stuff. Just the usual things any home accumulates. It's a part of a home and life.
Deep breaths. One step at a time…
This is the preparation phase. One room at a time, we go through the home to identify the items to remove. Minimize, pack-up and reduce the items. No walls to knock down. No massive projects. Really, just a lot of tweaking and preparation. And this part is customized for each home, keeping in mind what the seller is comfortable with.
With The Amberwood Plan in place, the sellers (and several family members called into service!) got to work. They packed and reduced. They moved a few chairs and opened up some space. The fridge was cleaned off and some of the countertop items were tucked away. A lot of the contents on the shelves were packed up.
This is the "maximize the value" part of the process.
...and it's important to remember that you're moving so these things need to be packed up eventually. This pre-listing preparation actually simplifies the process down the road!
The sellers were doing great. Armed with our Seller's Guide and Frequently Asked Questions package, they were are all in!
---
"Where is our home going to be online?"
In terms of online promotion, the "where is" question is almost as important as "how is".
In our case, we always have our professional photographer and videographer come in to work their magic. The marketing must be brilliant! Afterall, we've all seen the negative impact that terible photos can have.
Going back to the question of "where is our home going to be online":
Realtor.ca
Our bTEAM website
The McGarr Realty website
Countless other websites through our online networks and affiliates
Social media (Facebook, Instagram primarily)
YouTube video on our YouTube channel
Check out the YouTube video here:
...no, the basketball shots did not actually go in. :)
Aside from online websites and social media, there is also good old fashioned networking.
For a few days until the home is 'live on the market', we are promoting the home on our social media channels and spreading the word with other Realtors. Awareness is key!
This phase is similar to the trailers and 'sneak peeks' for a new movie. "ooooh, I want to see that one!"
Realtors are seeing the home on our social media platforms and already reaching out. A sign is in the ground, photos and video are done and marketing is all in place and ready to go.
We're ready to pull back the curtains. It's almost showtime!
The sellers have a few more questions so we recap the next steps and what to expect:
How showings are booked and confirmed.
How the buyers and agent get into the home.
What to expect when buyers go through the home.
How feedback and post-showing processes are handled.
Where the home is going to be marketed.
How Realtors and buyers from other markets will find the home.
How to prepare the home for showings.
What to expect on offer day
Ok. We're ready!
---
"We can't wait to see our home online!"
Most sellers are shocked when they see their home on the computer screen. We often hear a seller say "I want to buy it!".
8 Amberwood is officially live and on the market! It is launched on Realtor.ca. The YouTube video is activated, websites are updated, and the fun begins!
Showings are booked almost immediately.
As planned, the sellers are ready for showings and know that they may be spending long spans of time out of the house.
More and more showings are booked, and it appears we will have a fairly busy weekend ahead of us. Phone calls. Emails. Texts. Messages on social media. Back and forth communication is key.
"Our job is to keep the wheels turning. In a market that is as intense as we have now, time is of the essence."
We stay in touch with the sellers. Showings are booked, feedback is provided and buyer questions answered. We're fully in flight.
"How old is the furnace?"
"What is the sellers preferred closing date?"
"To confirm, is there main floor laundry?"
"Who was the builder?"
We're knee-deep in social media posts, online promotion and general buzz. It is a time of intense action.
---
"How will the offer day work?"
With organization and a plan.
All the preparation and work that has been done up until this point was done to make today as positive as possible.
8 Amberwood Court was listed on a Friday with offers (if any) to be presented on the following Wednesday. Up to and including offer day, we are consistently reaching out to the Realtors and interested parties. This is a day of texts and calls and follow-up and emails and constant communication.
The sellers are hanging in there!
Offer day is a HUGE day for any seller so it is key for us to be organized, clear and under control. This is where experience and market knowledge come into play.
Sidebar. One debate is the "Toronto buyer" and how they're the biggest driver in our market. You may be interested to know that the majority of showings and buyer offers on Amberwood were from people who already live in Niagara.
The big moment had finally arrived. With offers in hand, we sat down with the sellers.
We discuss pros and cons of each. While stressful, it is also a chance for us to make sense of things and provide clarity. We manage the usual items:
Closing date
Sale price
Buyer position
Chattels
Deposit
Clauses and conditions (if any)
What ifs.
After about an hour of conversation and deliberations, a decision was made! 8 Amberwood Court has been sold to a Niagara family and everyone is thrilled!
There are still some details to iron out, but we have arrived at our destination. The sign is flipped to SOLD and the sellers can rest. At least for a day or two. Then it's time to get packing! :)
---
So yes, there are real estate success stories in a market such as this. There are ways to navigate the ins and outs in what is seemingly an impossible landscape to figure out.
The key is to have a plan and clear understanding of the next steps. What are the reasonable expectations and worries. The "what ifs" and "just in case" scenarios.
From there, a plan is drawn up that moves through the process one step at a time.
A to B to C to D.
---
What did the sellers have to say?
"Jim & Patrick helped us navigate through this exciting, nerve wracking journey! They led us
through the process step by step! We are very pleased with the outcome and are forever
grateful to THEbTEAM. Jim, Patrick and Vicky are the best!"
If you would like to take that initial step, please contact us at your convenience and we can set up a chat. And please be assured, you will not feel any pressure when working with us.
No pressure. No obligation.
Thank-you for visiting!
Patrick, Jim & Vicky.