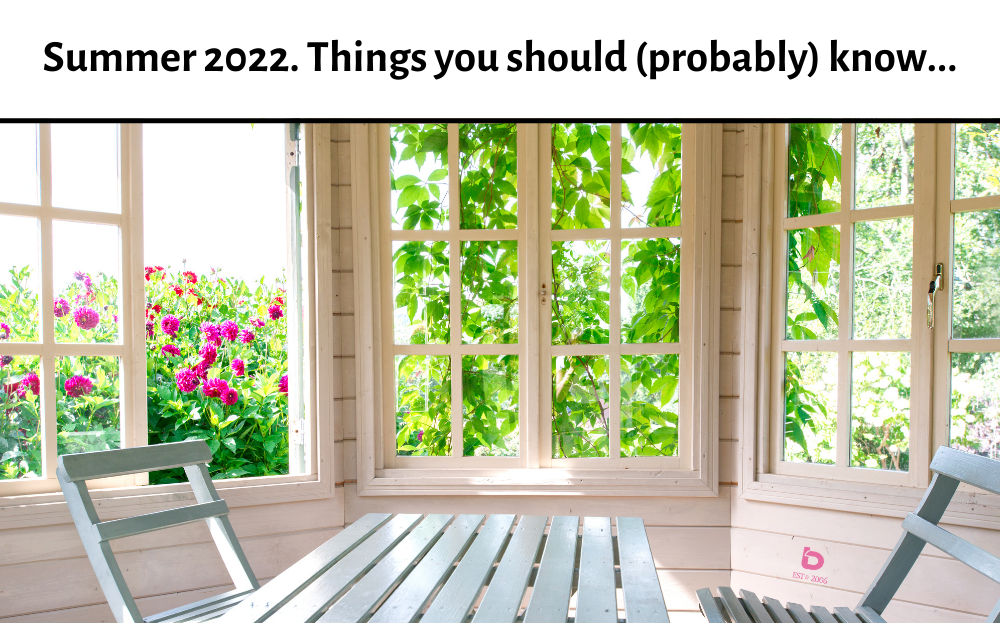 Date Posted: 23/07/2022
Let's rewind the tape.
End of 2021.
To start, 2021 in general was a behemoth. It was the first time Niagara cracked 10,000 sales in a year, leaving 2nd place 2016 in the dust with it's meagre 9,156 sales.
The average sale price absolutely gob-smacked us with an increase of 27.6% over 2020. Oh, and 2020 was already up 21.1% over 2019. So, all in all, an intense run. The end of the year finished up with unbridled optimism and high-fives as the market was chugging along at a torrid pace. Buyers were buying and sellers were selling.
---
VERY EARLY 2022
To say the year started off with a bang is an understatement. It felt like people took 10 minutes off on New Year's Day and then decided to start buying houses. And when they were done buying that house, they bought another one.
The 'They' in this example is referring to the investors. They lined up around the block like they were buying Harry Styles tickets. It was a bricks & mortar gold rush.
That resulted in a serious imbalance between demand (record monthly sales numbers) and supply (lacklustre number of new listings). The result was the biggest one-month sale price increase that yours truly could find.
The average price of a home in St.Catharines jumped by 19% from December 2021 to January 2022. Yes, the average jumped $100,000+ in one month. (graphs to follow...)
And it is worth noting that Realtors in our community fully recognized how unsustainable these market conditions were. We knew something had to give but there was no stopping the activity or momentum.
---
APRIL & MAY 2022
This is precisely when something started to give. The compounding effects started to add layers of uncertainty.
The war in Ukraine. Rumblings about inflation and stagnation and other terrifying words that most of us don't truly understand. Then there were talks of recession, gas at European price levels along with impending interest rate increases.
Add to that the 'new pricing' in the real estate market and the 'they' referred to above started to hit the road and go home. The investor who bought 2 or 3 or 6 houses said enough was enough and packed up their things and left.
Suddenly there wasn't line-ups of people to get into a home. 42 showings and 17 offers turned into 7 showings and hopefully 1 offer. Local buyers were looking at these "new prices" and said no thanks.
Pricing strategies started to fail as homes were relisted for $150,000 more than they were previously asking. The cool breeze disrupted the backyard party as everyone collectively paused and looked around.
---
JUNE & JULY 2022
That cool breeze stuck around and completely changed things. After the intense demand and weak supply of the beginning of the year, we experienced a massive market flip-flop. Possibly the largest we've seen in many years.
Exhibit A.
June 2022 in Niagara had 1,664 new listings. That is the highest number for any month in the history of market data (last 15 years anyway). Previously, we only had 3 months crack 1,500 new listings and 2 of those were April & May 2022. So yes, the stock was starting to accumulate.
Why? You could argue it was sellers reading headlines and jumping in before the gravy-train of January - March sale prices left the station. The problem is, the train had already left the station. Average sale prices through the spring into the summer had already started to give up their gains made earlier in the year.
Case in point, here is a graph looking at average sale prices in Niagara from late 2021 through to July 2022. Note the leap into January & February followed by the return back into 2021 territory.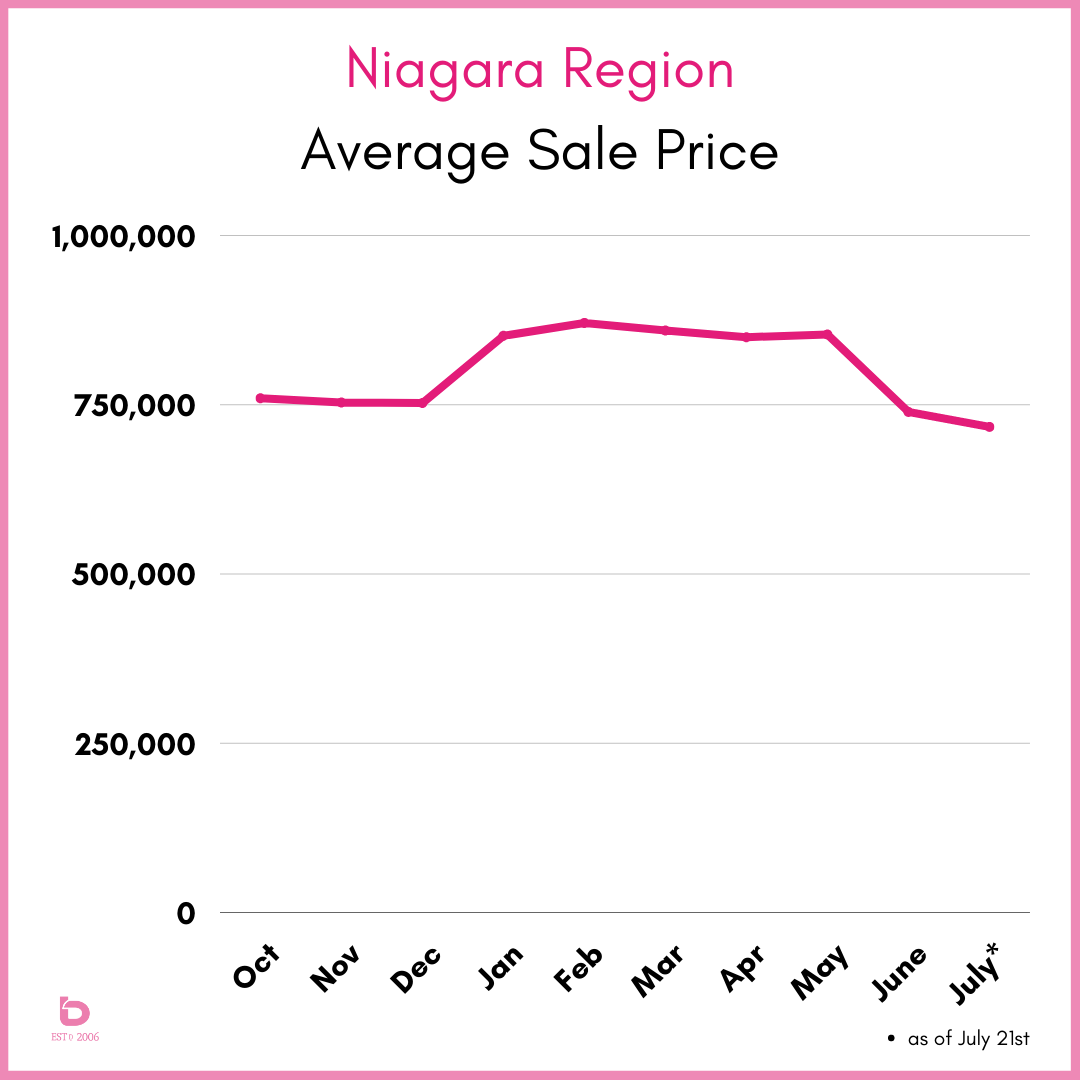 The same applied to St.Catharines: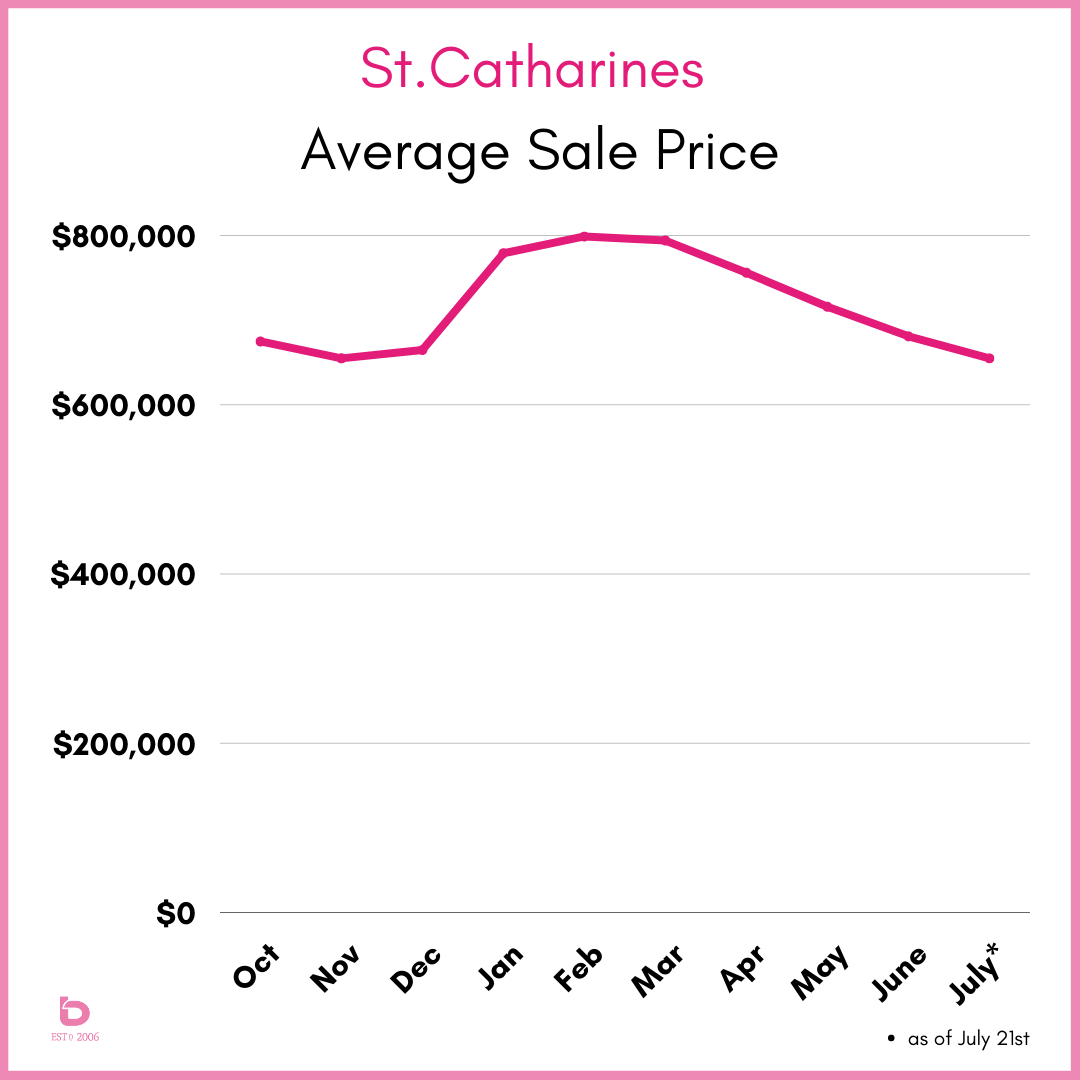 ---
HOW ARE HOME SALES?
And now, let's look at demand (number of homes sold). This part of the market did exactly what you probably think it did. It receded like a wave at low tide. In fact, June 2022 laid an absolute egg in terms of the number of homes sold in Niagara.
How eggy was it? June 2022 had 526 sales. The 10-year average for June is 801 sales. To make matters appear worse, there were 961 sales in June 2021, so the 2022 total was off the previous year by 45%.
A record number of new listings ran head-on into headline grabbing low sales. The result? Average sale prices were now hovering back into late-2021 levels.
These next graphs show how supply & demand interacted going back to October 2021.
Note how tight things were until we arrived in spring 2022. What does that all mean? A buyer went from seeing 1 house at a time and losing in competition to seeing 6 houses at a time and saying things like "hmmm, I'm not sure. I'll think about it". And this time, they were actually able to do just that.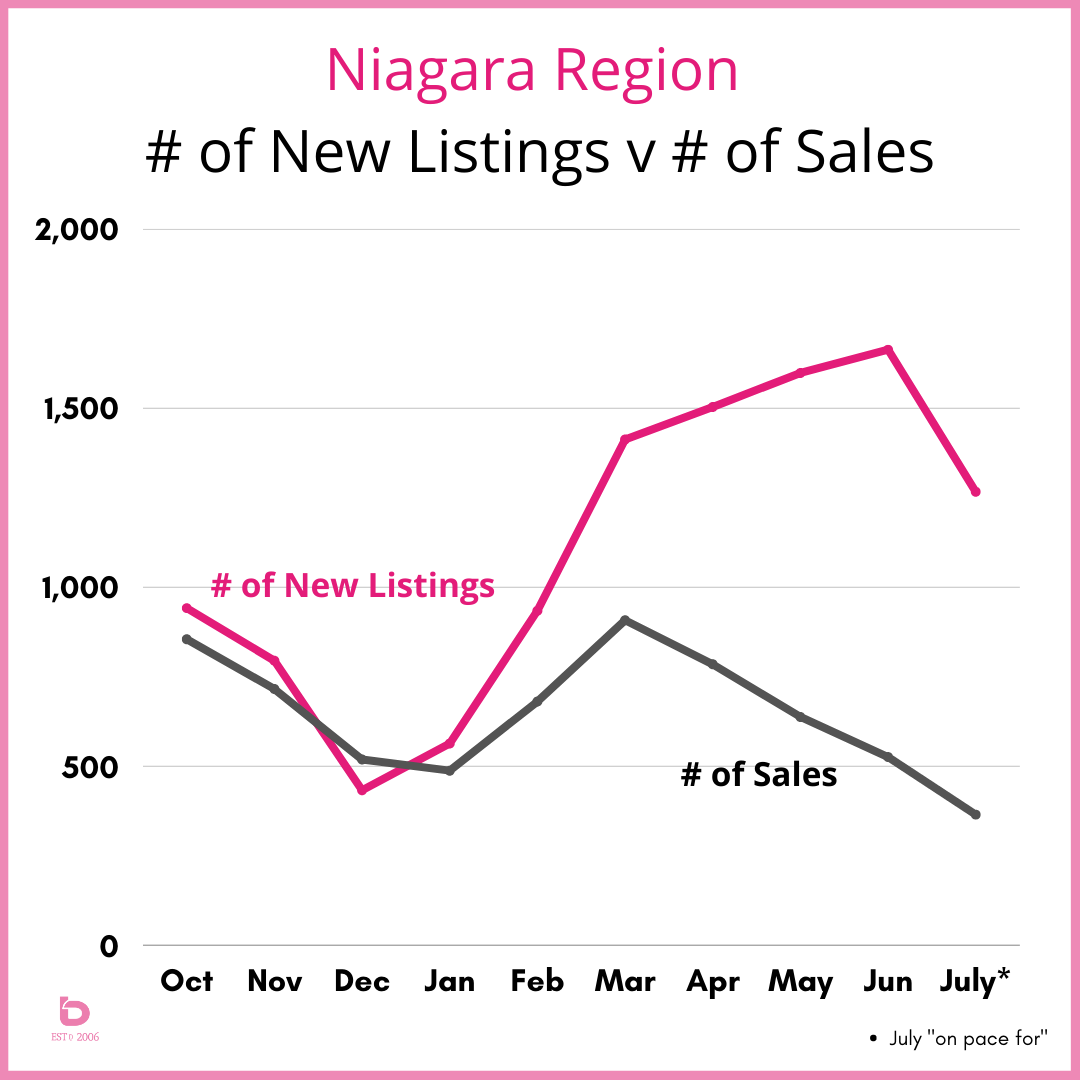 And the same goes for St.Catharines...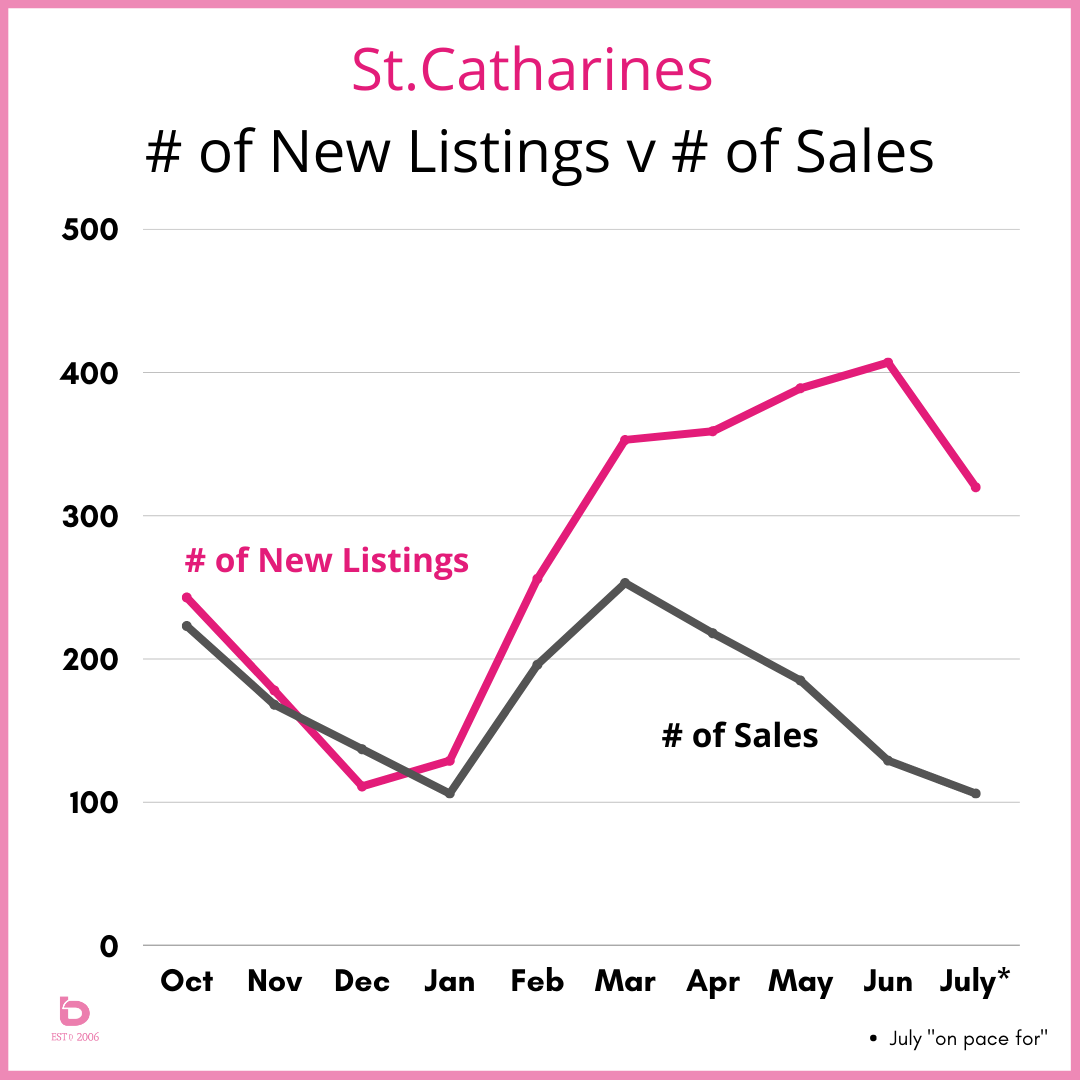 A few notables.
That pattern largely repeated itself across the region.
Also, have a look at June for new listing inventory. The July numbers are "on pace for" so July will finish roughly where these graphs indicate which would make June the outlier for new listing inventory. If we see a few months of normal or below normal new listing inventory return, then that could help mitigate the reduced demand (number of sales) which could in turn, help stabilize things somewhat. Emphasis on the word 'could'.
---
WHERE DO WE GO FROM HERE?
The market is essentially paused at the moment while it tries to figure itself out. Remember, the oil in the wheel of any market is the psychology of the humans involved.
Are they confident? Worried? Impatient? Afraid of losing out? Aggressive? Optimistic?
You can clearly see that all of those emotions, and more, were at play while on this 9-month long real estate roller coaster.
---
HAVE WE SEEN THIS BEFORE?
Absolutely. The end of 2008 Financial meltdown market froze in place for 3 or 4 months while prices declined by 10% in the blink of an eye only to recover those losses by the end of 2009. As well, the spring 2020 COVID market was knocked flat for 3 months until roaring back to life in the summer and fall.
The market will figure itself out. Things will start to make more sense. Inflation numbers will improve, interest rates will hold where they are (or recede?) and most importantly, let's hope, the war in Ukraine will find a way to stop.
Some modicum of certainty will start to reappear which will add much needed predictability back into a market of fog and unknowns.
It's going to be some months until we're out of the woods but once we are, watch out for a market that can rebound as quickly as this current market flipped upside down. We've seen it before and I'm sure we'll see it again.
Questions? Thoughts? Reach out anytime.