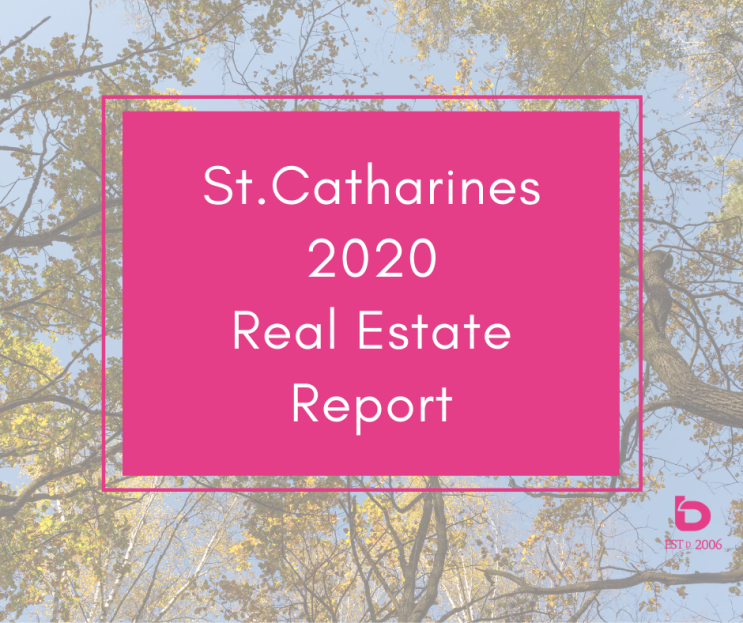 Date Posted: 21/01/2021
In any given year, St.Catharines is responsible for about 25% of all sales in the Niagara Region. As a result, it's worth keeping an eye on what happens in ye olde Garden City.
Similar to the rest of Niagara, St.Catharines had a fairly epic ride in 2020. From a very strong January & February to a near technical knock-out in April which then led to a record setting 2nd half of the year, 2020 was one for the books.
In response to several requests for more specific intel on the various areas of St.Catharines, we put together some general info for you.
Here is a quick overview:
St.Catharines: all residential
A return to the 2016 market where supply & demand tightened right back up.
Sales rebounded back up to 2,230 for the year (4th highest in last decade).
New listing inventory struggled with only 2,860, only the 2nd time there have been less than 3,000 listings in the last decade. The other time? 2016.
The average sale price in 2020 was up 15.6% over 2019 to $496,000 for the year. That is good for 3rd place all time in annual percentage increase, behind 2016 (up 17.3%) and 2017 (up 21.8%).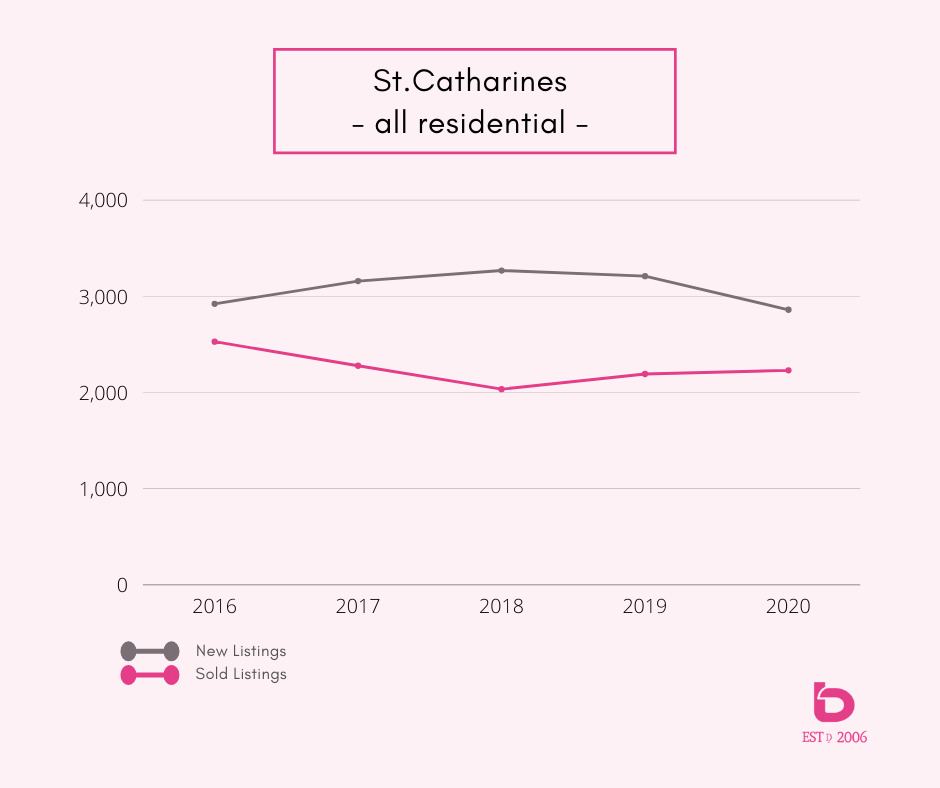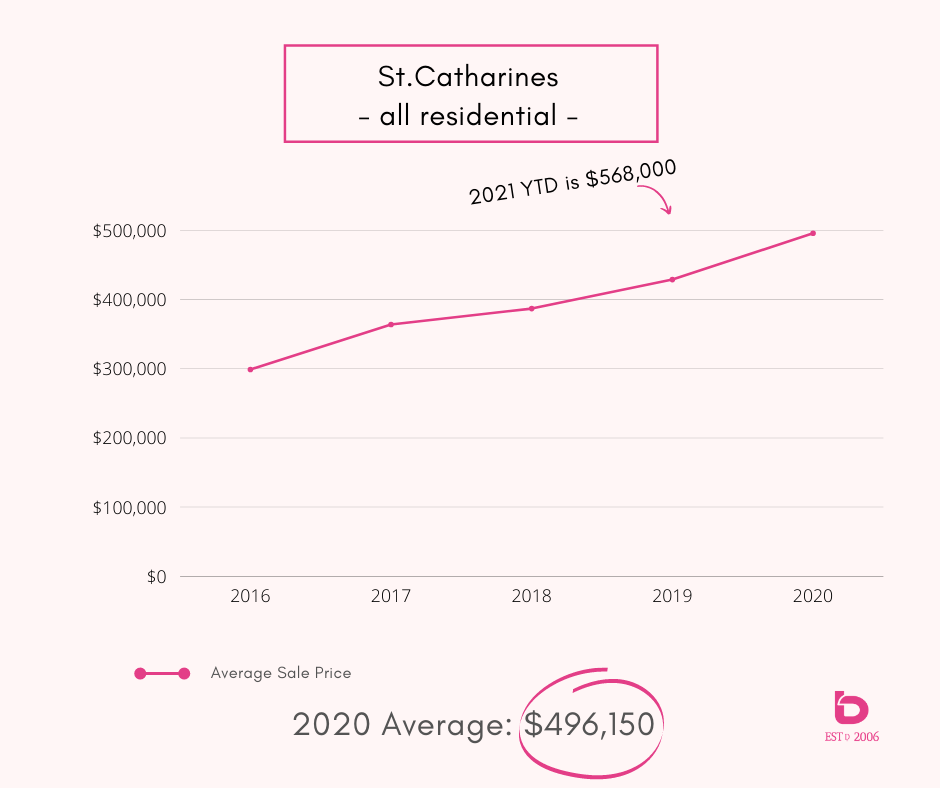 ---
North of Lakeshore Road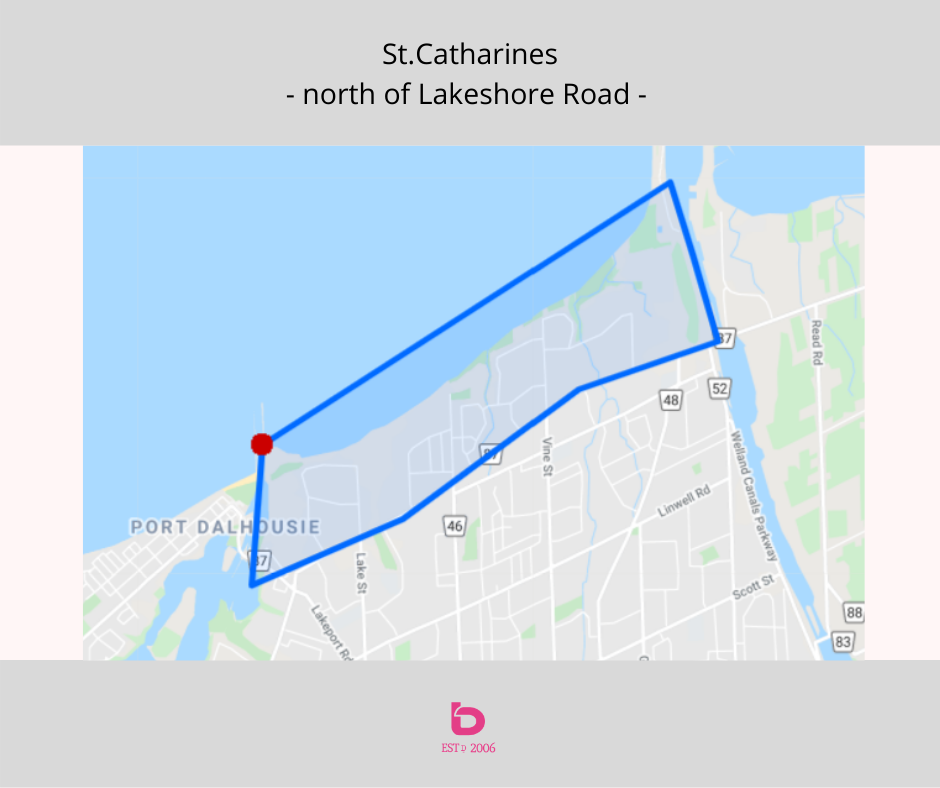 A perennial favourite, this area close to the lake was built in the 1960s & 1970s for the most part. Nice sized lots, tree lined streets and the lakefront trail are all part of the appeal.
After a relatively off 2018, the sales and overall market activity bounced back in 2020. Note how much the supply of new listings tightened up in comparison to the number of sales last year in the below graph.
There were several sales over $1 million (7 sales with an average sale price of $1.999M) so taking them out of the mix and the average sale price settled into the $625-630,000 range. The momentum over the last 6 months has only built so expect that average to grow.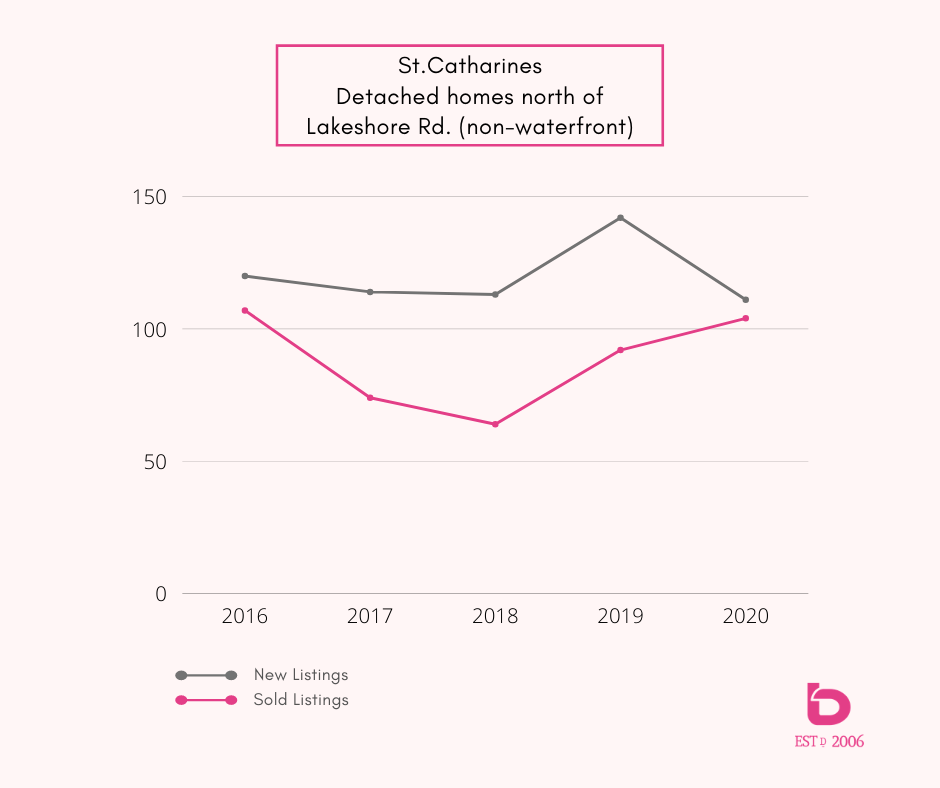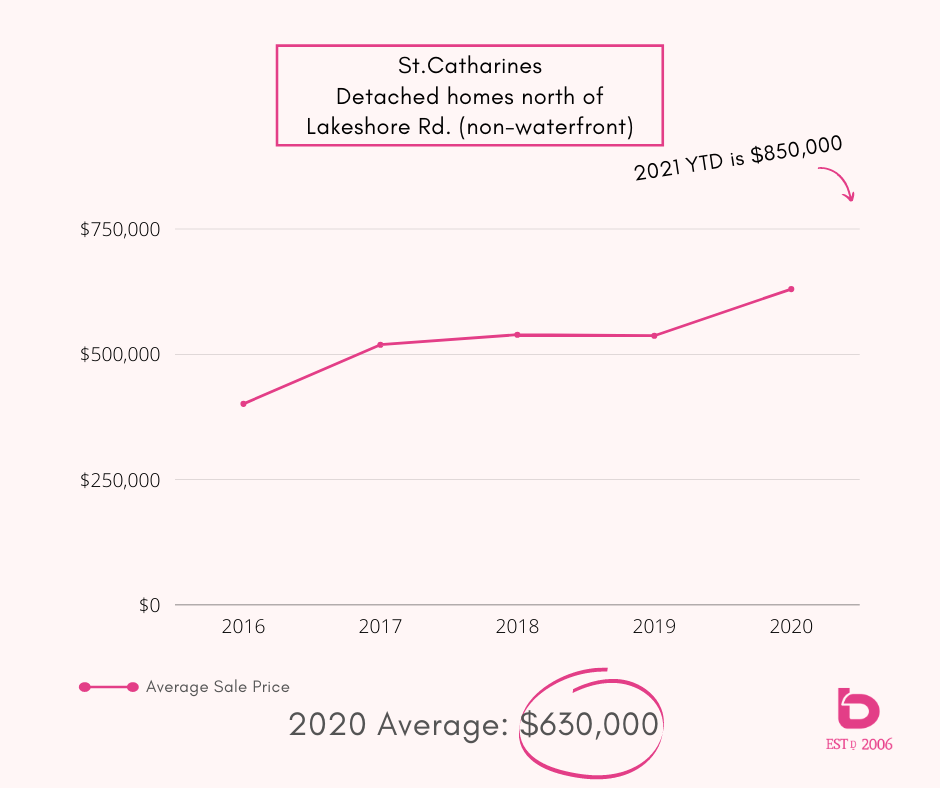 ---
North of Carlton to Lakeshore Rd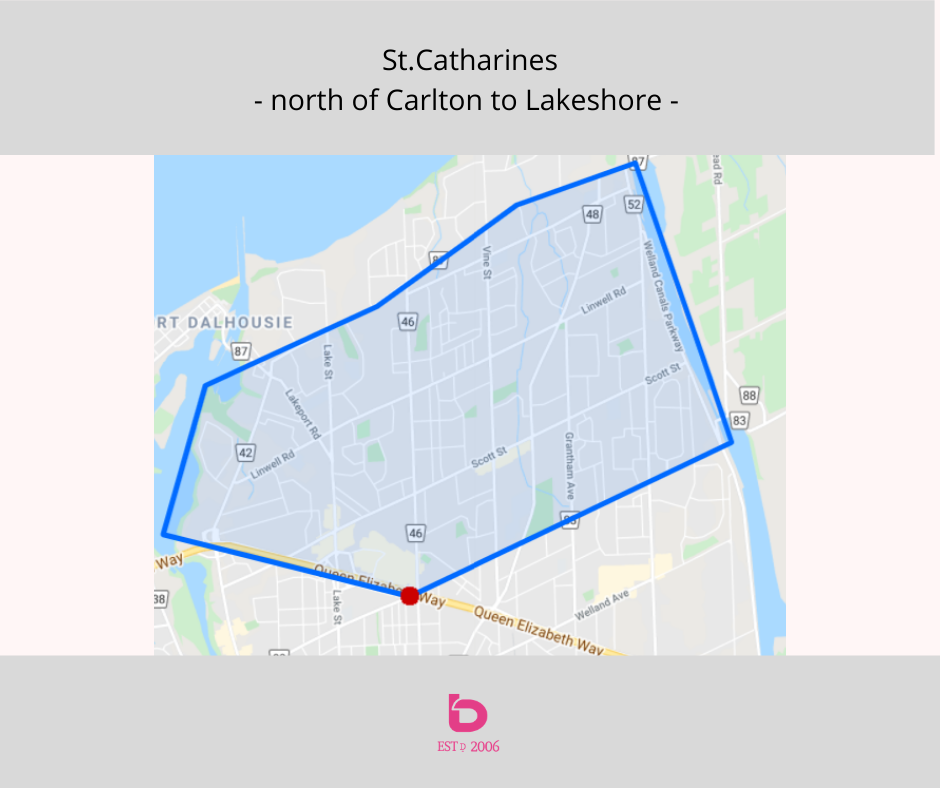 The 'north-end' of St.Catharines is largely represented in this area. Predominantly made up of detached homes, there are a mix of townhome and condo apartments as well.
You'll see how much the market tightened back up, almost a xerox copy of 2016. With that supply and demand crunch came average sale price growth to nearly $540,000 for 2020. Here we are approaching the end of January 2021 and the average sale price is pushing up on $580,000 YTD.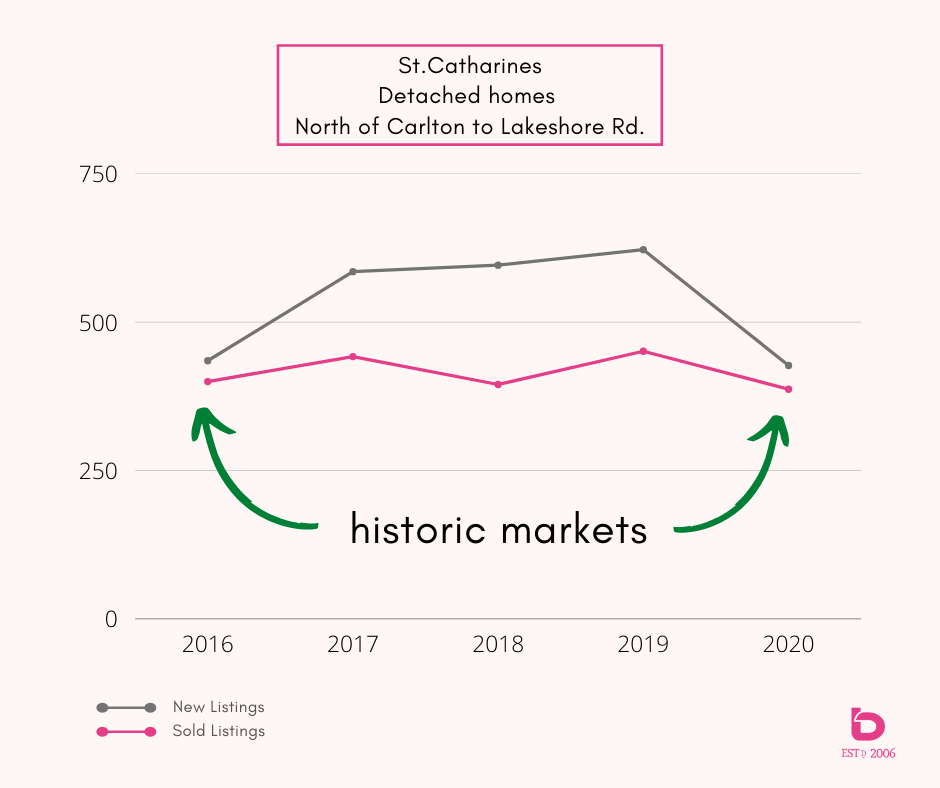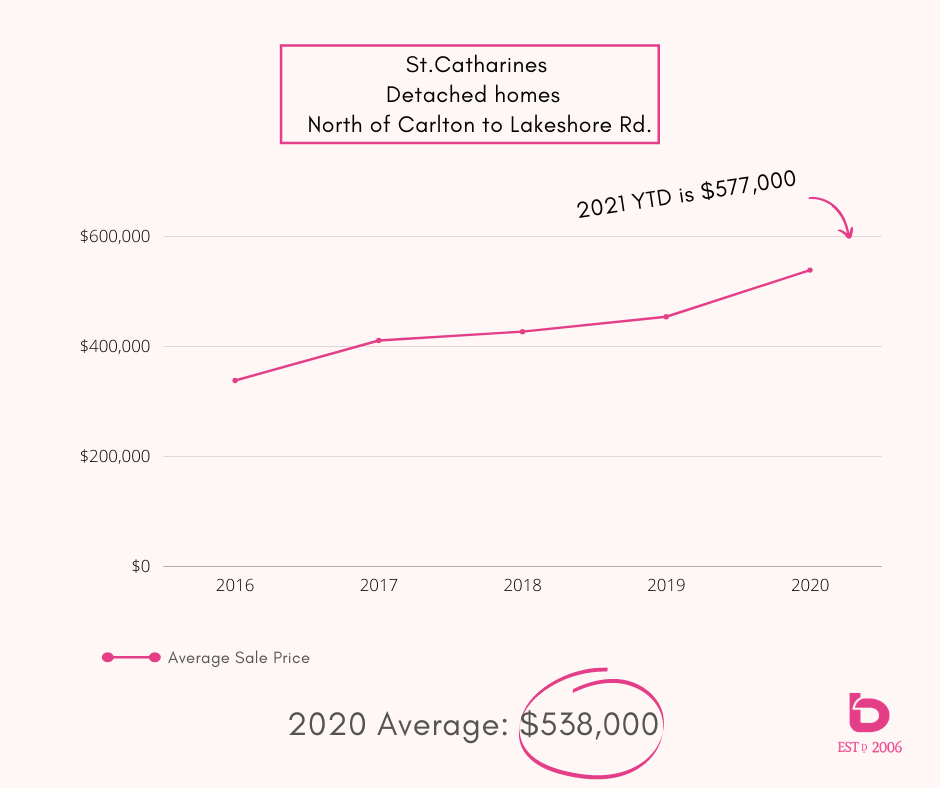 ---
Port Dalhousie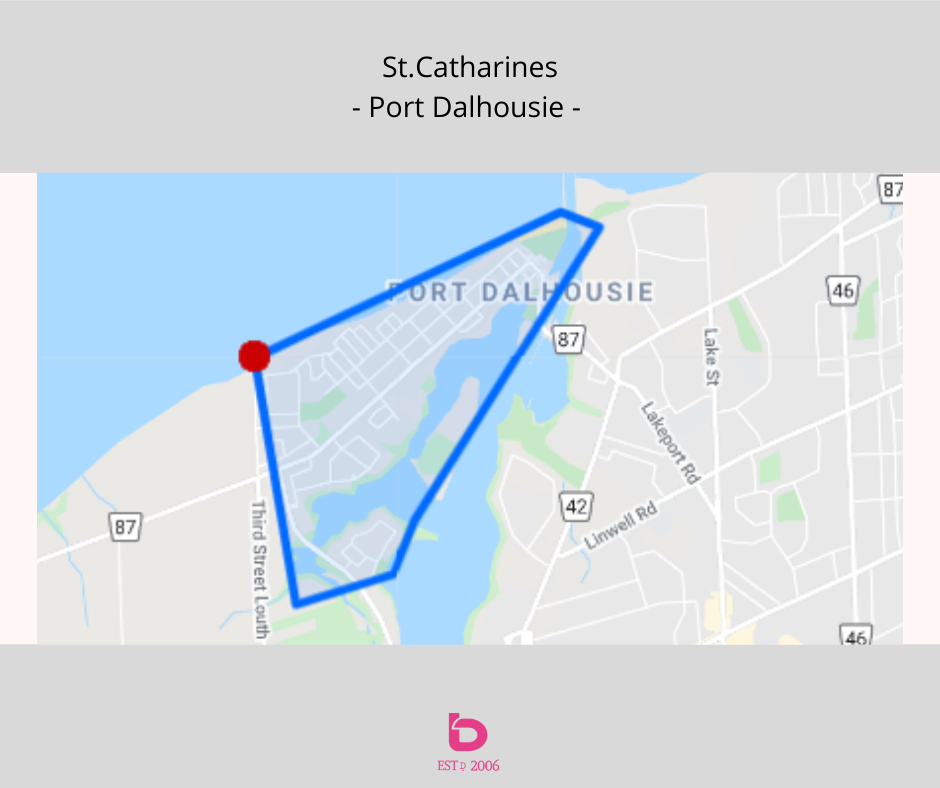 Port Dalhousie is like ice cream with its many flavours. You have Old Port (east of Corbett) which includes cottages, new homes, 1960s homes, beautiful estate and waterfront properties. Then the Cole Farm area across to Port Maste which was largely built in the 1980s and 90s.
Port is soon going to be synonymous with condo apartments as well (if it isn't already) as numerous buildings are either just completed, under construction or to be built. So, stay tuned as the Port Dalhousie data is about to get more complicated over the next 5 years.
That being said, here is a look at a few areas of Port: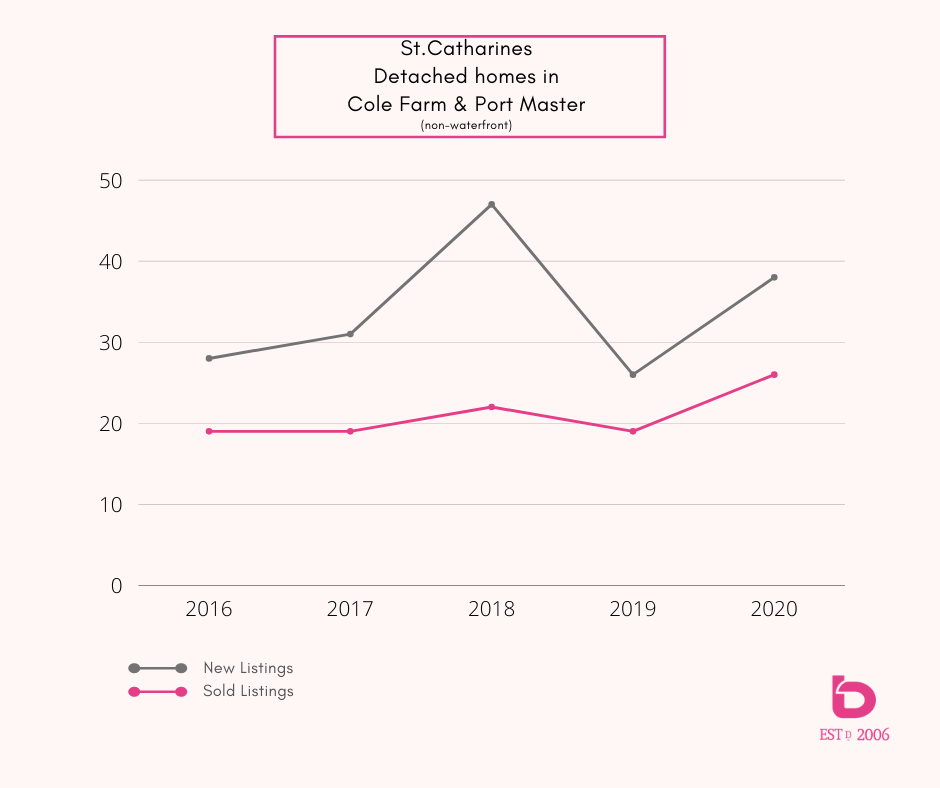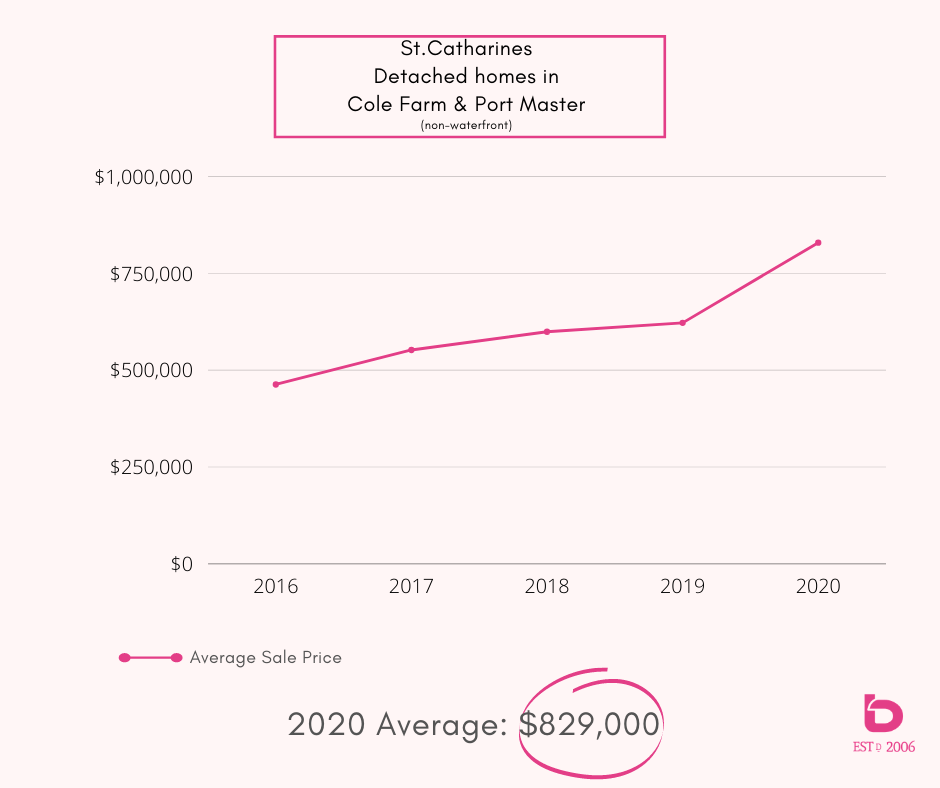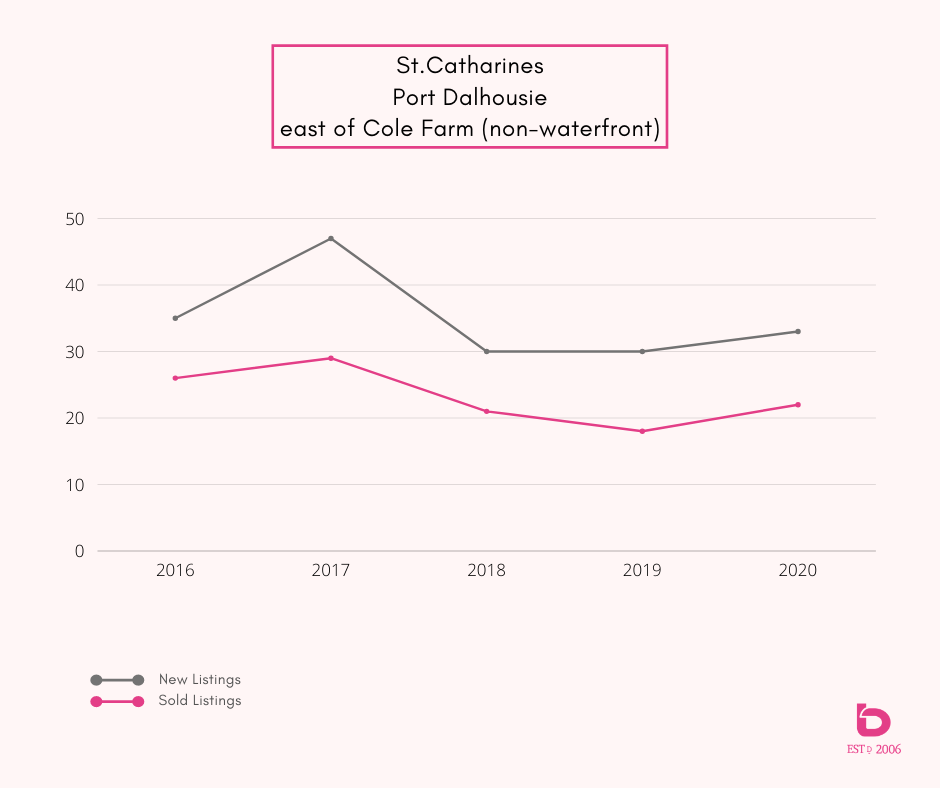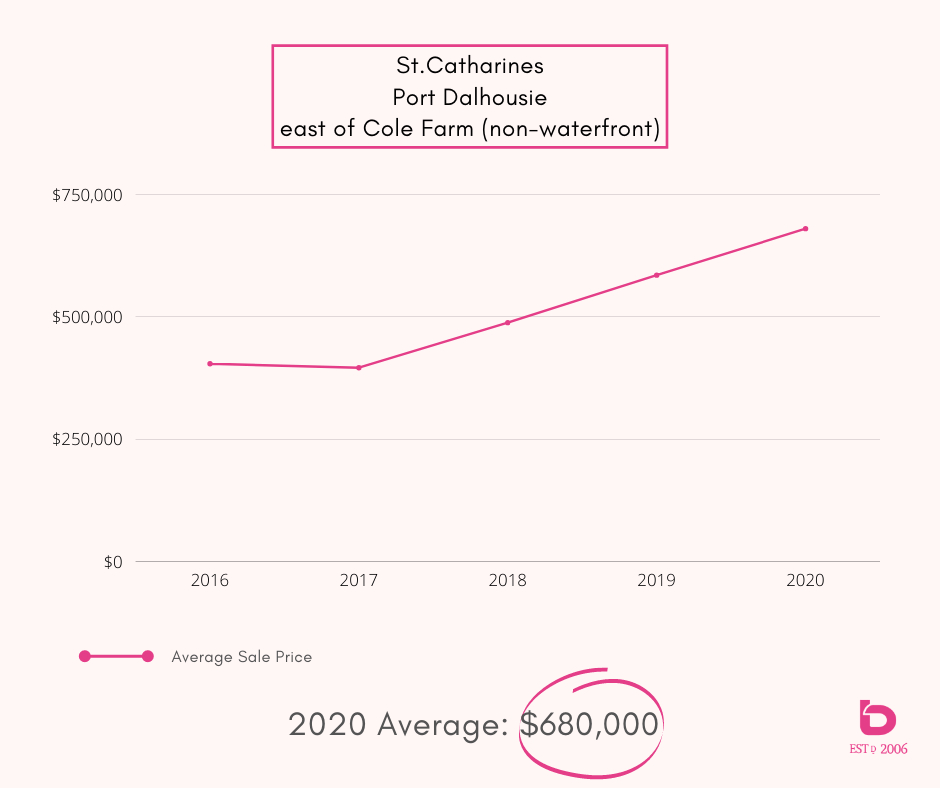 ---
Grapeview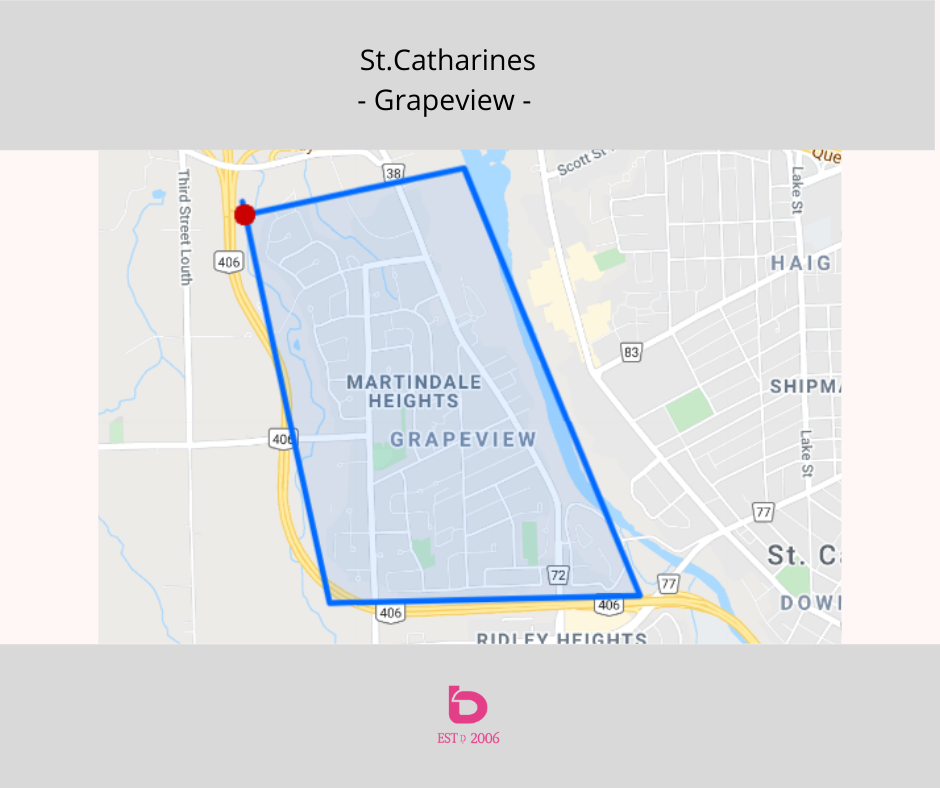 Down the west side of St.Catharines you'll find this popular community. Largely built in the 80s and 90s, this is an area popular with families and those looking for 2 storey homes. Hemmed in on all sides, you have 12 mile creek on the east, hwy 406 on the west and south and Port Dalhousie to the north.
After a relatively quiet 2018, there was some bounce back in 2019 and 2020. Note that the sales volume was largely unchanged while the next listings dropped from 102 in 2019 to 76 in 2020. As a result, the average sale price growth was fairly strong in 2020 getting up into the $625-650,000 range.
Like other areas, you can expect that average sale price to continue to grow in 2021.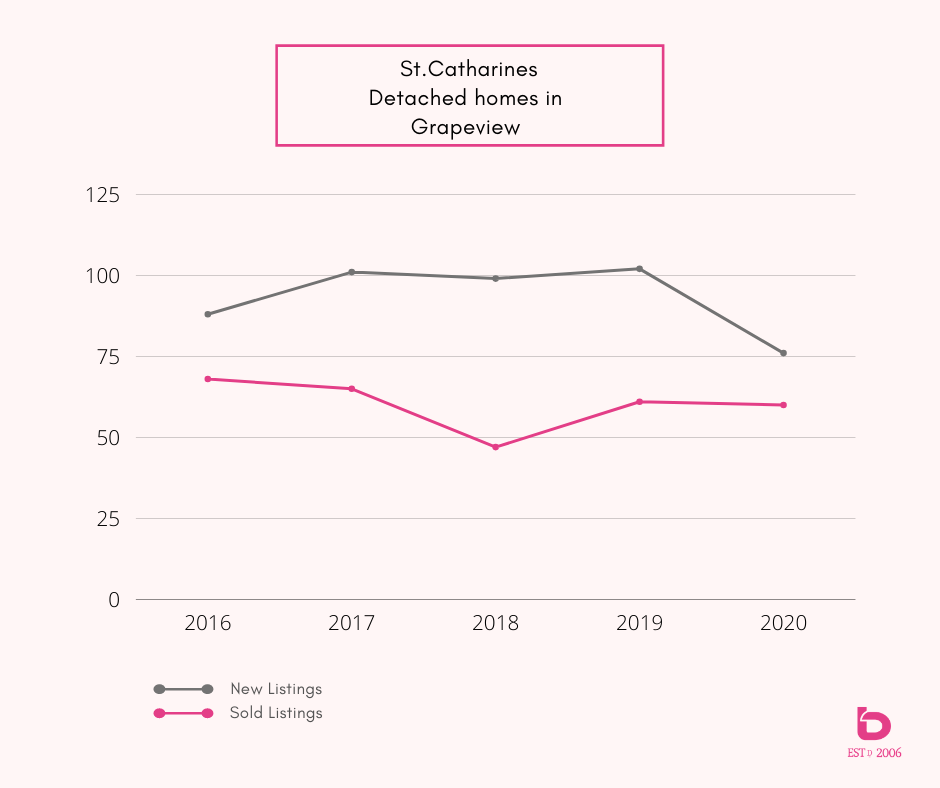 ---
Vansickle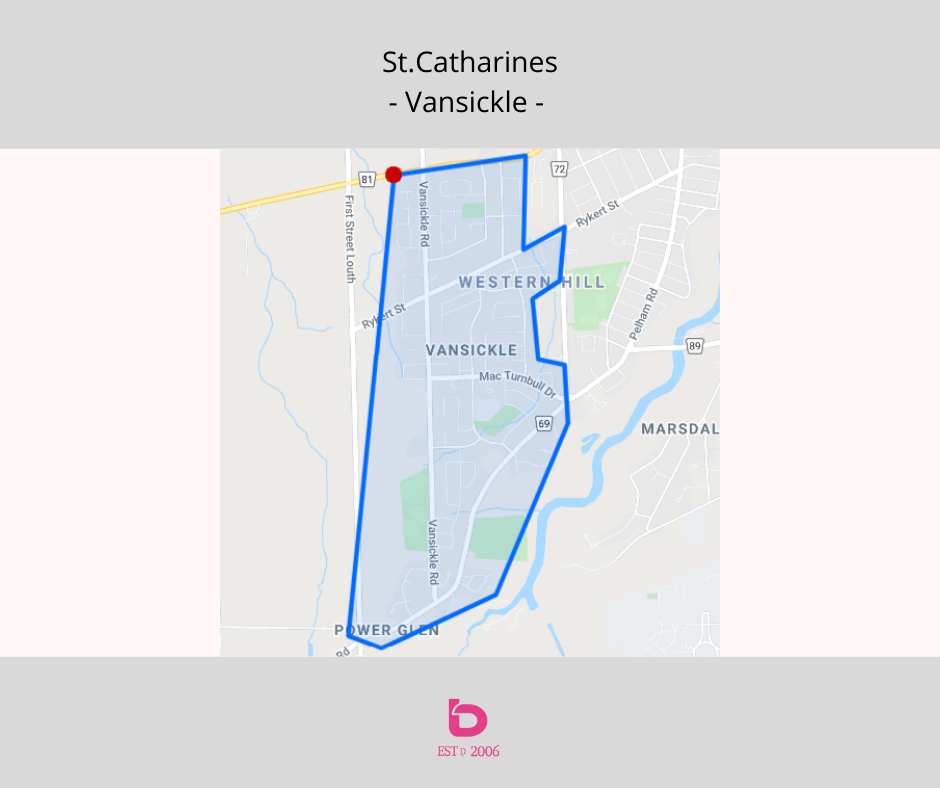 You can think of the Vansickle area as Grapeview's younger cousin. In the south-west corner of St.Catharines, this area is equally popular with families. With close proximity to 4th Ave shopping, Niagara countryside (Short Hills Provincial Park for example) and great schools, this area is consistently popular.
Similar to Grapeview, Vansickle took a modest step backwards through 2018 and 2019 as sales pulled back somewhat. In fact, the average sale price in 2019 was actually down a few percent compared to 2018. That made the 20% increase in 2020 all the more pronounced. YTD the average sale price is up into the low $700s which we expect to see continuing as we move into 2021.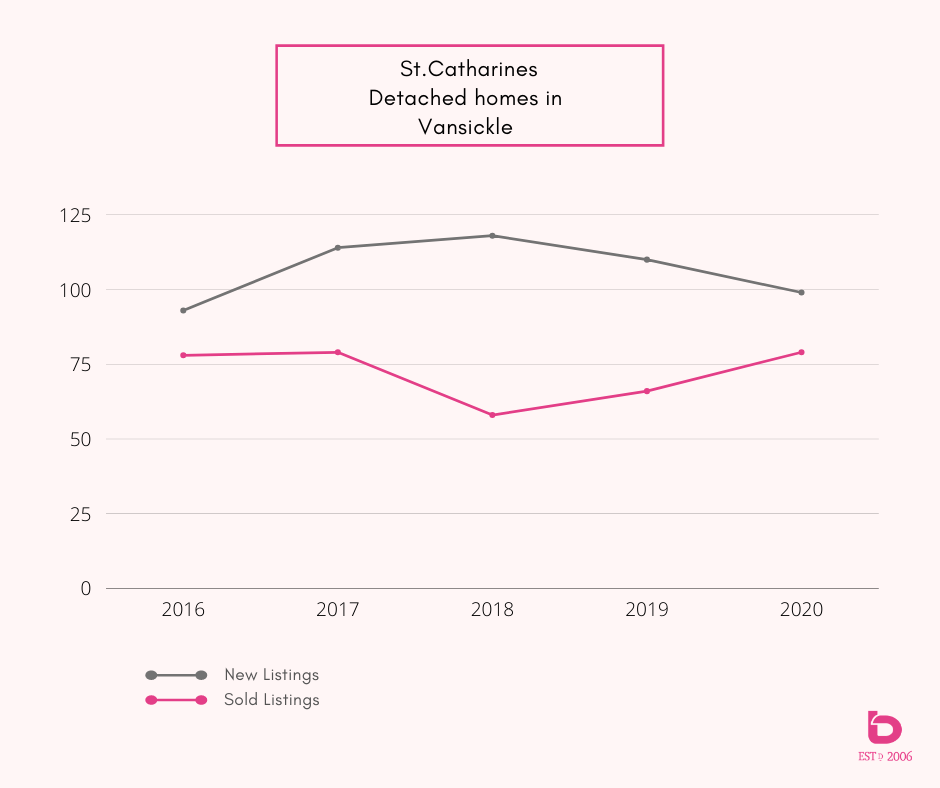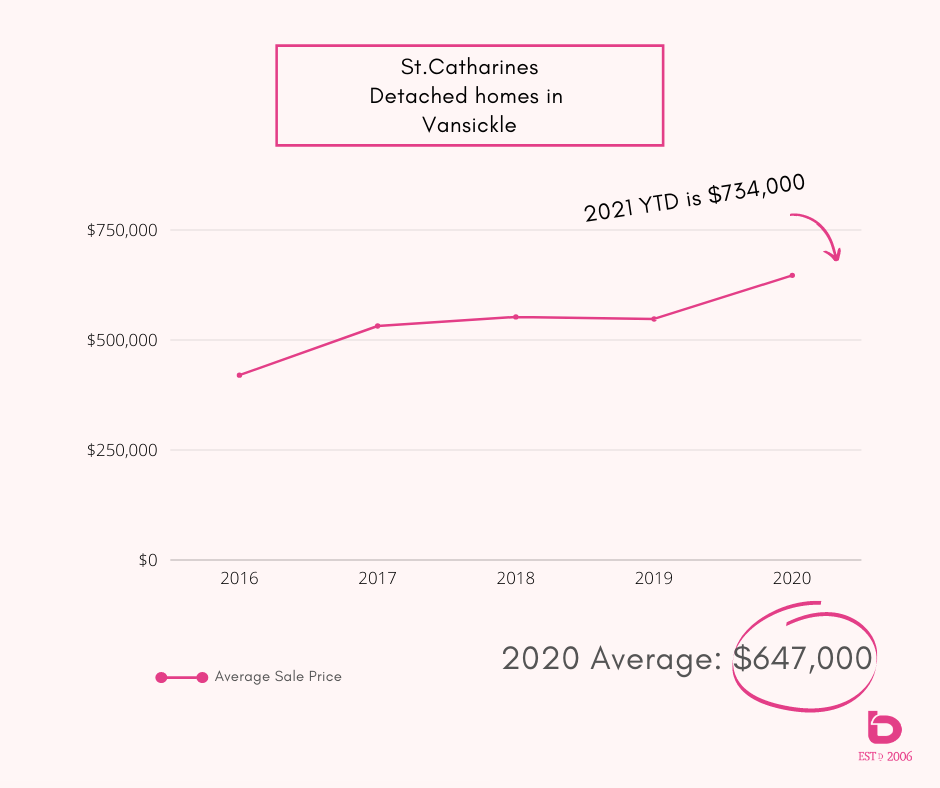 ---
Glenridge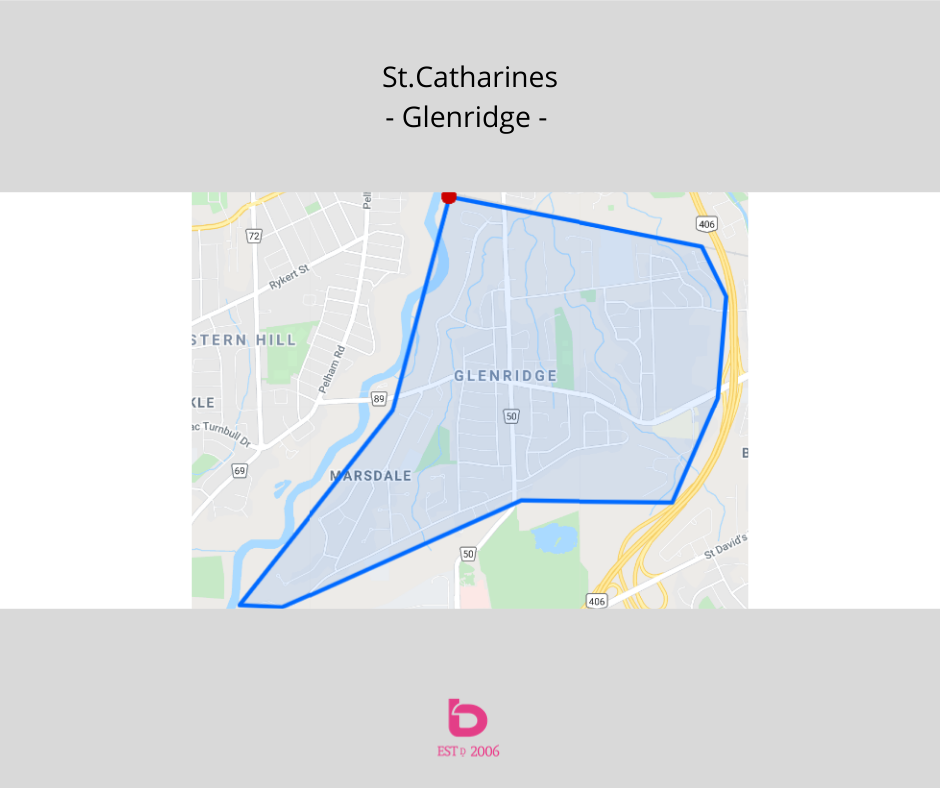 This is an intriguing slice of the market. Below Brock University, the student housing segment factors into the overall picture. Case in point, there were 100 sales in 2020 with 54 of those being either vacant or tenanted properties.
In the chart below, you can see a slow but steady progression in sales the last 4 years which is interesting given the impact that COVID has had on student home occupancy.
The average sale price for 2020 was $596,000 which was $100,000 more than the city average. It's worth noting that the average for the tenanted or vacant homes was about $50,000 less at $542,000.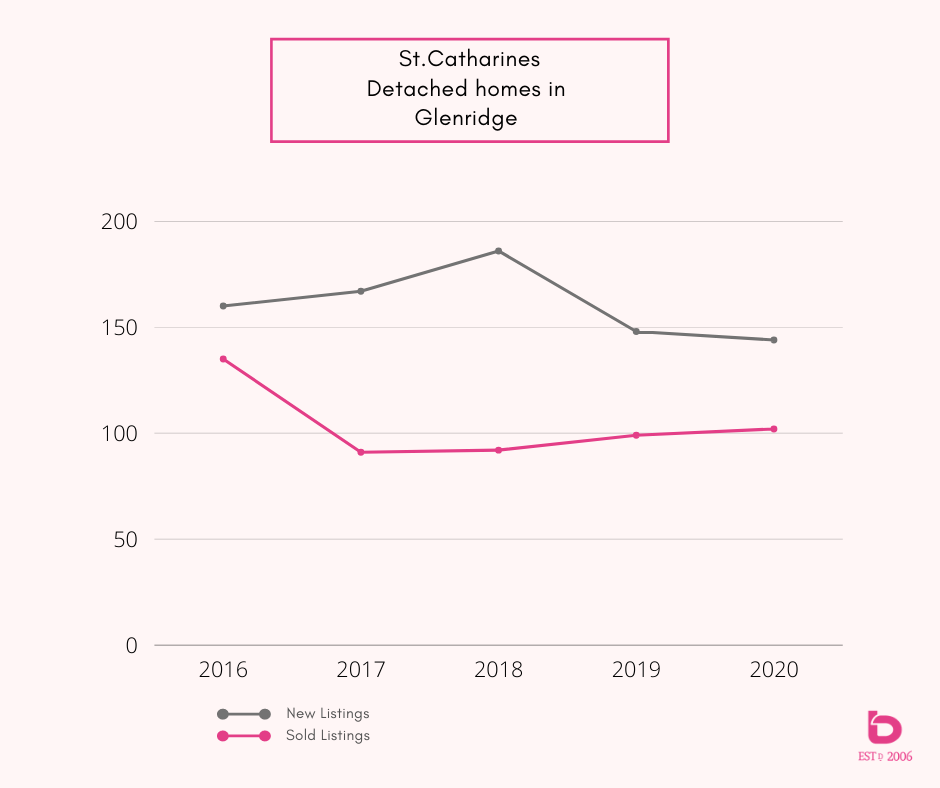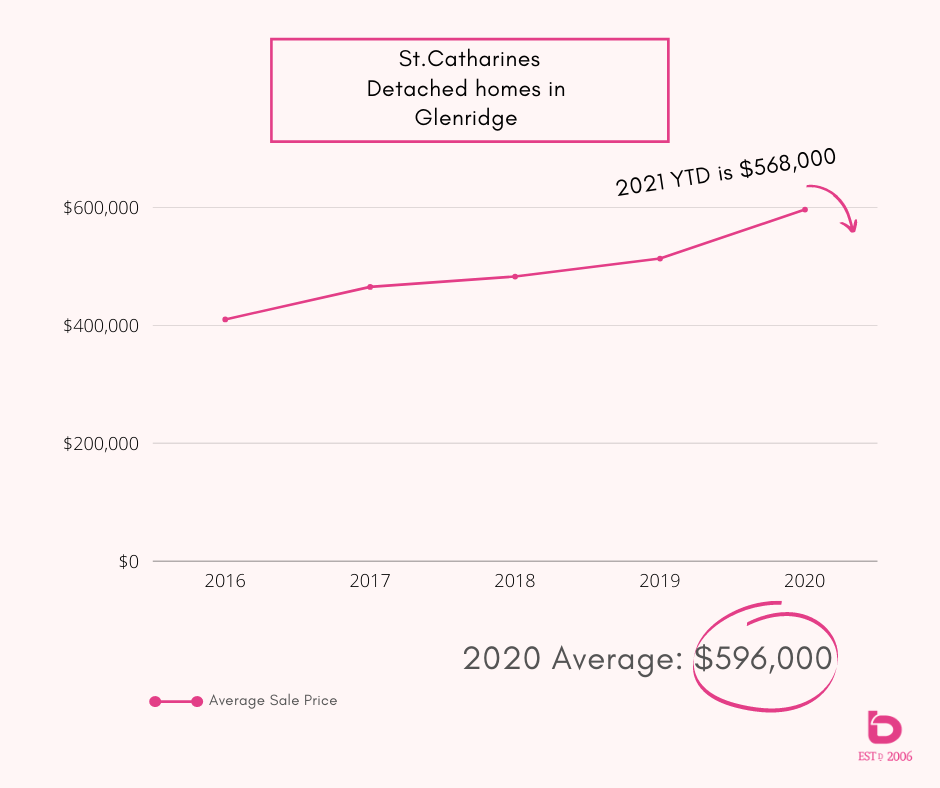 ---
Old Glenridge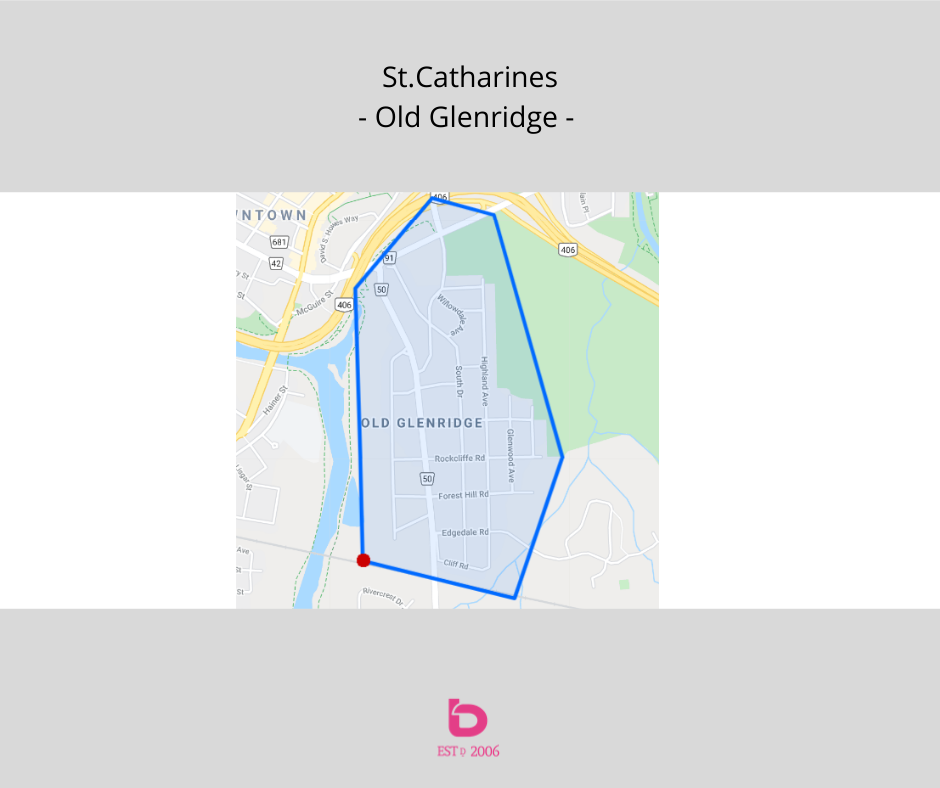 Who doesn't love Old Glenridge? This pocket of character homes has a real sense of community to it. Consistently popular, 2020 was a real rebound year after a relatively slower 2018 and 2019. In fact, for detached homes, 2020 placed 2nd in the last decade in the number of sales while the number of new listings was tied for 1st.
The average sale price showed serious growth, coming in at $682,000 up from $596,000 in 2019.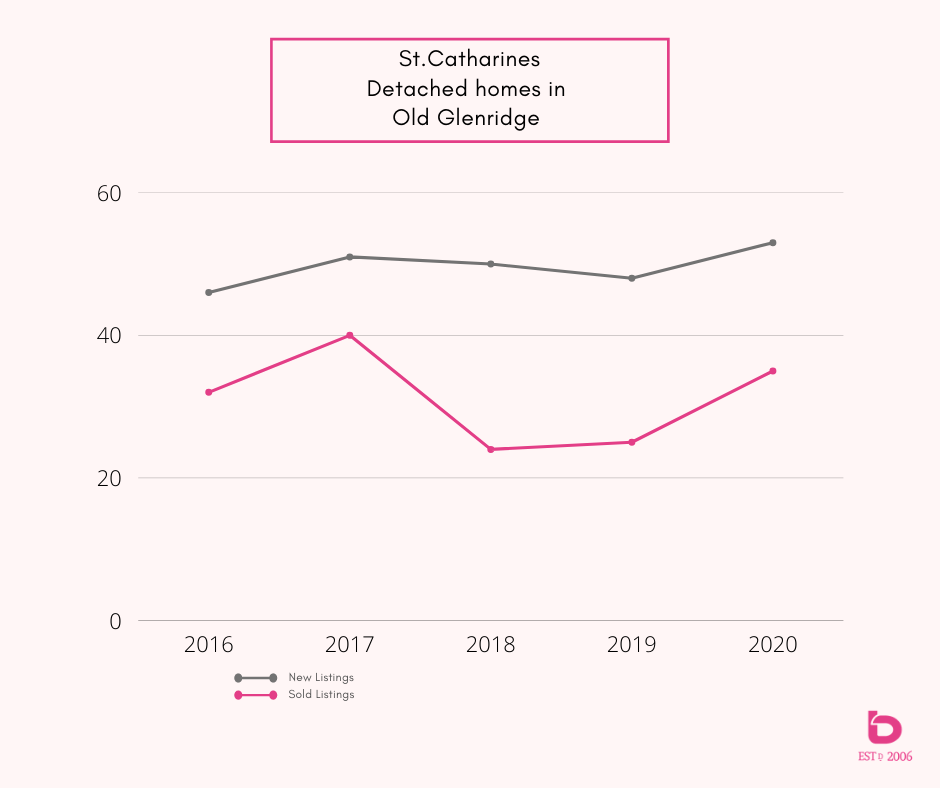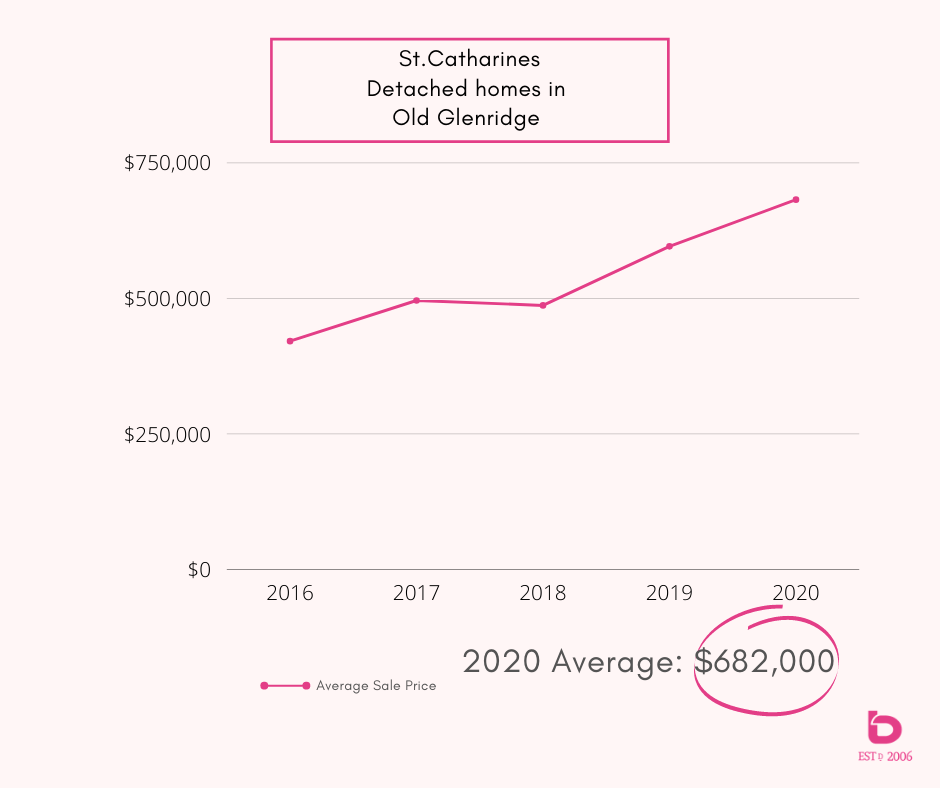 ---
Yates & Woodruff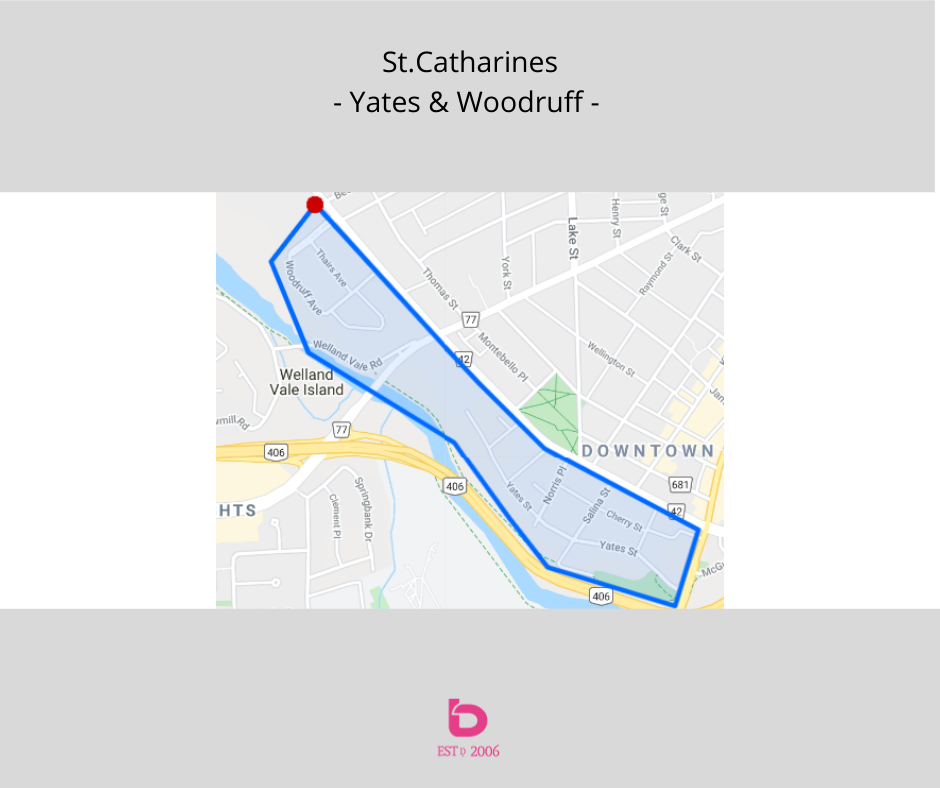 This little pocket of character homes is another community that draws attention. With low volume of sales, it's hard to put too much weight into the data. A closer look is typically required in order to get a more accurate value on a specific home.
As for the recent numbers, notice the relative consistency of the number of sales while the supply bumped up considerably through 2019. That being said, the average sale price came in at just over $650,000. With low volume, we also looked at the median price, which was up to $675,000 for 2020.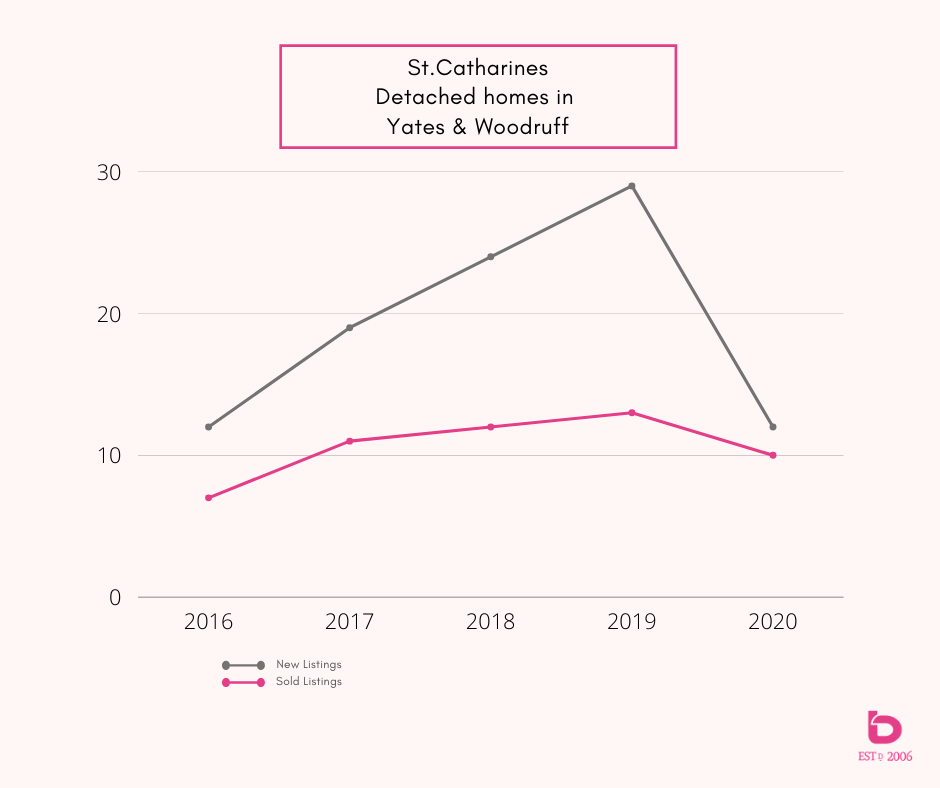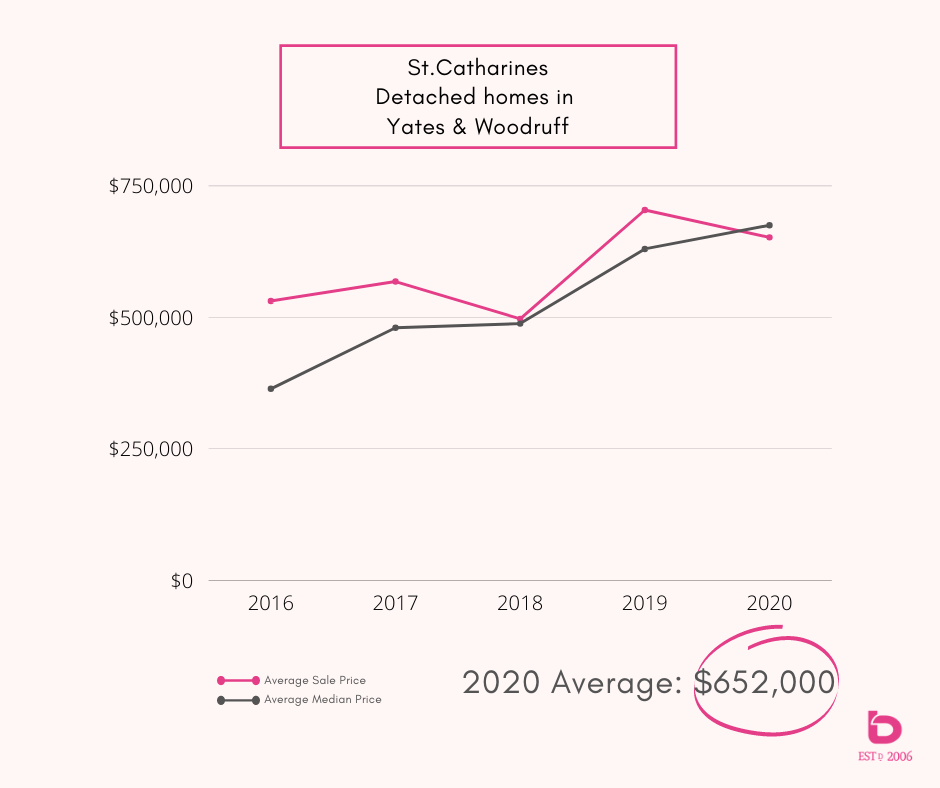 ---
Downtown Core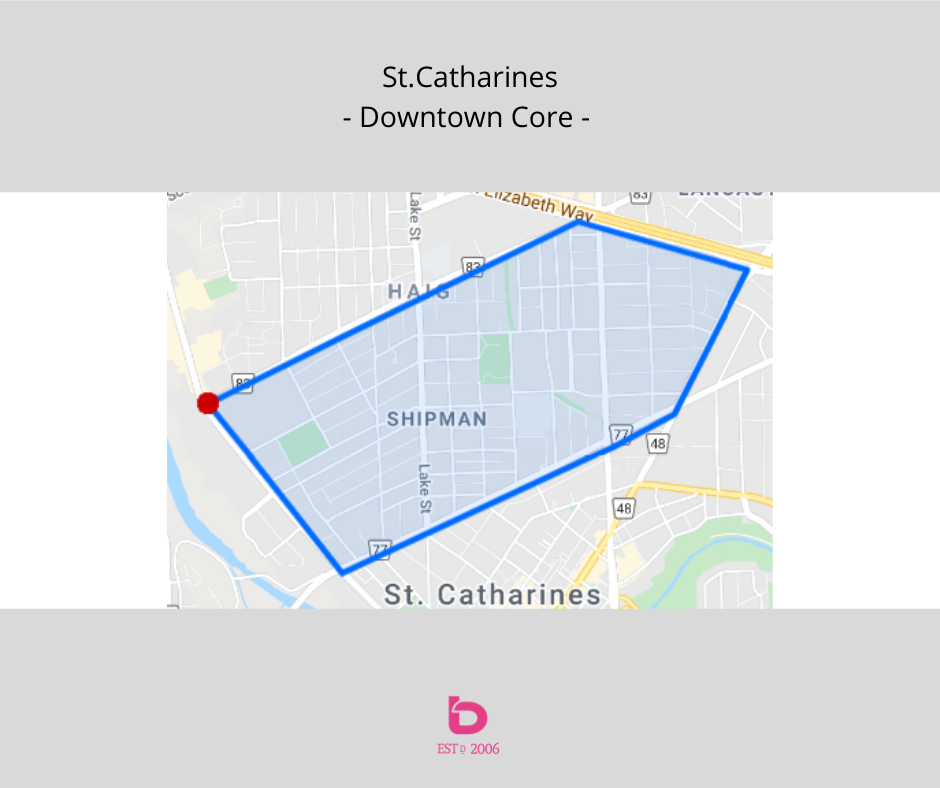 This area is a consistent supplier of sales for those looking for older homes, built for the most part in the 1930s to 1940s. Much like the rest of the city, the overall volume dipped through 2018 but has shown steady growth since with 2020 settling in at 179 sales.
As the overall sale prices continue to escalate, the downtown core has become more popular which has only pushed the price up there as well. 2020 came in just under $400,000 with 2021 YTD up to nearly $450,000 hear in the 3rd week of January.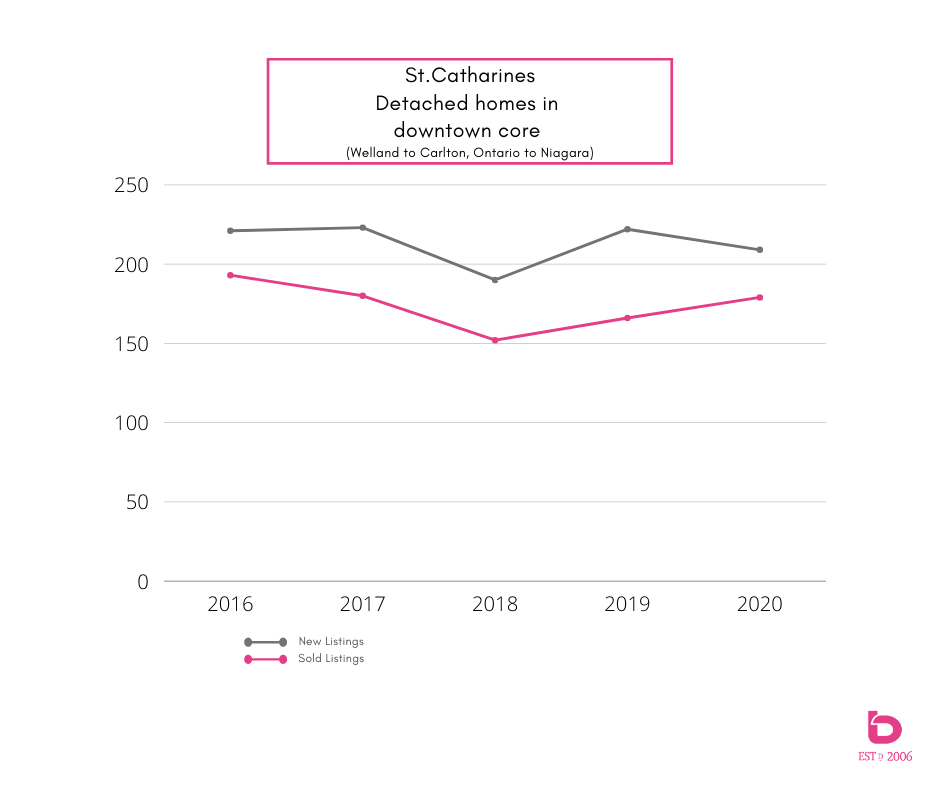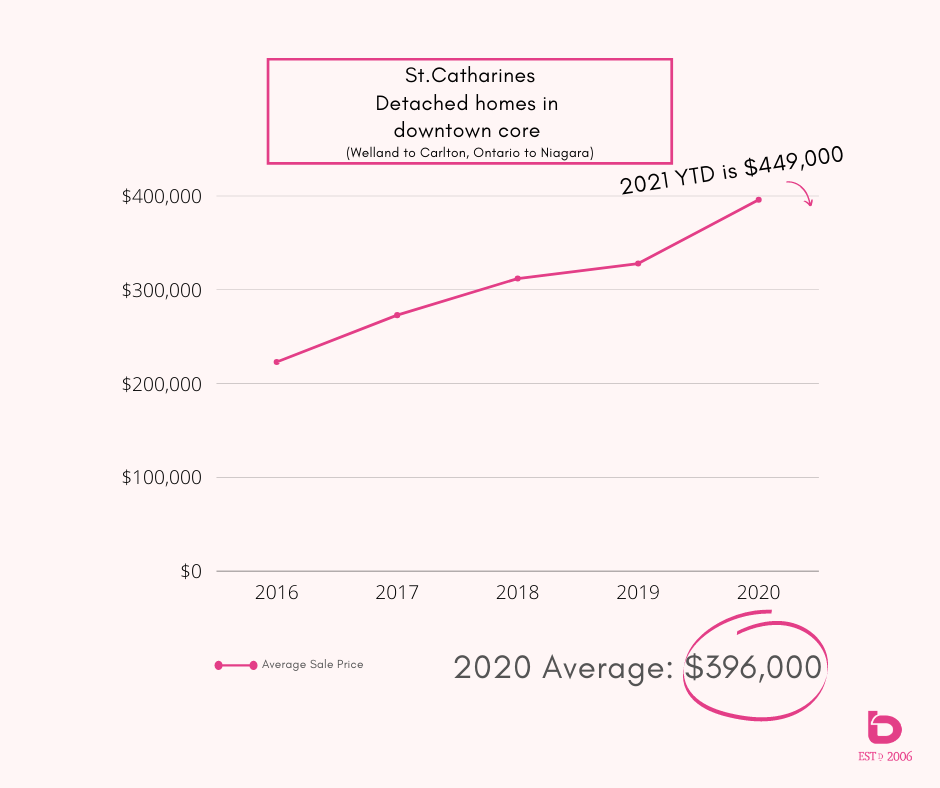 ---
Secord Woods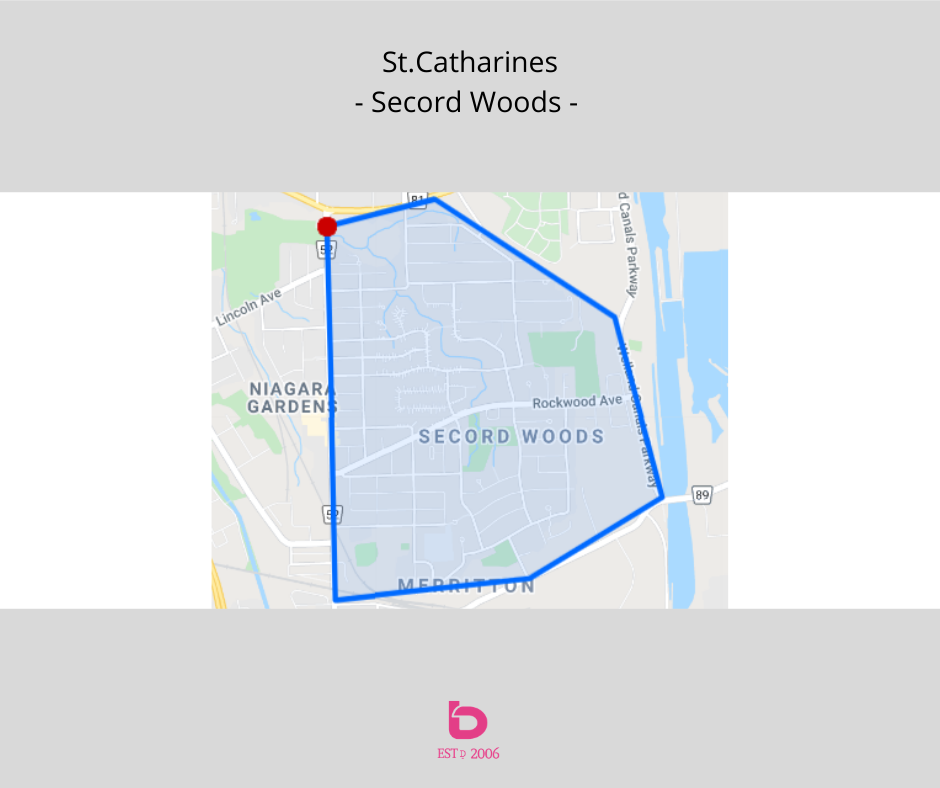 Running along the east side of the city, Secord Woods has the Welland Canal as one of its borders. The last 3 years have been very similar in the total number of sales after a very strong 2016 and 2017. Meanwhile you'll see below that the supply of new listings has continually dropped the last 3 years.
So, in spite of the lackluster sales volume, the average sales price has appreciated annually and on a consistent basis. Over the last 5 years, the average sale price has gone up approximately $50,000 per year with 2020 coming in at $446,000.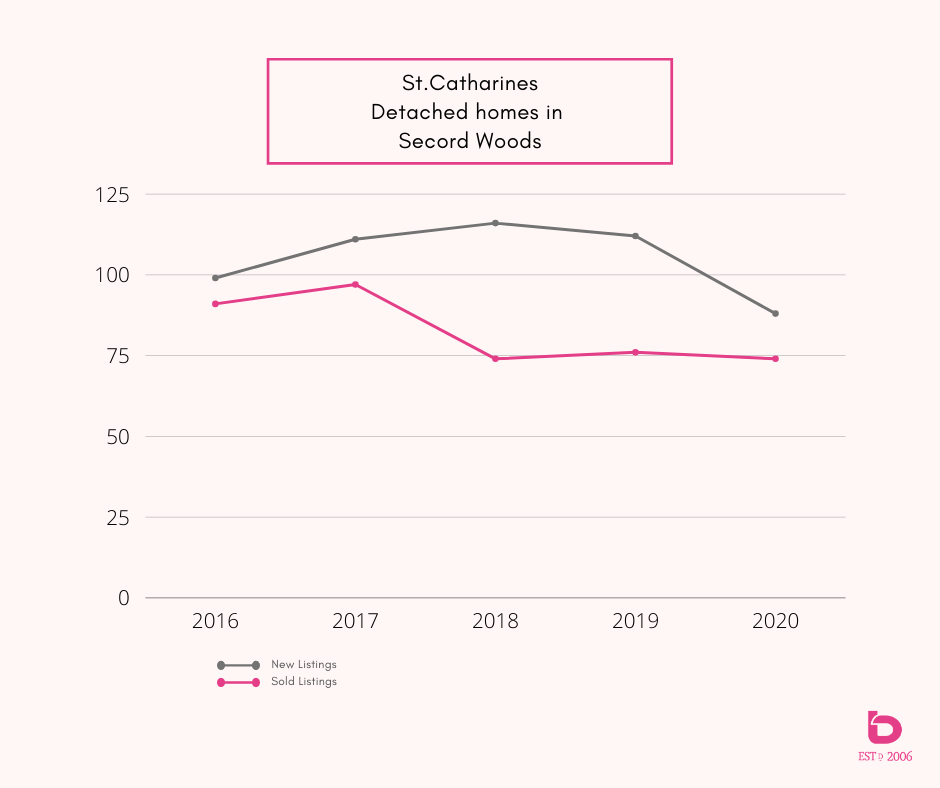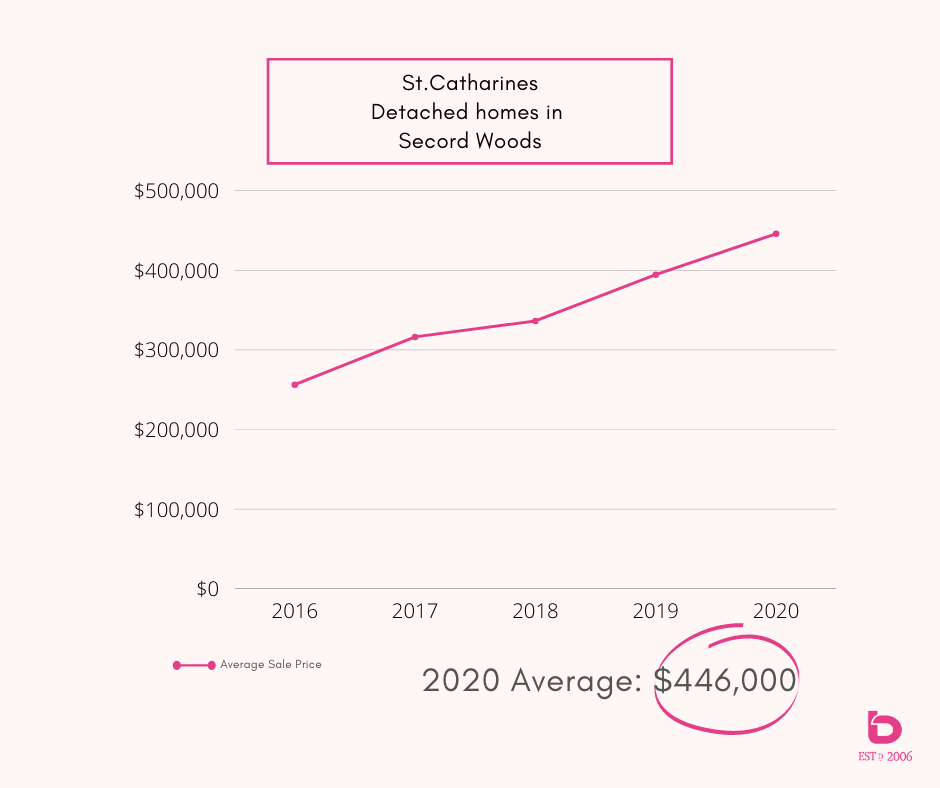 ---
$1 Million & up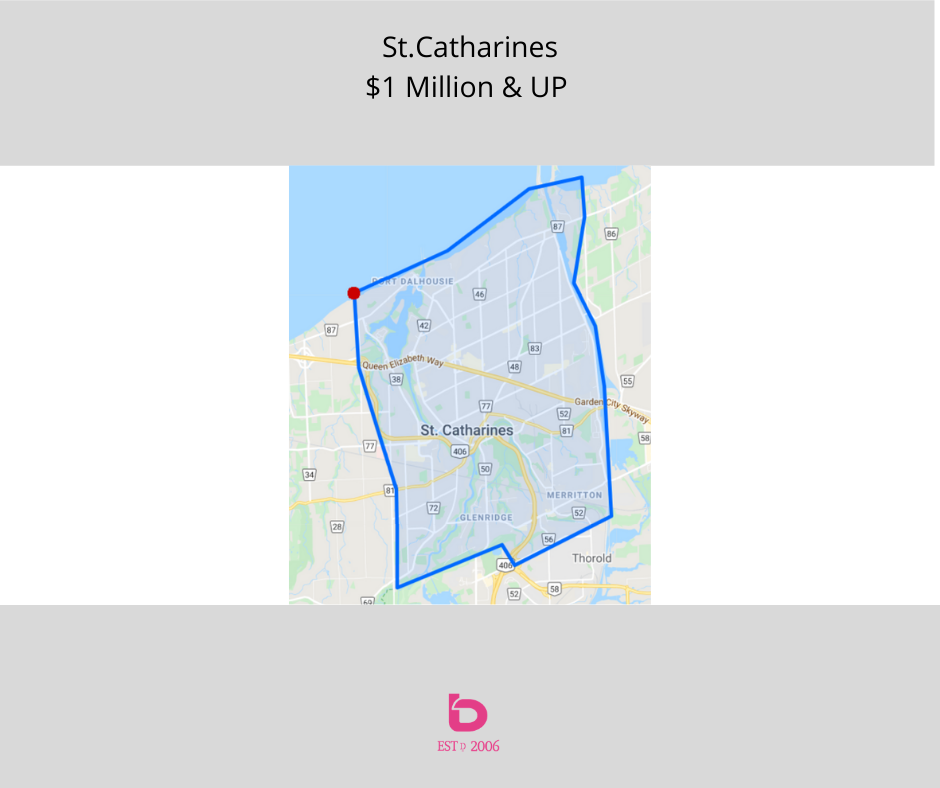 The entire region has seen significant growth in the million dollar plus market. Niagara-on-the-Lake is still the leader in the million plus but other cities have come along as well. Grimsby, St.Catharines, Niagara Falls, Fonthill, Fort Erie and Port Colborne all posted between 40 - 50 sales in 2020 of homes selling for a million and up.
It's worth noting that as of today (January 20th), there have been 30 sales over $1 million year-to-date so clearly that train continues to chug.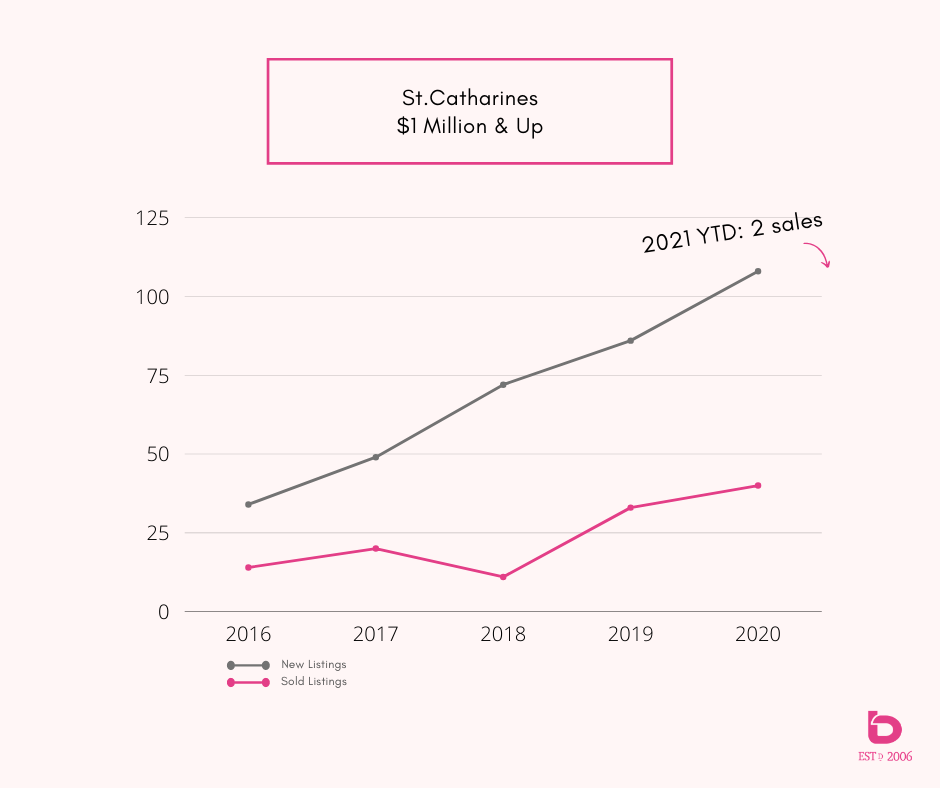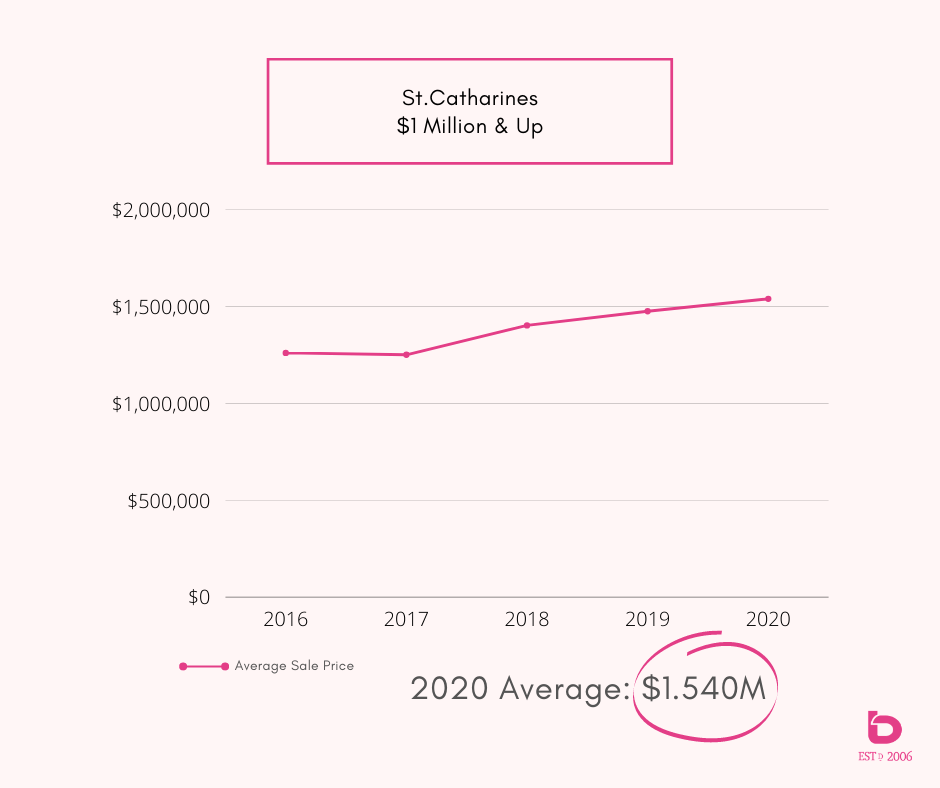 ---
Condo Apartments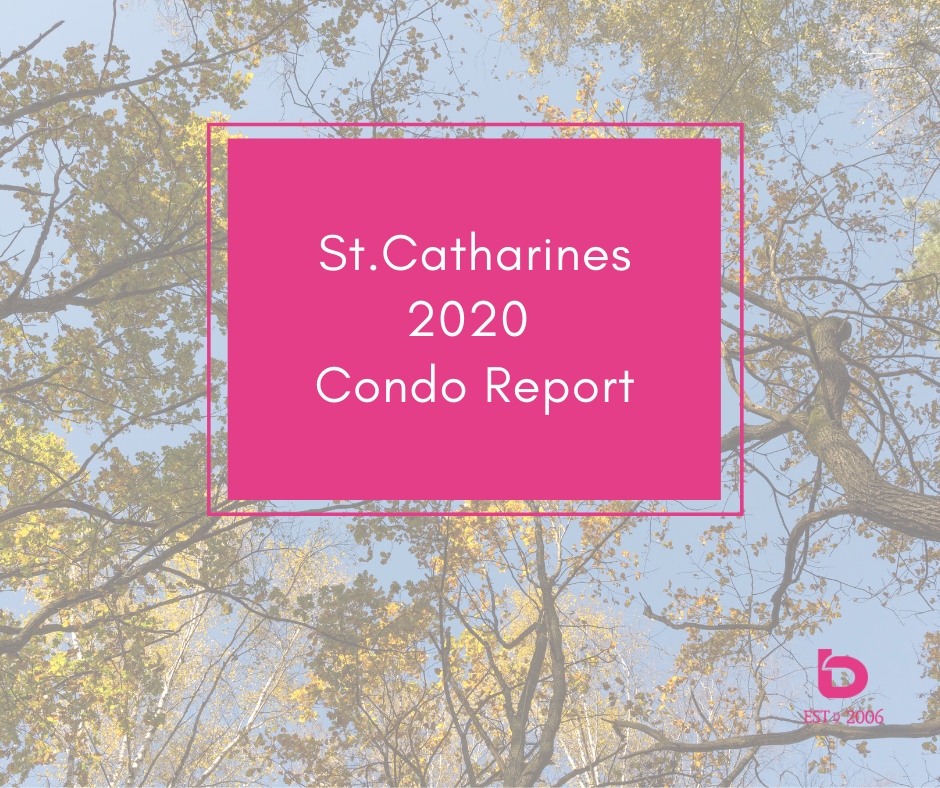 Condo apartments in St.Catharines can prove confusing. In general, we have 3 categories:
- condo conversion buildings (formerly rental buildings converted to condominium back in the 80s & 90s)
- 1988-1992 builds (there are 5 buildings built back then which all offer similar amenities)
- newer builds (build since 2015, there are 4 of these at the moment with more to follow)
And, given all of the waterfront buildings going up in Port Dalhousie, there will be a 4th category in the near future that will look at the buildings overlooking Lake Ontario.
So, any condo apartment data really needs to dig a little deeper.
No matter how you cut it, all segments have shown price growth over the last 5 years. It's worth noting though that on a percentage basis, the detached market has out-performed the condo apartment market which should provide some comfort for those looking to downsize.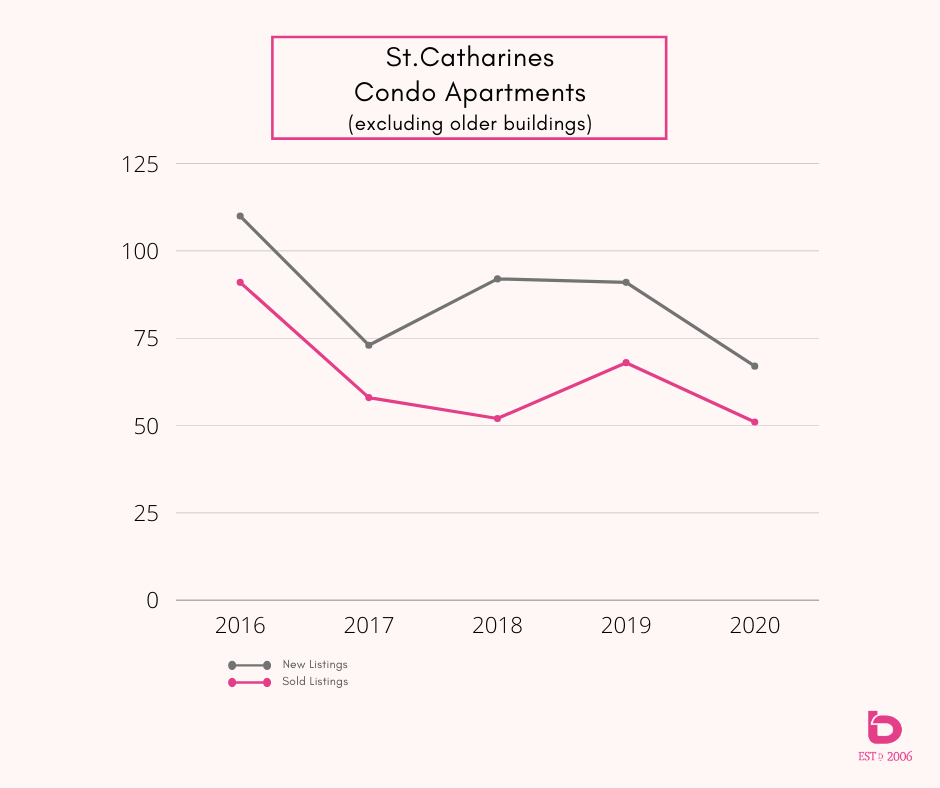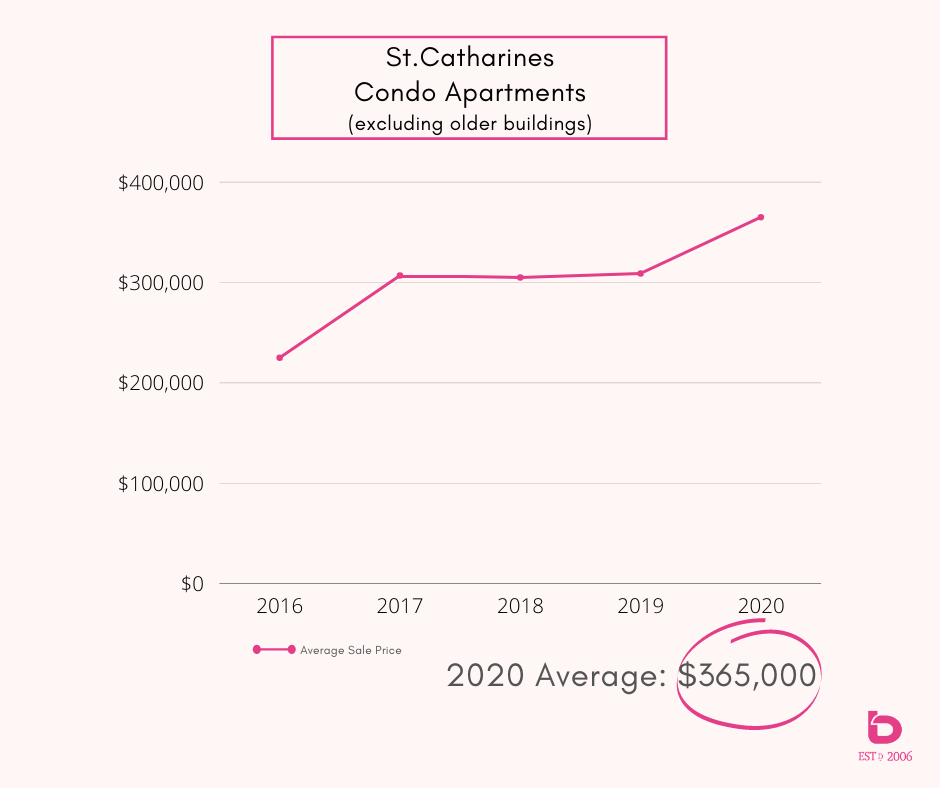 ---
Townhomes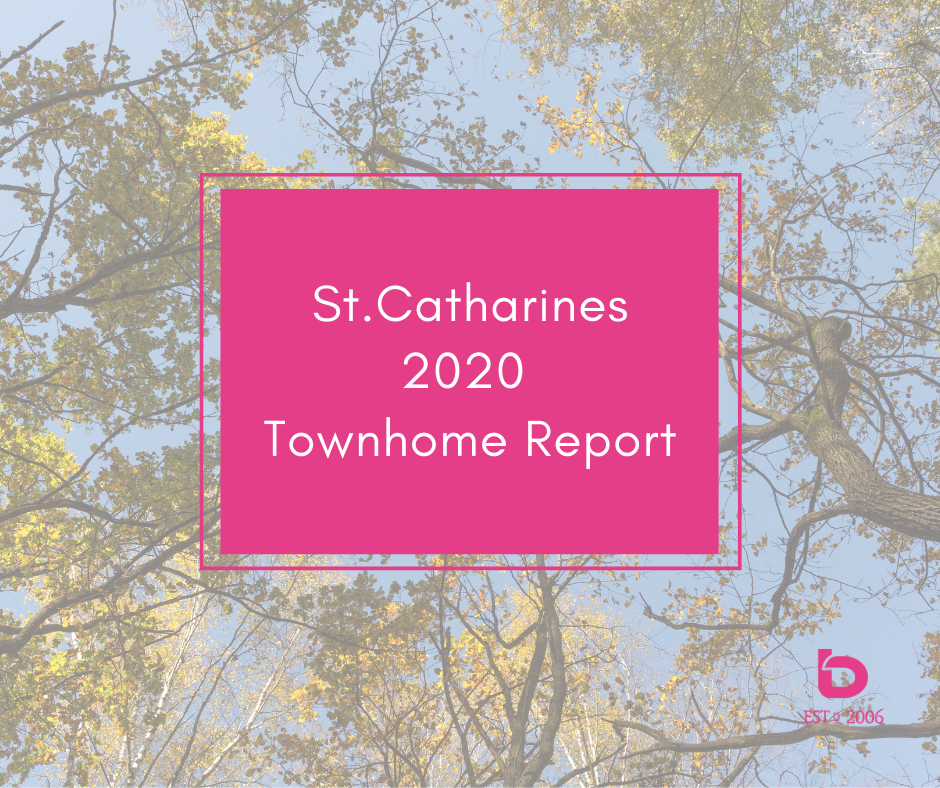 Similar to condo apartments, townhomes come in all shapes, sizes and ages. From new bungalows to 1970s 2 storeys, there is a lot to unpack in this segment of the market.
So, when looking at 'all townhomes' the newer builds are selling in the $600s to $800s which will only pull the numbers up significantly. Notice the improvement in supply for bungalow townhomes in the last 5 years as builders started to meet the demand out there.
1970s built 2 storeys in the north-end: as buyers are unable to pay the detached prices in the north-end, we expect to see significant price growth in the 2 storey townhomes dotting the north-end of the city as well. Settling in with an average sales price of $365,000 for 2020, don't be surprised to start seeing those sell for the high $300s and low $400s.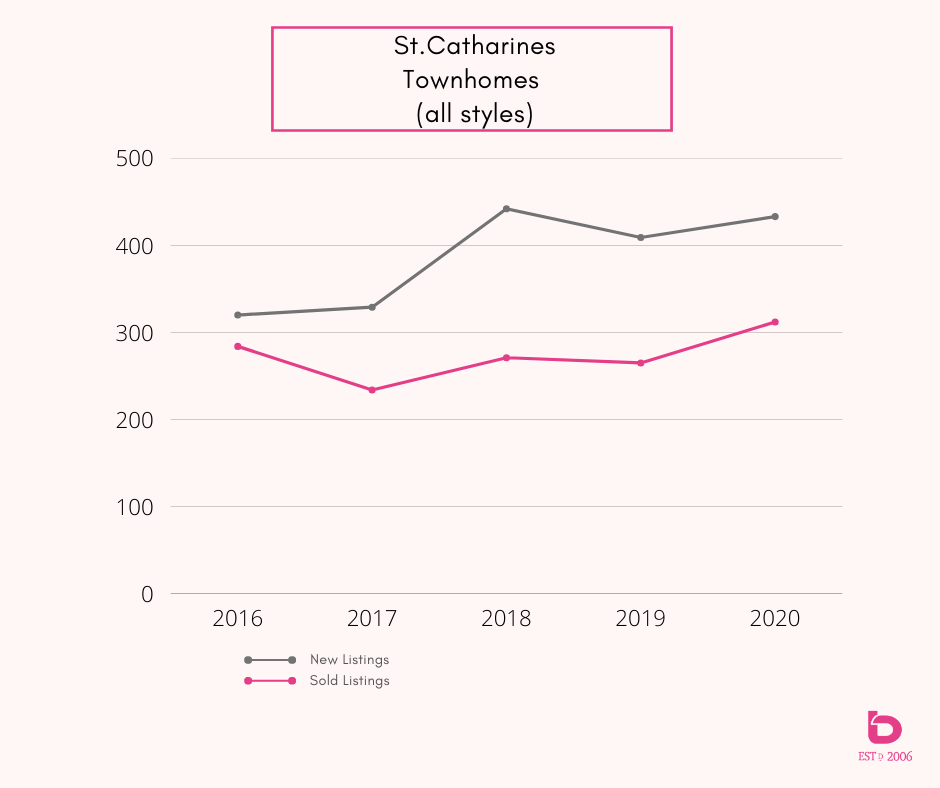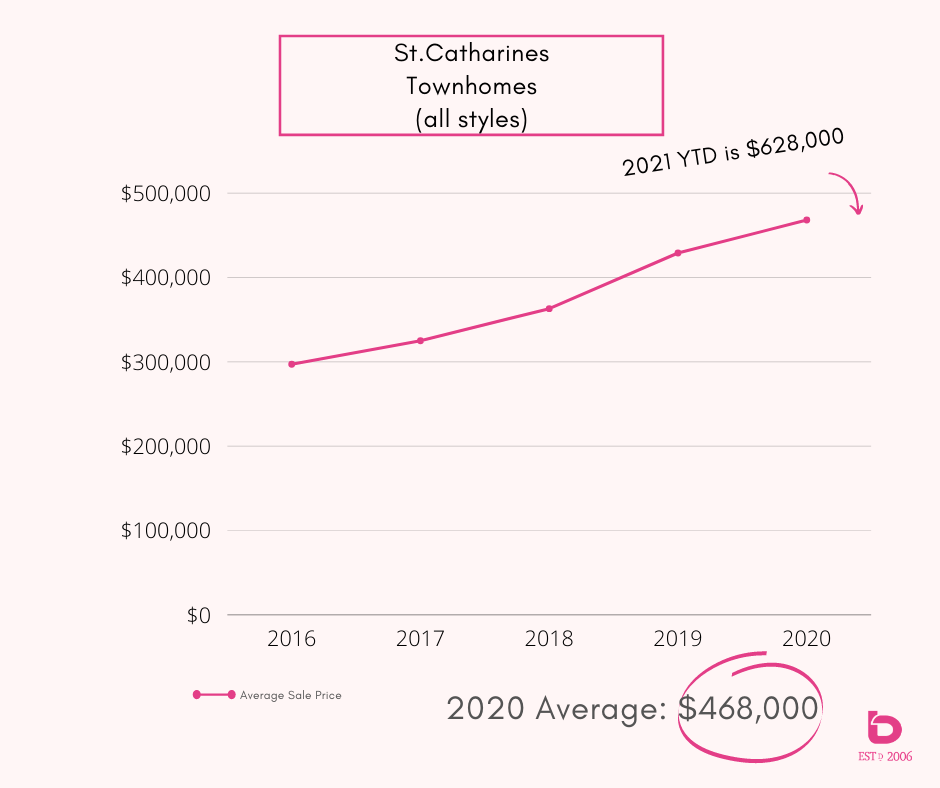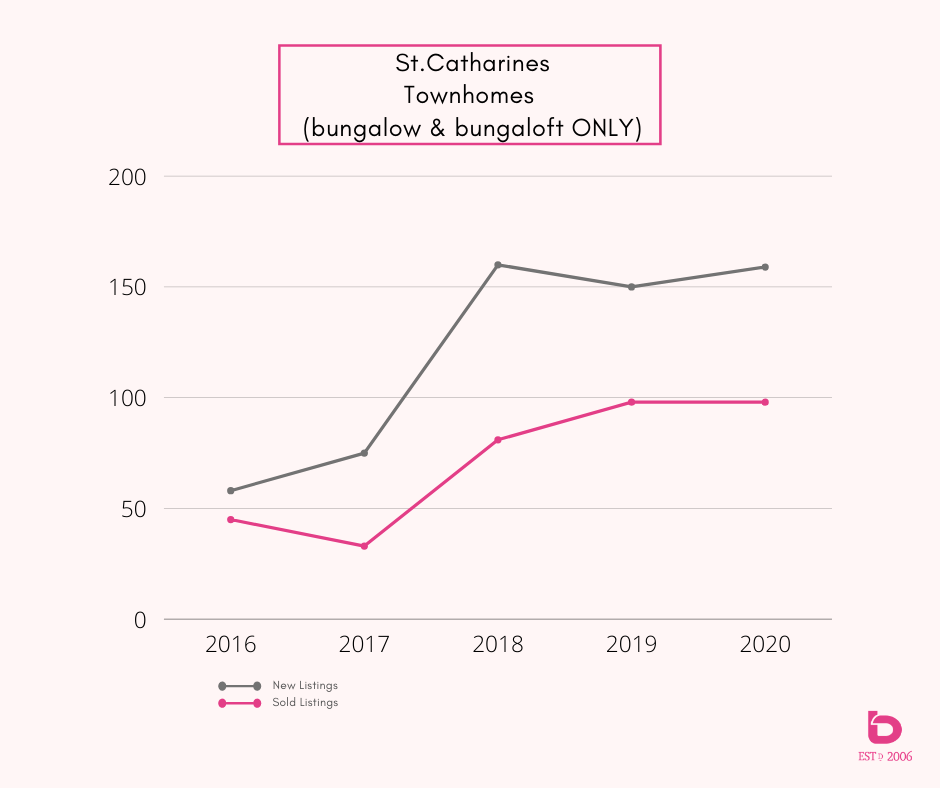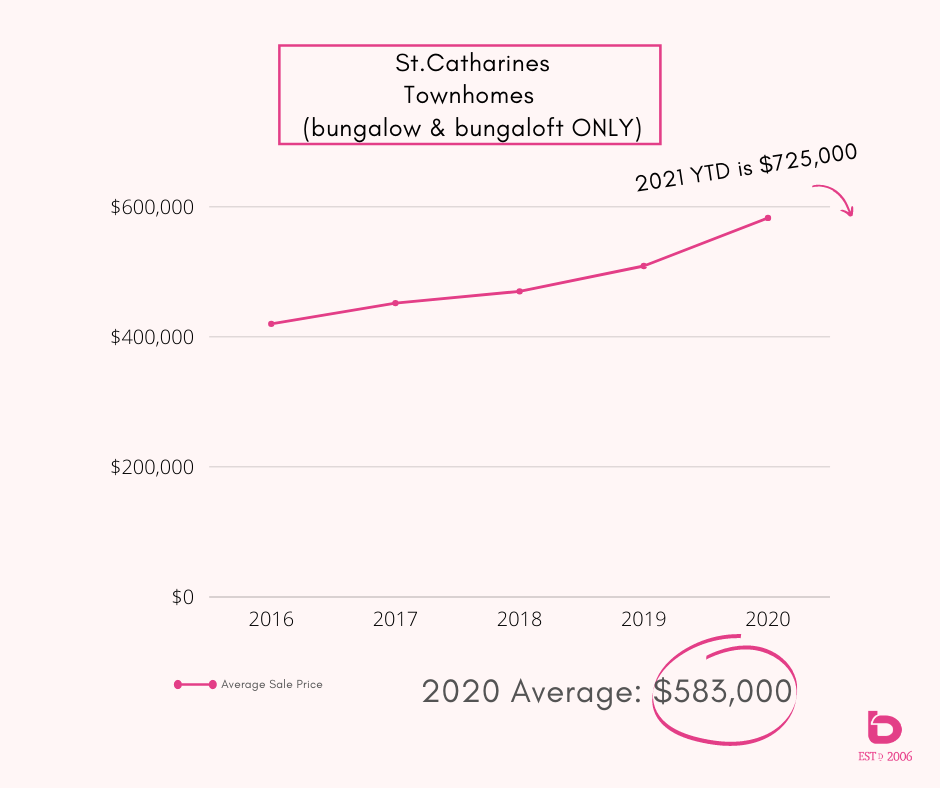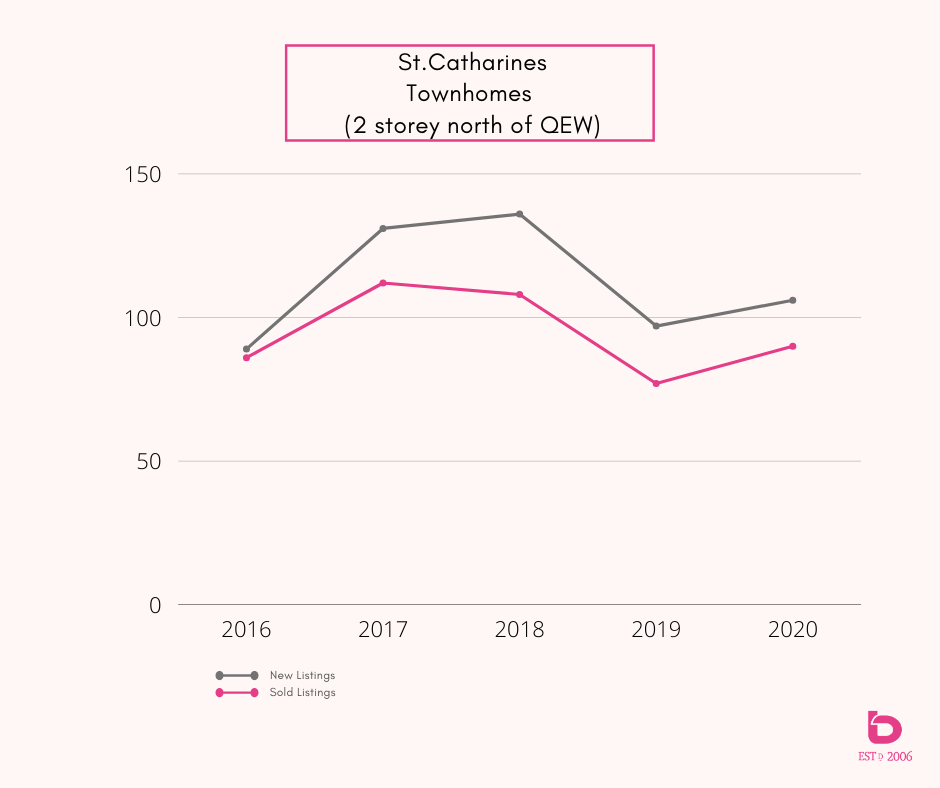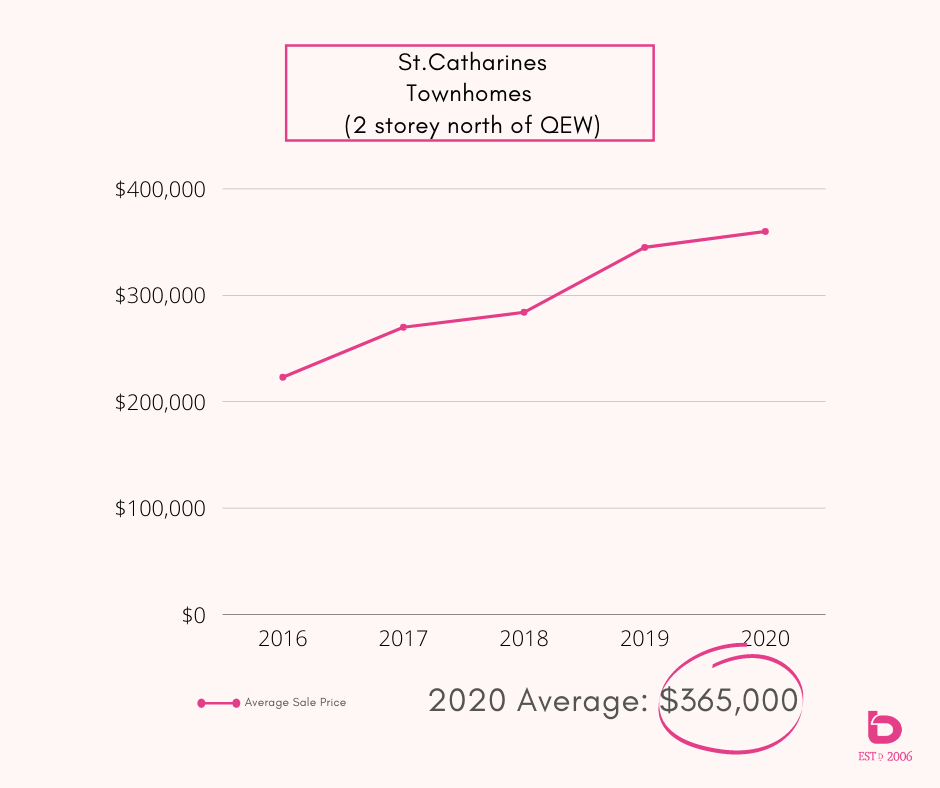 ---
That is our look at the St.Catharines real estate market. In general, it was a year that started strong, got knocked down and then returned with a vengeance.
As we move through January 2021, one thing is clear. While new listing numbers are not terrible, they're not meeting the high levels of demand out there which is resulting in multiple offers and frustrated buyers.
The next 6 - 10 weeks will be critical in establishing the 2021 spring market. Stay tuned!
Hopefully this has been helpful in explaining the overall market. If you have questions or would like further detail, please don't hesitate to contact us.
Thank-you for visiting.
THEbTEAM
Prefer the video version? Here you go!