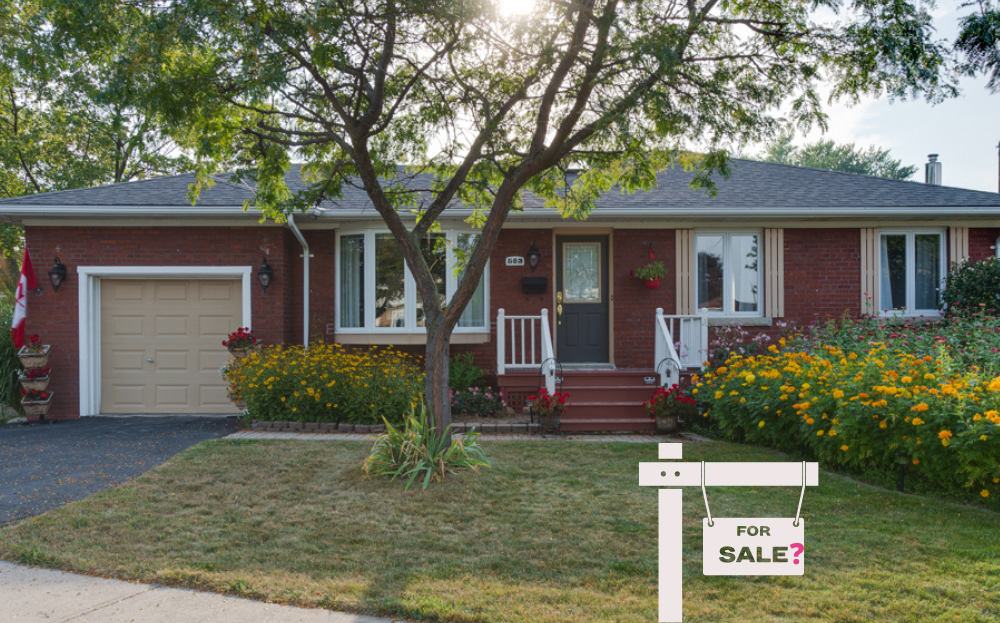 Date Posted: 13/03/2021
How do we sell during these uncertain times?
The past year has proven to be a year of unpredictability as COVID settled in and disrupted all of our day-to-day lives. In fact, the day before I am writing this is the one anniversary of the day that the World Health Organization declared COVID a global pandemic. ...it was also the day the NBA season stopped. And if that wasn't enough, everyone's buddy Tom Hanks and Rita Wilson were diagnosed as having COVID. Strange days indeed.
At this point it is no secret that the Niagara real estate market followed suit producing market data that resembled a roller-coaster ride. Remember April 2020 when the number of sales dropped by nearly 65%?
Since July last year, we have all watched the market activity intensify, which only added a new layer of strain for many people trying to move from point A to point B.
In general, this uncertainty created 3 common questions which we'll attempt to tackle here:
"Yes, we can sell for high, but what do we buy?"
"How do you sell a home safely during a pandemic?"
"What is happening with these crazy prices!?"
Let's have a look at all 3 questions...
"Yes, we can sell for high, but what do we buy?"
This will depend on what you're looking for. In general, in a very active seller's market, the recommendation is to buy a property first if in fact you are looking to buy. But there are other routes to take as well including selling your home with a longer closing which allows time to secure your new home. It will all be on a case-by-case basis though.
Some questions and various scenarios:
Are you looking to move to a condo apartment or a townhome?
Are you moving out of the area to another city?
Are you moving into a rental or into a multi-generational home?
The key for anyone looking to move from their current home to another is to get a plan together. The plan will factor in the supply and demand of both your current home and the home you're looking to move to.
What are the reasonable expectations that you can have? Is the supply of what you're looking for in abundance or tough to find?
Here is the good news.

We are starting to see new listing inventory improve already which will only open the market up.
For example, when looking back over the last decade, the number of new listings have increased 29% on average from February to March.
Looking at the pent-up nature of the current market, our expectation is that March 2021 will provide more than the 10-year average in new listings which will help answer the "Yes, but what do we buy?" question.
The key to that is having a plan in place beforehand will allow you to work within the market conditions rather than playing catch-up.
---
"How do you sell a home safely during a pandemic?"
The short answer is with a plan.
The key to realize is that 2020 produced the 2nd highest number of homes sold in the history of Niagara, all taking place during a pandemic.
Some of the safety protocols and changes we've seen in our industry this year include:
Increased use of video and virtual tours have helped filter out unqualified buyers.

Showing efficiency. The buyers that are coming through are qualified, actual buyers. No one is browsing these days.

Regulated control of who is looking at your home through our online booking system.

All visitors to your home will be required to verify they are healthy and not experiencing any COVID symptoms prior to entering your home.

Strictly schedule appointments with spacing inbetween visitors.

Maximum 2 buyers plus the agent (no children).

Minimized contact inside with no bathroom use and limited physical contact

Masks and hand sanitizer required.
And most importantly, we are here to make the process easier for you. We will sit down and craft a plan and strategy that provides you with the comfort you need to move forward.
---
"What is happening with these crazy prices!?"
It is no secret that the market has escalated. Here are a few facts & figures for you to consider for St.Catharines real estate:
The average price of a detached home in St.Catharines has doubled in 5 years.

The median sale price so far in 2021 (as of March 12th) is $585,000. That is up $140,000 from 2020.

2021 year-to-date, when compared to the same time periods over the last decade, has produced the lowest number of new listings at the same time as the highest number of sales. That imbalance in supply and demand has produced significant pricing gains.

All detached homes year-to-date so far this year sold for an average of $647,000

There have been 20 sales over $1 million so far in 2021 (as of March 12th). There were 40 in all of 2020.

Detached homes north of the QEW have sold on average for $689,000 so far in 2021.
Whether you live in Grapeview, Vansickle, Western Hills, Secord Woods, Glenridge or downtown, it is quite likely that your home is worth more than you expect. And that applies to detached, semi-detached, townhome or condo apartment.
---
The market in general is very active with consistent buyer demand and activity. As mentioned earlier, as the spring market brings new listing inventory, we expect to see the market data level off, if only marginally.
What to do?
The best first step to take is to simply have a chat to get an idea of what plan makes most sense for you. Some people are better to stay put while others should really look at making a move. It will depend on your ability or need to stay in your home versus moving to something a little easier to manage. As well, the supply and demand for both what you're selling and what you're looking to move to.
We would be happy to talk anytime. Or email works too :)
We work pressure-free. Truly. So, please feel comfortable to reach out.