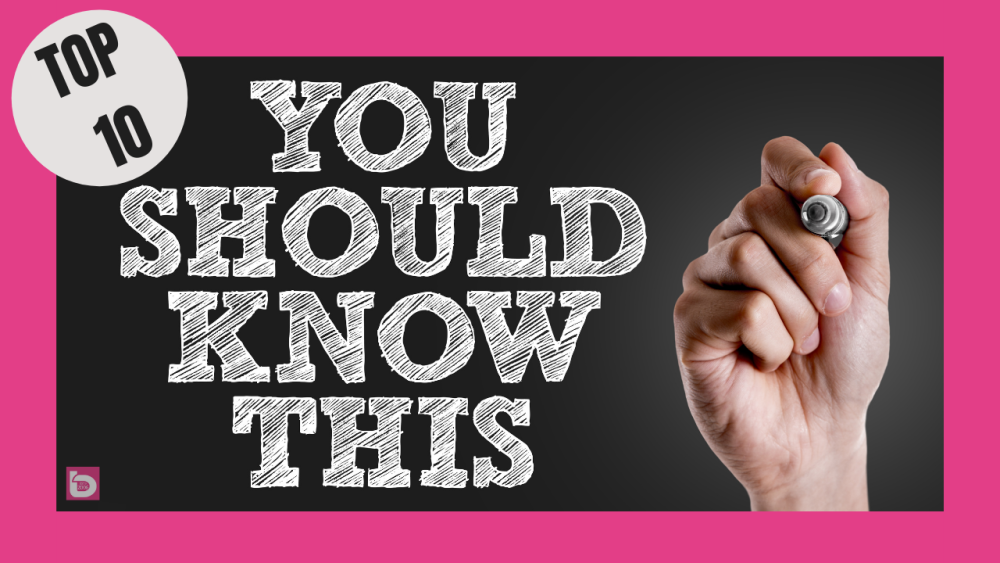 Date Posted: 13/12/2020
Please note that the following is based on several true (and common) stories. And the Top 10 list is at the bottom...scroll if you want to skip to the chase.

---
Chapter 1: "Sell It Anytime"
It's May 5, 2010.
25 Fictional Boulevard goes on the market.
It goes onto MLS.ca (now known as Realtor.ca). Realtors see it get posted onto the internal website. An ad goes into the newspaper. Of course, an open house is booked and everything is more or less up and running.
The time to sell a home is nearly 70 days so no one is expecting anything to happen today. Or tomorrow.
There's a showing request for tomorrow. Hurray! The ad goes in the paper for the open house.
The showing went pretty good but the buyer is going to take some time to think about it. It's ok...they've got time afterall.
Fast forward 28 days. An offer comes in. Let the negotiations begin!
Buyer makes an offer. Seller signs it back. Buyer signs it back. Repeat a few times. Then, BAM! Accepted offer.
Over the next 10 days or so, the conditions get dealt with. Inspection. Financing. Maybe even a Sale or Property Condition.
After 47 days on the market, 25 Fictional Boulevard is now sold. WOW! That was pretty quick.
...and that is how 99.4% of homes were sold back in 2010. Or any year prior to that.
---
Chapter 2: "Delayed Presentation of Offers"
It's May 5, 2017.
25 Fictional Boulevard is about to go back onto the market.
Days on the Market in their area are barely over 10 days. House after house is sold with multiple offers, with the offer presentation date being set for 5 or 6 days after the home goes on the market.
The listing even says it.
"As per Seller signed form 244, offers (if any) will be presented Tuesday May 9th at 7pm. Please have your offer registered no later than 5pm that same day"
Day 1 there are 9 showings booked. 17 booked for tomorrow.
"This is crazy!"
Emails are coming in. Agents are texting constantly. Comments and likes are piling up on social media.
An open house is booked for Sunday. Offer presentation is Tuesday so that will allow even more people to get through.
Showing feedback is almost irrelevant at this point. There are 42 showings booked in 4 days. Multiple offers are virtually certain.
Agent messages continue...
"Please keep me posted"
"My buyers are interested"
"I expect we'll be getting you an offer"
"Great home. How many offers do you think you'll get?"
The buyers get a pre-inspection done. Afterall, you won't stand a chance if you have conditions. The mortgage broker said they're good to go. They'd rather have 5 days for a financing condition but these days require risk. Afterall, finance conditions are about as welcome as inspection conditions. Which is not at all.
It's now the weekend. Showings are steady. A few buyers are getting an inspection done.
The listing Realtor asks the buyer Realtors to please send in their form 801s (Offer Summary Document). That officially registers that they have an offer. At that point, they can notify interested parties that there are "x" number of offers in. The 801 form is new to us...some understand how it functions. Many don't but that's ok.
The Buyer Realtor gets an email.
This is to notify you that there are 3 offers registered on 25 Fictional Boulevard.
Update: there are now 7 offers registered.
Update: there are now 11 offers registered.
Update: your buyer isn't going to be happy.
As the offer total changes, buyers may (will likely) change their offer. We're 1 of 4 offers? Let's go $15,000 over asking. We're 1 of 16 offers? Ok, we'll go $55,000 over asking but not a penny more.
"Hey guys. I don't know how to tell you this but the home sold for $105,000 over asking. There were 23 offers in total."
Does this delayed presentation of offers make buyers happy? Absolutely not. Of course not.
But imagine from a sellers perspective. If you sold your home the 2010 way, you would get an offer from the 1st or 2nd appointment. And I can pretty much guarantee you that it wouldn't be for $105,000 over asking.
So, offers are delayed, busloads of buyers have a look and a busload of offers are presented.
This was when the Niagara real estate market would be changed forever...
---
Chapter 3: "Seller Requires 48 Hours Irrevocable"
It's November 5, 2020.
25 Fictional Boulevard is about to go back onto the market yet again.
Wow. The market is intense.
Days on the market in that end of town is around 9. The house just up the street had 52 showings and 16 offers.
16 offers? That's nothing. Did you hear about the little wartime home downtown that sold for $110,000 over asking?
There is virtually nothing for sale while there are car loads of buyers cruising nearly every block.
It's a Tuesday. The home goes on the market. The sellers require 48 hours irrevocable.
7 showings are booked today. Tomororw is filling up fast too. 3 showings booked tomorrow morning. Wait. Make that 5. Another 9 are booked in the afternoon and evening.
By the end of day 1, there are 39 showings booked and confirmed.
"We want to make an offer"
"ok, I'll let the agent know..."
ring ring....ring ring
"Hey Listing Agent. It's Buyer's Agent here. I have an offer for you."
"Great! Just making sure you saw the seller requires 48 hours irrevocable."
...cue the Price is Right 'you just lost the game' music.
What does 48 hour irrevocable mean?
That means you submit an offer on Monday at 5pm. The sellers require that you give them until Wednesday at 5pm to respond. Guess what happens between now and Wednesday at 5pm?
Emails. Calls. Texts. Showings. Activity. 2nd Showings. Inquiries. ...and....quite likely, other offers.
And there is the difference in the 2020 market.
---
Summary...
2010 - sell the house whenever an offer comes in. But that's ok. There is plenty of supply.
2017 - sell the house at the scheduled date in the future. It's frustrating but at least we know the timeline.
2020 - some are delayed offer presentation. Some are requiring a 48 hour irrevocable. Some are doing neither until an offer arrives, at which point the sellers now require 48 hours to review the offer. Or suddenly an offer presentation date is set in 4 days time.
Moving targets...
Why is this happening? It's simply a by-product of supply and demand. This graph shows you the abundance of supply (active listings) back in 2010. Notice how the level of supply reduced as the number of sales (demand) increased to a choke point in 2017. Which, you'll see is happening again here in 2020: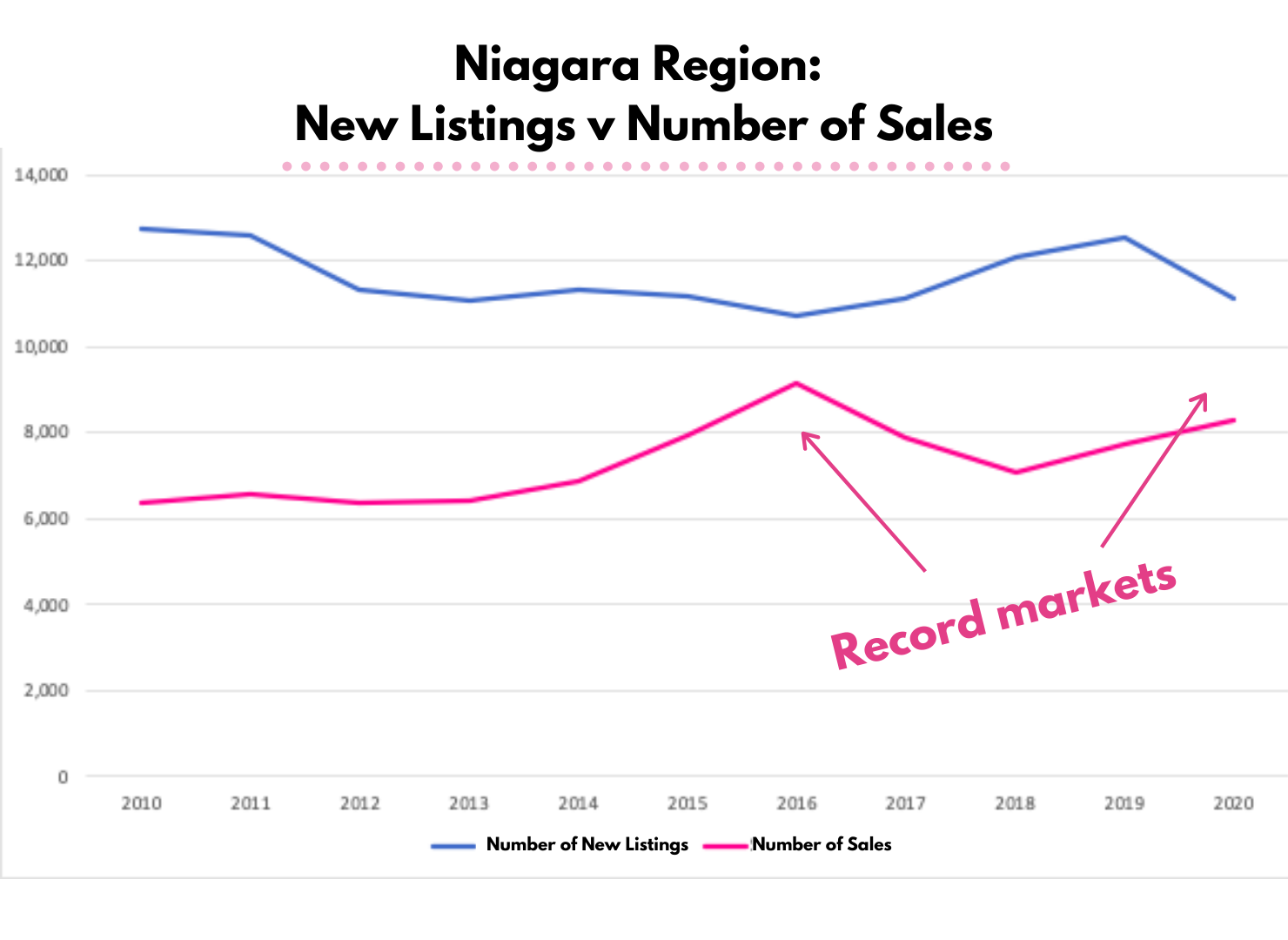 Or put another way, this next graph shows the difference between the amount of new listings and sales in a given year. The supply crunch in 2016 and 2017 resulted in the highest annual percentage increase in average sale price all time. 22.1%.
The 2nd highest all-time? 2020 is going to settle in somewhere around a 20.5% increase.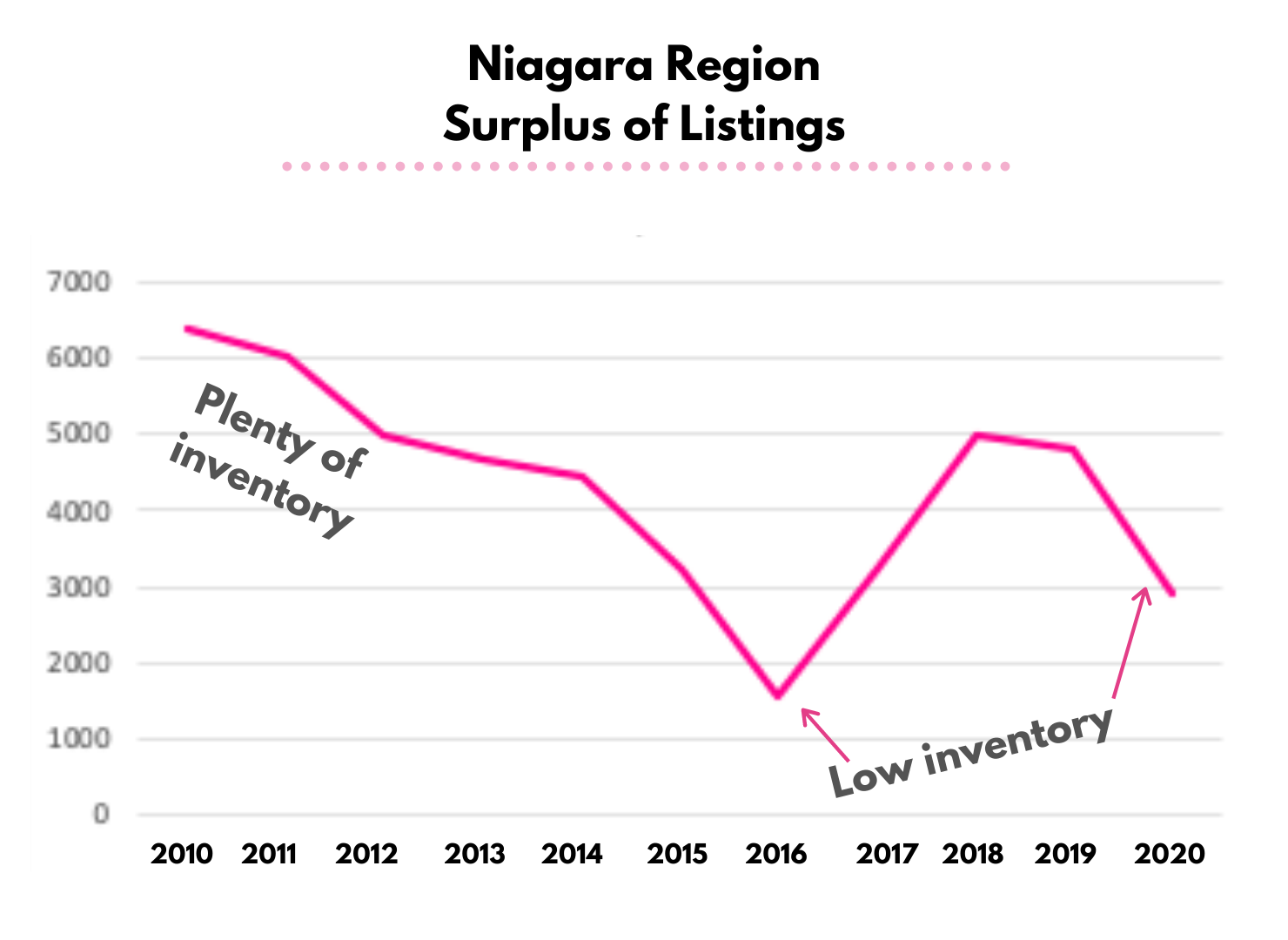 So, the purpose of this bLOG is to prepare you for the variables involved these days. And make no mistake, there have never been more. With that in mind...
The Top 10 Things You Should Know:
1. Bully Offers - a Seller directs (through their Realtor) that they are going to review any offers at a later date. The Buyer unphased, kicks the door down and forces an offer on them regardless. These are also known as pre-emptive offers. If you have a Form 244 signed, bully offers are irrelevant per the direction on the 244 itself. Read on...
2. Form 244 - Seller Direction re: Property/Offers. This was to be the answer to the Bully Offer. This was the Seller saying to their Realtor, you are not to convey (communicate) any offers of any kind to me until a specified date. Bully offers are to be summarily dismissed.
3. Form 244 Pre-Emptive Offer - this is pregnant and not-pregnant. This is the seller saying we aren't going to look at any offers until next Wednesday at 7pm. But...if an offer comes in tomorrow, we reserve the right to look at it. Make no mistake...this approach was not the intent of that form.
4. Form 801 - offer summary document. This document is only signed by the buyer. Before this form was used, there was no formal method for a buyer (or their Realtor) to confirm (register) that they have an offer with the Seller. This document is provides some security to the Buyer that the Seller is aware of their offer and that it will at least be in the mix.
5. Irrevocable - this is the time that the Buyer's offer is good until. If an offer is irrevocable until tonight at 9:00pm, it is technically a dead offer at that point.
6. Seller Requires 48 Irrevocable - is this documented on Form 244? Or is this just requested? Does the seller really need it because of work or health or travel issues? Or is it simply being used as a tool to general multiple offers. Chances are, its the last one.
7. When To Send - when do you send your actual offer to the Listing Agent or when do you just send an 801. That is something to discuss with your Realtor. When do you want to show your cards?
8. When Rules Change - sometimes a home goes up for sale the 2010 way. Show anytime. Offer anytime. But then the Sellers (well, their Realtor) are caught off guard with 27 showing requests. Then suddenly the sellers require a 48 hour irrevocable or they insert a date for offer presentation. Was a Form 244 signed? Will this turn buyers off and cause the sellers are great offer? Possibly. This is a Risk vs Reward scenario.
9. Who Is Driving The Bus - on occasion it's very clear that the listing Realtor is moving things along a timeline or plan of attack that doesn't make the most sense. This requires patience and proper steps to navigate when you're the Buyer or the Buyer's Realtor. Figuring out the Seller's approach or strategy is key.
10. Discovery - think lawyer talk here. This is when you have to discover the facts, or as close to the facts as possible. This requires a Realtor who has experience in this 'new normal' and can recognize the various routes that any listing process can take. Communication approach between the Realtors is key.
So, there you have it. A reasonably complete summary of the current state of affairs.
Questions? Are we missing something? (...quite possibly). Feel free to let us know.
Thank-you for visiting.
Please watch to YouTube version here: