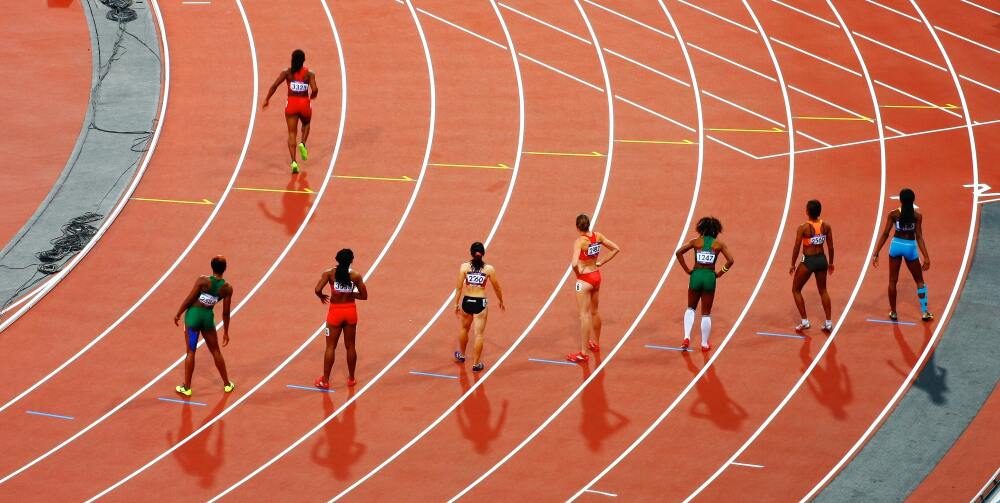 Date Posted: 20/02/2017
First, I realize that the runner in lane 1 is either a false start or getting warmed up so they aren't officially separating themselves from the competition since the race hasn't started. But the imagery also illustrates something near and dear to our collective heart.
Every year we hear a similar refrain from some sellers. "Oh…we're going to wait until the spring to sell our home. The gardens just look so beeeeeeautiful". While understandable, that mentality leaves you in the pack from a supply and demand perspective.
If 88 out of 100 sellers wait until April to sell so the buyers can see their perennials sprouting up, then that leaves 12 courageous folk to list their homes when their yard is merely a barren frozen tundra. If the buyer pool is still strong in February, your ability to attract a captive audience is going to be much stronger as opposed to April when those other 87 people go on the market.
Supply and Demand.
So looking back at the photo attached to this blog, imagine this is a fully functioning, in progress race. Lane 1 is (literally) off to the races while lanes 2 through 8 are stretching and wishing grass would appear. Meanwhile all attention and focus is on Lane 1.
Food for thought.
If you'd like to chat and discuss your home, the market or track and field (*), let us know.
We're here anytime.
Thank-you for visiting.
THEbTEAM
Photo credit goes to Matt Lee