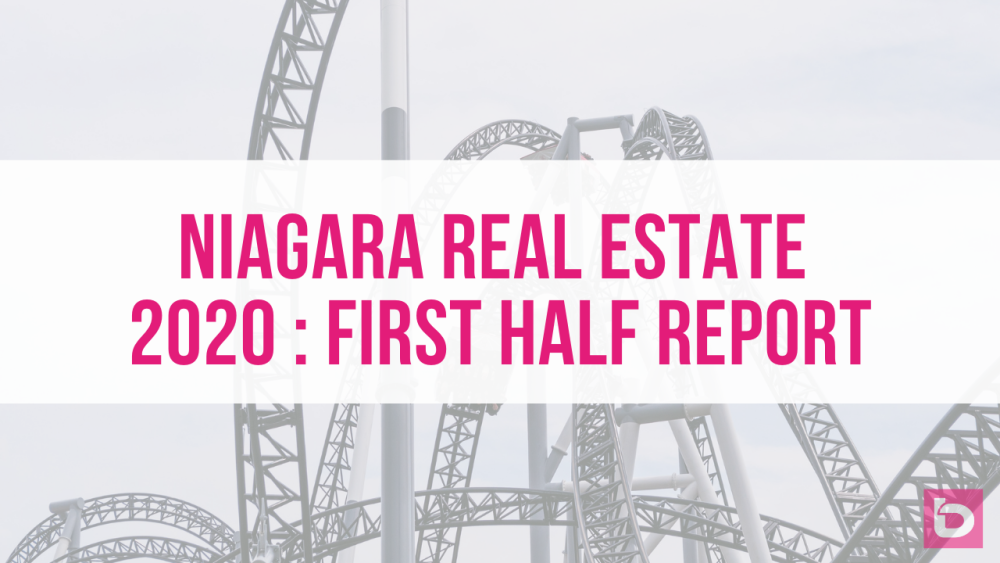 Date Posted: 07/07/2020
The first half of 2020 is a time that none of us will soon forget.
If you track real estate data, the same concept applies. Fair to say, it's been quite the ride so far.
Statistics are like play-doh. You can make almost anything out of them if you know what you're doing. And 2020 has produced fertile ground for eye-popping headlines.
Cases in point.
Imagine these headlines (all are true):
Number of Homes Sold in Fort Erie PLUMMETS 80%! (in April 2020 v April 2019)
Number of Homes Sold in Fort Erie SKYROCKETS 30%! (in June 2020 v June 2019)
Average Sale Price in Niagara Region up nearly 22%! (in June 2020 v June 2019)
Average Sale Price in Niagara Region up 14% in just 2 months! (from April 2020 to June 2020)
You get the point.
So, it's important to consider the source and the context when looking at any reports these days. With that being said, here are the 3 most commonly asked questions these days:
Question 1: What's going on in the market these days?
2020 so far has set up some of the most unique months in modern day real estate data. In general terms:
March came in like an angry lion and went out like a confused lamb.
April was on the verge of being totally knocked out.
May got back on its feet and started to walk again after our collective efforts helped maintain some semblance of order.
June got stronger every week as the sales volume data and number of new listings returned to normal (or higher than normal) while prices across the board climbed, sometimes to record levels.
Where we go from here? It's tough to say as long as COVID 2.0 lurks in the background. The expectation though is that these active market conditions will continue through the summer months.
Question 2: Are prices going down? Quick answer, no. Not at all.
A few quick examples of the June 2020 v June 2019 numbers:
Fonthill up 20% to $757,000
Fort Erie up 31% to $477,000
Niagara Falls up 11% to $479,000
Port Colborne up 26% to $442,000
St.Catharines up 14% to $478,000
Welland up 34% to $476,000
Further examples of misleading headlines, the 'smaller volume markets' produced some whiplash worthy prices for June 2020 v June 2019.
Beamsville up 50% to $776,000
Jordan & Vineland up 44% to $768,000
Niagara on the Lake up 54% to $1.136M
Is June 2020 v June 2019 a fair representation of the market?
In our opinion, the monthly year over year reports are rarely a great representation. We try to look at longer periods whether that's a Quarterly Report or Year-to-Date (YTD) report. The YTD Reports stretch the timeline out nicely and can help in removing the outliers.
Considering April was flat on its back with the medics getting out the defib paddles and June has come back with guns blazing, the YTD info can be useful.
For example, average sale price YTD for 2020 v the annual average for 2019:
St.Catharines is up 7.7% to $468,000
Niagara Falls is up 9.3% to $472,000
Fort Erie is up 19.5% to $459,000
Thorold is up 8.3% to $471,000
Fonthill is up 13.7% to $716,000
Niagara on the Lake is up 7.6% to $873,000
The Niagara Region as a whole is up 11.4% to $510,000 so far in 2020.
So, it's fair to say that prices are escalating.
Question 3: Are houses selling though?
Or some variation of that question.
People in general are curious about the number of homes that are changing hands these days. Remember back in April when the number of sales was down 60-65% from normal volume levels?
Here we are 60 days later and every city in Niagara had more sales in June 2020 compared to June 2019 except for 1.
The cities that had more sales in June 2020 v June 2019:
Beamsville (up 28% to 32 sales)
Fonthill (up 8% to 40 sales)
Fort Erie (up 30% to 82 sales)
Niagara Falls (up 9.7% to 159 sales)
Niagara on the Lake (up 12.5% to 45 sales)
Port Colborne (up 16% to 43 sales)
Thorold (up 9.5% to 46 sales)
Welland (up 13% to 95 sales)
Surprisingly enough, St.Catharines was down by a whopping 2 sales with 204 sales in June 2020 compared to 206 in June 2019.
What about the YTD numbers? After being down 62% in April, the Niagara Region has shown some serious resilience with the YTD total down only 13.5% at 3,353 sales.
Niagara's biggest volume city, St.Catharines is down 21.7% (864 sales) so far in 2020 after also being down 62% in April.
Niagara Falls (2nd highest sales volume) is only down 10% (614 sales) so far in 2020, on pace to be back on track by the end of the summer.
And given that all cities are tracking in similar fashion, the market regionally and city-by-city has a chance at resembling some form of normal by Labour Day weekend.
That's the reasonably quick version.
Curious about where the market is as of today? Contact us today & we're happy to chat.