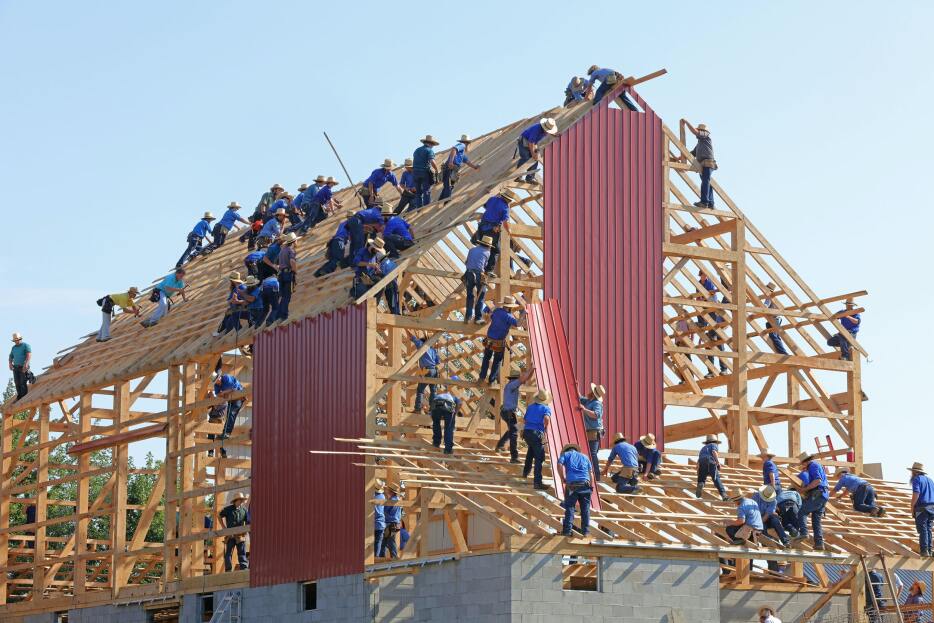 Date Posted: 17/08/2020
It's a beautiful Wednesday evening and after a few weeks of debate and discussion, you've decided to move.
For most people, that involves shopping and eventually buying a resale home. Time to head to Realtor.ca and browse. Flip through photos, email with your agent, watch a video, drive by a possible option, text your agent, shop some more and quite likely fall asleep with your iPad still playing a home tour of some form or another.
- or -
Some will adamantly insist on only buying new. The idea of buying someone else's home is not on the radar whatsoever.
That's a bLOG for another day.
They want to find a lot, find a builder, design their dream and watch it get built.
But what is the main difference between a resale home and a new "to be built" home?
A resale home exists. You can drive by it, tour it, open doors, smell it, touch it and spend time physically in it while you mentally place your furniture. A new home is a piece of paper. It's a chunk of dirt that you have to imagine placing your home on. It's a concept that will appear at some point in the future.
A new home is meetings and visits and emails and decisions. Drilling down a bit further, what is the one ingredient that you need significant amounts of to buy new vs resale?
TRUST
Trust in the plans.
Trust in the builder.
Trust in the suppliers and installers.
Trust in the trades.
Trust in the pricing.
Trust that the Tarion warranty actually helps.
Trust in the agents involved.
Trust in the weather and no delayed construction.
Trust that there won't be any hidden costs.
Trust in world events not side-swiping the schedule (#COVID) Trust in the marketing.
Trust that your neighbours won't be a nightmare. Or Yankees fans.
Trust that your deposit money is held safely.
Trust in the answers to your questions.
Trust in the process. Sure, you need trust to buy resale but not to the same degree.
Afterall, your new built home doesn't exist yet. So, all of these people telling you all of these things better be right. And when there's a crack in one of those Trust items, the others start to wobble. Perhaps this is why the majority will opt for a resale home.
Or a car they can test drive.
Its why model homes exist. In a sense, they allow you to test drive the builder. How much easier is it to book a holiday at a hotel that has a video tour of the hotel and property along with a few hundred positive reviews? Trust.
Some will see that apprehension as a point of human nature to take advantage of. As an investor, you can jump in first on a new development before anyone else does and hopefully benefit from future price and market increases.
Phase 1 pricing! It's also why sales of a new build site tend to increase as construction progresses and a dirt lot starts to resemble homes or condo apartments. Afterall, suddenly there is something to measure or touch or walk through.
Suddenly you don't require quite as much trust.
The people that buy on day 1 are rewarded for their leap of faith while those last in the door often pay higher prices.
Does the same apply to one-off custom homes? That's a different story.
If you've ever considered a new home whether its detached, townhome or condo apartment, it may be more possible than you'd expect. Particularly if you can cross off as many "Trust items" as possible. Whether a new condo in Welland or new townhomes in St.Catharines. Custom luxury homes in Niagara Falls or a beachfront condo in Port Colborne. The same general rules apply.
We have sites scattered across Niagara with several builders, local and out-of-town. If you're ever curious to discuss the process or your questions, by all means reach out. We have been involved in new construction all the way from custom luxury homes, modest retirement bungalows, townhomes, condo apartments and more.
And hopefully you'll find us trustworthy too.
Thanks for visiting.
Big thank-you to Randy Fath for the construction photo.